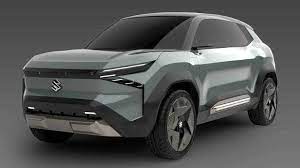 Suzuki is popular because of the Suzuki shift which is mainly used for taxi services in Kenya. Swift is a Japanese supermini car produced by Suzuki. The vehicle is classified as a B-segment(The B-segment is the second smallest of the European segments for passenger cars between the A-segment and C-segment, and commonly described as small cars)  Swift became more popular in the year 2004.
During the Auto Expo 2023 in Delhi, India Suzuki unveiled its new electric car named eVX concept which aims to combine strong  4x4 DNA with the advanced features of the latest BEVs. It points the way to a new electric production car, the first from the Japanese brand. 
The official details on the new eVX concept are slim, with a battery capacity of 60kWh battery it will reach 342 miles on a single charge under the Indian MIDC test cycle. The dimensions of the eVX are broadly similar to Suzuki's S-Cross small SUV, it is expected to rival the likes of  MG ZS EV and Kia Niro EV when it hits the market in 2025. 
Related: 2019 MG ZS EV
Suzuki has another version of its electric vehicle the Fronx. Fronx is Suzuki's new small crossover hatchback model introduced globally at the biennial Auto Expo in India in early January this year and is intended to indirectly replace the famous but now-discontinued Baleno small car in Australia sometime next year.
The eVX will go into production in FY2024 and become the first all-electric Suzuki offering in India. As stated by Maruti Suzuki officials at the Auto Expo 2023, the production-spec eVX will get a 60kWh battery, and dual electric motors and offer a range of up to 550km.
According Suzuki CEO Toshihiro Suzuki, says that the electric fleets will help in addressing global warming, the company is promoting a range of global measures to reduce greenhouse gas emissions. Suzuki will continue providing valuable products to its customers around the world by optimizing them for the way different people live and drive.
Apart from the Battery Electric Vehicles (BEVs) of Suzuki, there are also hybrids such as the Suzuki Across. Plug-in hybrid vehicles emit fewer harmful CO2 emissions compared to cars with only a traditional combustion engine, meaning they're much kinder to the environment. The technology also allows electric-only driving and during this type of driving the vehicle won't produce any CO2 at all.  
Read: SUZUKI e-SURVIVOR
 As a result of the reduction of these harmful emissions it means Plug-in Hybrid cars have the potential advantage to avoid congestion charges as well. Whilst Plug-In Hybrid cars do have a traditional combustion engine, you will take advantage of the electric-only driving mode where possible - and it's far cheaper to charge an electric vehicle than it is to purchase petrol or diesel.
 As Plug-in Hybrid technology allows electric-only driving, where no fuel is used, this of course translates to fuel savings, especially if you are making short distances you can save on petrol money for your commute and also do your bit to help the environment. The Plug-in Hybrid Suzuki Across when fully charged can travel an impressive 46 miles using no fuel at all.
Driving a Hybrid might have more advantages, the main one being range anxiety where you don't have to worry about being left stranded if you run out of electric power. When your electric charge runs low, the vehicle can be driven using just the conventional combustion engine when needed. The engine also helps to charge the batteries as you drive, meaning you can drive a Plug-in Hybrid exactly as you'd drive any other car without having to worry about stopping to find the next charging point.
You might be wondering how a hybrid gets charged here are a few different ways to charge it: you can either use a standard three-pin plug, a wall charger, or a fast charger. Some service stations also provide Rapid chargers which can reduce charge time significantly. The Suzuki Across Plug-in Hybrid also offers a Battery Charger Mode, which means you can part charge the batteries using the petrol-powered engine, while you're on the move.
See: 2019 Kia Niro EV vs 2019 Hyundai Kona Electric
The three modes included in the Plug-in Suzuki Across are:
i) EV MODE - Gives you pure electric driving, with no petrol consumption or engine emissions
ii) EV/HV MODE - The electric motor provides power boosts when required - for example during acceleration or if the battery charge is low
iv) BATTERY CHARGER MODE - When battery power is running low, this mode allows you to use engine power to recharge the battery
How to decide if going electric is right for you
You have a couple of years to decide if you want a purely electric Suzuki in your garage, and before you hand over the down payment, it's wise to consider the following questions:
Are charging stations accessible near you? Charging your car at home works for the most part, but you'll want to be able to give it some juice on the go, too.
What kind of mileage are you planning to put on it? Excessive commutes might take a toll on your EV if they exceed its range—especially 200-300-mile drives. If your needs are within a safe EV distance, then it could be a great choice for you.
Do you have a garage? Not only will you want to have a home charging station handy, but you won't want to park your precious EV on the street if that's your only option.
Is towing capacity a high priority? Suzuki cars can typically tow up to 4,000 lb depending on the model, but an EV might not cut it if you're someone who hauls cargo.
Also: Suzuki to Jointly Develop 2-speed EV Transmission with Inmotive
Join the newsletter to receive the latest updates in your inbox.