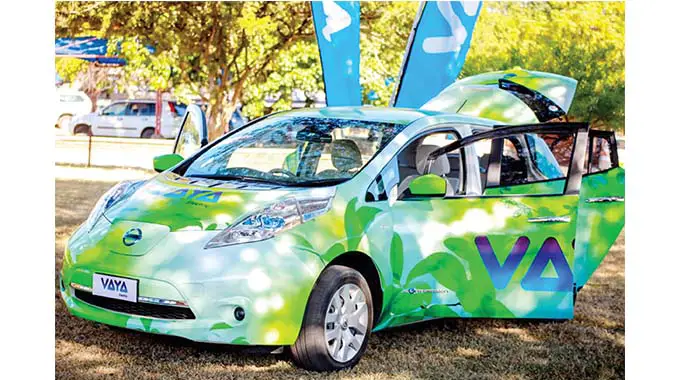 Vaya Africa has launched EV in Zimbabwe, this is a move to electrify Africa. Remember in October 2019 Rwanda adopted the EV transportation with VW e-golf being the first fleets of EV in the country.
Vaya Africa is  Mauritius-registered company specializing in the transport of people and goods in Africa and the generation of adjacent revenues in this sector,  it launched a new fleet of electric taxis and charging facilities in Zimbabwe. The vehicles are called "Vaya Electric" and the ambition is to extend to the rest of Africa.
Vaya Africa has plans to roll out the Vaya Electric vehicle in West and East Africa soon, saying  the vehicles would include a range of multi-purpose cars. It will be part of the Vaya Premium service, a passenger service available on the Vaya Africa application that offers a wide variety of Vaya services, including logistics services.
Mrs Dorothy Zimuto, the CEO of Vaya Mobility in Harare said  the e-vehicle fleet will include passenger vehicles, motorbikes, vans, buses and dump trucks, all utilizing their Vaya  hail riding platform. They also believe this fits well with their vision of driving inclusive technology growth across Africa.
Also read: Rwanda goes Electric
If you want the Vaya rides you simply download the Vaya Africa App and search for mobility option. When you select the EV it will ask you what type of car would you wish for, maybe pickup and the destination of your choice, however, this happens before you even request for a ride .The Vaya Africa App provides convenient payment options, including mobile money, payment by VISA, MasterCard or any other international debit or credit cards options.
The electric taxi network was developed by Zimbabwean entrepreneur Strive Masiyiwa, the president and founder of Econet Wireless, a global telecommunications company whose activities include mobile cellular, fixed-line, corporate networks, fiber optic cable and satellite services. The South African headquarters of Vaya Africa has acquired a series of Nissan Leaf electric vehicles and has developed its own solar charging stations.
Electric vehicles have zero emissions and the aim of this company is to ensure that all the vehicles in their platform are electric in the next ten years to come. Vaya Africa is the largest hail riding service currently in Zimbabwe. This will save 40% of fuel and the maintenance cost. The Vaya EVs  will be charged on charging stations deployed across the country, built by Ugesi Energy, a subsidiary of Econet Global, to offer e-vehicle owners charging options just about anywhere around the country.
The benefits of using  e-vehicles will be less frequent servicing and fewer scheduled vehicle maintenance check-ins compaired to  ordinary combustion engines. They will require minimal scheduled maintenance for their electrical systems, such as the battery and electrical motors. Other parts such as brakes also last longer because of their regenerative braking systems, where the battery is charged when breaking.
Join the newsletter to receive the latest updates in your inbox.