VW e-golf is the first electric car for Rwanda, the car will be used for local ride-hailing service. VW, which has a global target of producing 600,000 electric cars a year by 2022, is starting small in Kigali, importing 50 e-Golf models over the next few months.
Unlike many African countries, Rwandan electricity is relatively reliable.15 charging stations built by Siemens will be available in Kigali to charge the electric cars. Up to 80 percent of the battery can be charged within an hour at a station.
Prime Minister Edouard Ngirente said E-mobility presents a great opportunity to substitute expensive fuel imports, with electricity generated in the country. In 2018 fuel products were the largest single import product category into Rwanda, accounting for 12 percent of all imported goods. Rwandans are becoming increasingly aware that protecting the environment is a top priority.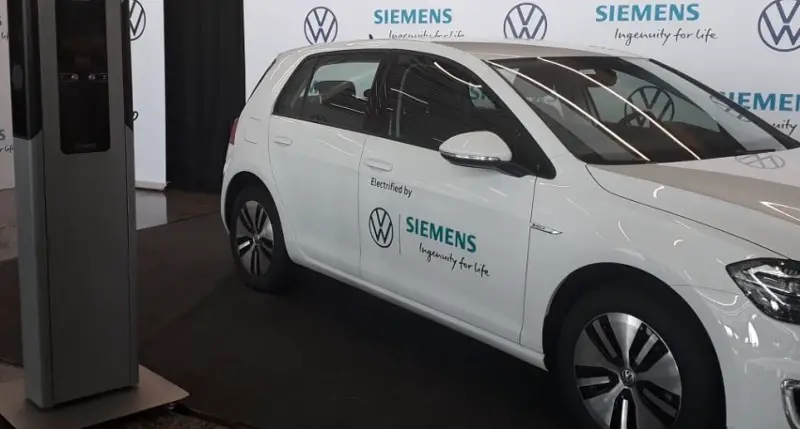 "In our National Strategy for Transformation, Rwanda prioritizes the development of a climate-resilient low carbon economy. This includes building smart green cities, smart transport facilities, and services as well as the use of ICT and digital solutions for improved service delivery," he added.
While VW acknowledged the high price of electric cars would not appeal to most African consumers, it's hopeful scaling up production and favorable government policy will help bring prices down.
Probably in the next 5–6 years electric car prices will come down dramatically and traditional cars will actually get more expensive because now you need higher engine cleaning facilities and everything," said the head of the Volkswagen sub-Saharan region, Thomas Schaefer.
"When those two curves cut, when electric cars become cheaper, and they have the same range as a traditional car, and you can charge them overnight, and you do not have to go a petrol station for it, and then you must drive."
Four cars were unveiled, as well as a charging station that will be located at the Volkswagen facility at the Special Economic Zone. There is a plan to add more cars in the coming months to bring the number to about 50 cars and 15 charging stations across the city.
The pilot project will involve data collection and analysis on aspects such as performance of the electric cars, reception by consumers, consumer trends and suitable conditions for the cars. The electronic is the Volkswagen Golf Model produced in Germany and imported.
Officials say a fully charged car, can cover up to 230 km in ideal conditions. However, the distance is subject to conditions such as altitude, terrain, and gradient among other factors.
Michaella Rugwizangoga, the Chief Executive Officer of Volkswagen's operations in Rwanda, said that the firm is currently training drivers and technicians on the driving and maintenance of electric cars.
The electric vehicles will be added to the firm's fleet to operate under its Mobility Solutions initiative where activities include ride-hailing, corporate car sharing, and rentals. They will not be sold into the market at the moment and will be under the custody of Volkswagen Rwanda during the pilot project.
Volkswagen entered the Rwandan market in June 2018 to assemble and also introduce a mobility solution.
Join the newsletter to receive the latest updates in your inbox.