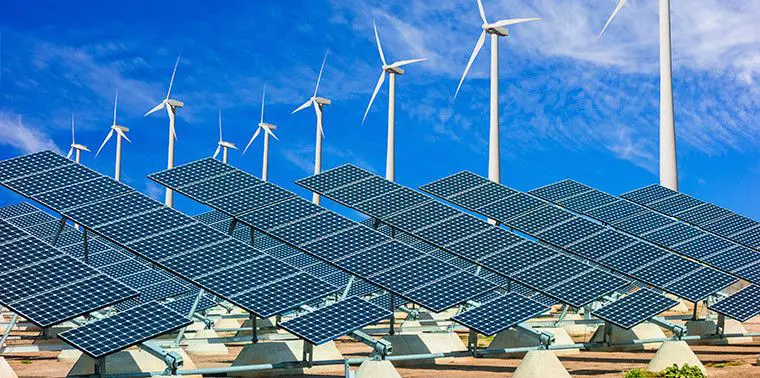 Wind and solar energy provide air quality, public health, and greenhouse gas emission benefits as they reduce reliance on combustion-based electricity generation. Solar and wind power are on track to limit global warming at the current growth rate.
Wind energy is the process of using the air flowing through wind turbines to automatically generate power by converting the kinetic energy in wind into mechanical power. While solar power is energy derived from the sun's rays and then converted into thermal or electrical energy. Wind energy can provide electricity for utility grids and homes and can be used to charge batteries and pump water.
If solar and wind power grow at an average rate of 20% per year until 2030, as they are currently, the growth could limit global warming to 1.5 degrees Celsius, according to a report by Ember.

In 2021  solar power generation rose 23% globally, and wind supply grew 14% in the same timeframe. Solar and wind are steadily increasing to account for more total global electricity generation, accounting for more than 10% of the total in 2021, up 1% from 2020. More than 50 countries now generate 10% of their electricity from wind and solar. Ember said in the report that limiting climate change is now "eminently possible" due to wind and solar.
Recently, Strathmore University signed a partnership deal with Ekorent company to charge their fleets using the solar energy that is produced by the school. Deputy VC, Prof. Izael Da Silva signed a partnership contract with Nopea ride CEO Juha Sajounen, the partnership will help charge Nopea EVs. The solar charging hub is capable of giving out 161 kW and producing a capacity of 208,000 kWh/a. The 600 kWp grid-connected Solar PV rooftop was completed and commissioned in June 2014. This project now caters to all the electricity needs of the university and excess power is sold to the national grid under the first signed power purchase agreement (PPA) with Kenya Power.
Read more: Nopea ride partners with Strathmore Energy Research Center.
The Ember report added that if these trends can be replicated globally, and sustained, the power sector would be on track to a 1.5-degree goal. Though wind power and solar growth show promising signs of limiting global warming, renewable energy sources are also up against some limiting factors.
Because clean energy wasn't deployed quickly enough, coal power saw a rise in 2021 as well: up 9% in 2021 to more than 10,000 terawatt-hours in 2021, its highest growth rate since 1985. Coal power made up 36% of global electricity last year, according to the report. As energy demand boomed in countries such as China, India, and Mongolia, coal production hit record highs, outweighing the deployment of clean energy.

Ember global lead, Dave Jones, speaking to Reuters said that they are getting closer to break-even where wind and solar can cover new electricity demand. However, they have not yet achieved the goal in case they maintain the growth rates in a short term they will be accomplishing their target.
What are the advantages of wind energy and solar energy?
With the basics of wind and solar energy in mind, let's look at the advantages of these two clean energy sources.
i) As carbon-free, renewable energy sources, wind and solar can help reduce the world's dependence on oil and gas. These carbon fuels are responsible for harmful greenhouse gas emissions that affect air, water, and soil quality and contribute to environmental degradation and climate change.
ii) Wind and solar energy act as a backup source of energy to homeowners and businesses the ability to generate and store electricity onsite.
iv) Solar panel installations are easy to do and can also create energy bill savings.
v) Both solar energy and wind energy are on the path to becoming the world's most affordable sources of energy.
Reference:
i)Nat Rubio-Licht (2022) Solar and wind power growth on track to limit global warming
ii) Melissa Pistilli (2021) What Are the Advantages of Wind Energy and Solar Energy?
Join the newsletter to receive the latest updates in your inbox.