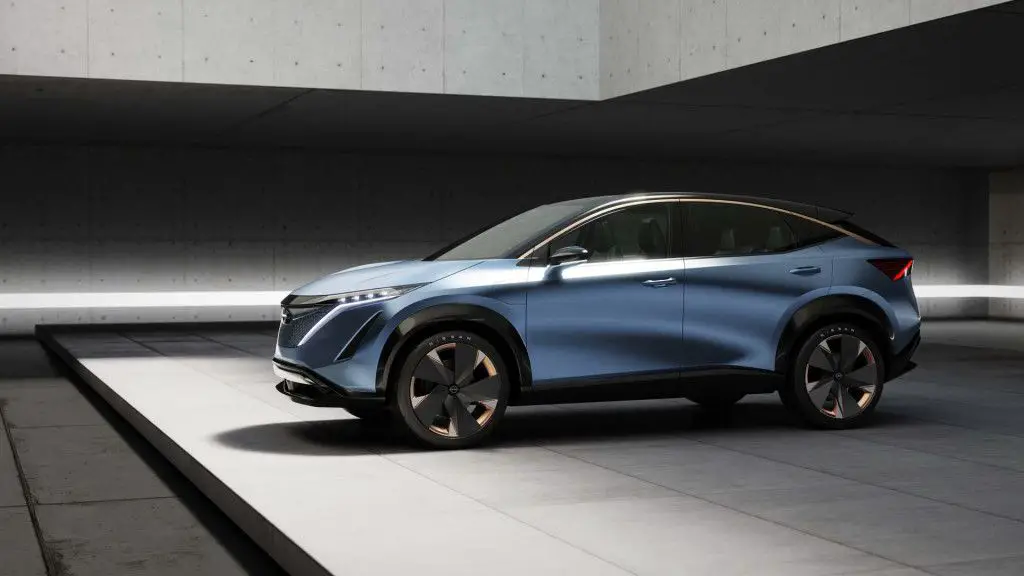 This all electric crossover features Nissan's latest EV drive technology the e-4ORCE twin motor AWD system and also the mobility intelligent such as the Nissan intelligent corner.It also features concepts such as the ProPilot 2.0 advance drive assistance system, twin-motor all wheel control system, acoustic metal material and smart rout planner . The ProPilot offers:-
a) Automated emergency braking and pedestrian detection
b) Lane departure warning, lane keep assist, and lane centering assist
c) Adaptive cruise control with stop and go
The Nissan Ariya Concept,gets up to 300 miles of range and is a crossover/hatchback where the Leaf is a sedan. Nissan will use the second generation of its ProPilot Assist self-driving technology, which provides Level 3 hands-off driving for conditional automation. It's roughly equivalent to Cadillac Super Cruise. The car is far enough along that even with the "concept" suffix on the name, this is a good idea of what it should look like.
Size:- Ariya is four inches shorter than the Rogue (not Rogue Sport) and three inches wider, making it 181 inches long and 75 inches wide. That places it within the realm of compact rather than subcompact vehicles. The feds classify vehicles by interior volume. But generally, a compact SUV is considered to be 180-190 inches long, while a subcompact is 160-170 inches. The current Leaf is 176 inches long and 71 inches wide.
Range:- Nissan says the range will be  300 miles. The second-generation Nissan Leaf is rated at 226 miles. There should be three models, S, SV, and SL, with prices of about $40,000 to $45,000. The acceleration will be 0-60 mph under six seconds.
Drive:- Nissan Leaf offers front wheel drive only but the Ariya will offer all wheel drive with motors both front and rear. It's, however, not clear if all Ariyas' will get  e-Force or if it's a step-up option. Because for many EVs AWD is not necessary especially in the US.
According to  Takao Asami, Nissan's senior vice president of research and advanced engineering,the e-4ORCE twin-motor all-wheel control technology offers precise handling and stability, which gives drivers greater confidence and even more excitement than ever before. This technology enables excellent cornering performance and traction on slippery surfaces and comfortable ride for all passengers.
Interior and comfort:-The Ariya's interior looks futuristic and minimal. Nissan appears to have forgone every button possible in pursuit of a smooth dashboard that favors a sleek look that matches the design of the exterior. Ariya will offer less cargo space.
Infotainment and connectivity:- It will feature what Nissan calls Door-to-Door Navigation, which allows drivers to set a destination on their phone which then automatically transfers the directions to the Ariya's infotainment display. The Ariya can sync with the schedule of the driver, so it can pre-heat or pre-cool the interior while it's parked and charging, and therefore not drawing on the power from the battery. Drivers will also be able to use their phone to park the Ariya automatically from a nearby location using ProPilot's Remote Park, a system similar to Tesla's Smart Summon feature.
Price and warranty:- prices will start around $40,000 for the Ariya. Limited warranty covers 3 years or 36,000 miles, powertrain warranty covers 5 years or 60,000 miles and battery warranty covers 8 years or 100,000 miles
Join the newsletter to receive the latest updates in your inbox.