Powering the front wheels of the Mercedes-Benz B250e is a front-mounted permanent-magnet synchronous all-electric motor that's rated to have an equivalent of 177 hp (132Kw)and 251 lb-ft of torque. The battery chosen for this system is rated at 28.0-kWh, and when all work at an optimum, result in a range of 87 miles. The B250e can hit 60 mph in 7.9-seconds and is limited to a top speed of 100 mph. Charging takes 2 hours to recharge it at 60 miles. There are no gears, only a CVT-like 1-speed direct-drive transmission.
The B-Class Electric Drive, according to Mercedes, has a 28-kilowatt-hour battery pack. If you use (the mid-range) 3.5 miles per kWh as your basis, that means 98 miles on a full charge. The EPA provides a more conservative range estimate of 87 miles. Any way you slice it, that beats the Leaf's 24-kilowatt-hour pack and the 22 kWh in the BMW i3.
Just because the Mercedes-Benz B250e is powered by an all-electric setup it doesn't mean anything else changes. Safety is paramount with 7 airbags fitted, active brake assist, and an electronic stability program. As is the norm with Mercedes-Benz, a lot of features are only available as options at a price, but you do get a central controller with a 7-inch screen, a hands-free Bluetooth interface, and a CD player. You can option features like Apple CarPlay, Android Auto, a 450-watt Harman Kardon LOGIC7 audio system and advanced voice control that lets you easily access a host of functions and features.
Also read: BMW i3 vs Nissan Leaf
Electric vehicles take a bit of getting used to when it comes to driving. Firstly there's no engine noise alerting you to the fact that the car is actually running, and then depending on how sensitive the accelerator pedal is, the cars have a lot of torque low down and so feel explosive off the line. That's not the case in the front-wheel-drive Mercedes-Benz B250e because there's a bit of a delay in response and so it feels sluggish. You can overcome this by using Sport Mode if you don't mind sacrificing your range before recharge, which is already lacking compared to some rivals. The suspension is stiffer than in similar-sized cars thanks to added weight from the battery, and thanks to this the B250e offers handling that can feel rather sporty. The regenerative braking sensitivity can be adjusted via easily accessible paddles behind the steering wheel, and the same system changes the feel of braking too, max regeneration means no free coasting and faster stopping times.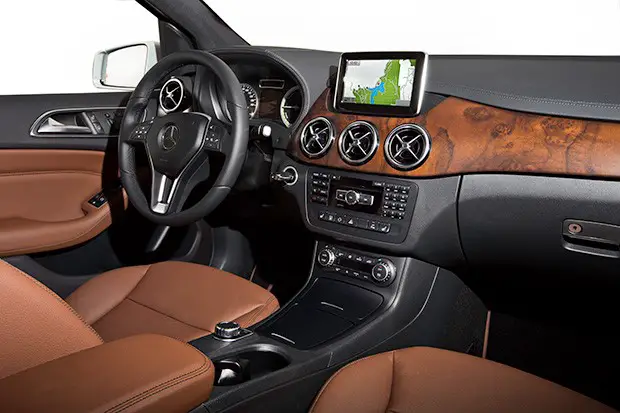 Inside the Mercedes-Benz B250e, you'll find a typically Mercedes-Benz interior with top quality materials and finishing throughout like Black Ash wood trim and leather with names like Hazelnut Brown, along with black plastics and brushed aluminum. There's the usual multi-function steering wheel, the dash-mounted infotainment screen that looks an afterthought, climate control and a center console. You also get fiber-optic ambient lighting that can be configured to match your mood. The instrument cluster loses the tachometer and instead features a power gauge relaying how much of the battery charge you're using or power you're recycling. Space is good in the B250e, 5 adults will fit well with good rear legroom, while the trunk is average but can be expanded to 51.5 cu-ft. if the rear 60/40 folding seats are set flat.
Join the newsletter to receive the latest updates in your inbox.