The BMW i3 style is distinctive and unusual compared to the other electric, you can be able to sit upright in comfortable seats for four or even five. The i3 front seats have manual ,not power controlled to conserve energy usage and reduce weight.
The i3's interior layout is comfortable and easy to use. The start or stop button and gear selector are integrated into one unit to the right of the steering wheel. There are two screens on the dash one above the steering wheels which gives you speed and charge level readouts,and the other to show battery usage graphic and number of miles remaining. The center screen is meant for navigation and infotainment.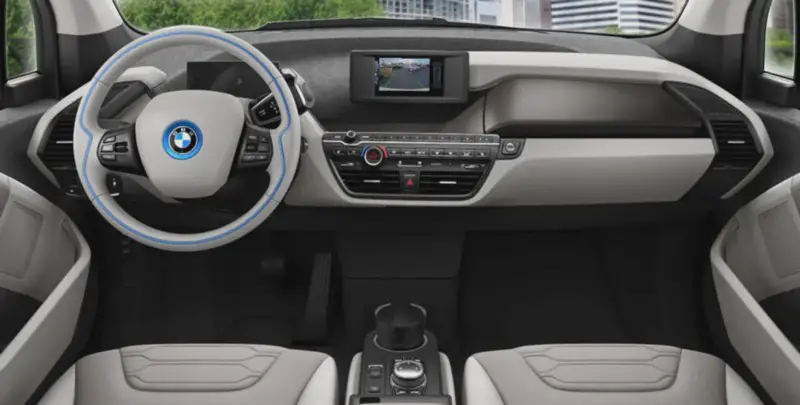 It offers a choice of three driving modes: Comfort, Eco Pro and Eco Pro+. Beyond the Comfort setting, each reduces power output and increases range. The Eco Pro setting is mostly recommended for balance and power range while the Eco Pro + has strong brake regeneration,easy pedaling.
The car feels light on its feet and loves to make quick lane changes in traffic. Power is plentiful and immediate, from a standing start and also cruising at highway speeds. The instant thrust of the i3's electric motor is a joy to experience, whenever you need it and even when you don't. It is lightweight and fun to drive, with high performance and excellent utility. But it has been around a few years and it is slowly aging out.
Aside from a rear parking sensor, there is a need of resolving the issue of power consumption by increasing battery capacity.The 2017 BMW i3 has been upgraded from 83 mile range to a 114-mile range. But in a world where you can buy a Chevrolet Bolt with a 238-mile range for few dollars less , it disadvantages the i3. The next upgrade will need to do so much better to be able to compete with Chevrolet Bolt, Tesla Model 3 ,Nissan Leaf among others.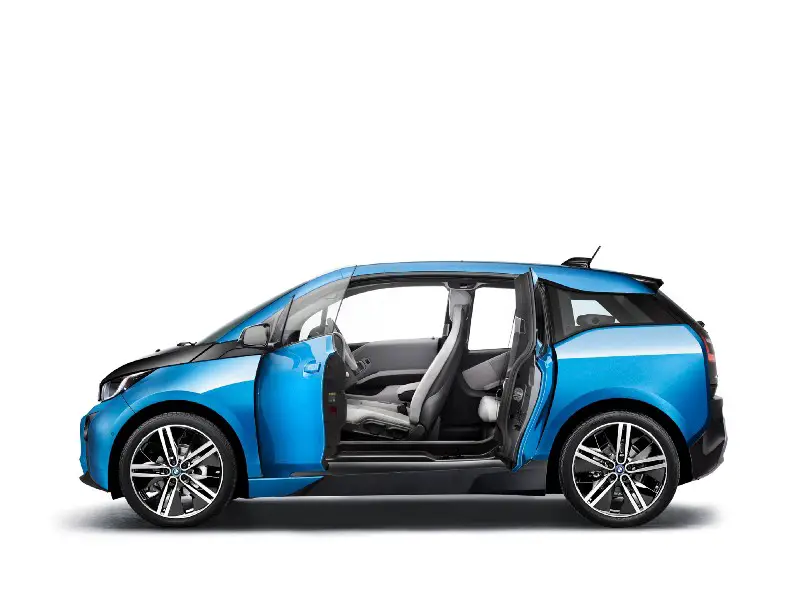 BMW i3 is a great urban runabout. It is easy to park and maneuver in the city ,it is comfortable and roomy for four people . It's not just the electric powertrain , the i3 features an advanced carbon fiber-reinforced plastic body shell and wheels .BMW i3 is one of the most energy-efficient cars with an EPA-rated 118 MPGe which has up to 114 miles of range. It's quiet, smooth, and luxury car cozy.
BMW also offers the i3 REx with a two-cylinder gasoline engine that acts as a generator to provide up to 180 miles of range. The REx model is no longer a zero-emissions car, but it becomes a lot more usable than the standard battery-powered i3.
Nissan Leaf
Comparing the BMW i3 and Nissan Leaf , electric motor from 107 hp and 187 lb-ft of torque to 147 and 236. The lithium-ion battery-pack capacity of 40 KWh and overal range of 150 miles. And if that still isn't enough, Nissan is building a 60kWh Leaf that promises a range of at least 225 miles. When it comes time to recharge the Leaf it takes about 26 hours with a 120V or 8 hours with 240V. The Leaf is also compatible with public quick chargers and can reach 80 percent battery charge in just 40 minutes.
It comes with standard e-pedal system, which allows the driver to start and stop the the vehicle using only the accelerator pedal. Nissan has programmed the regenerative brakes that provide the maximum amount of braking when you take your foot off the accelerator. This can keep the leaf stationary on a hill.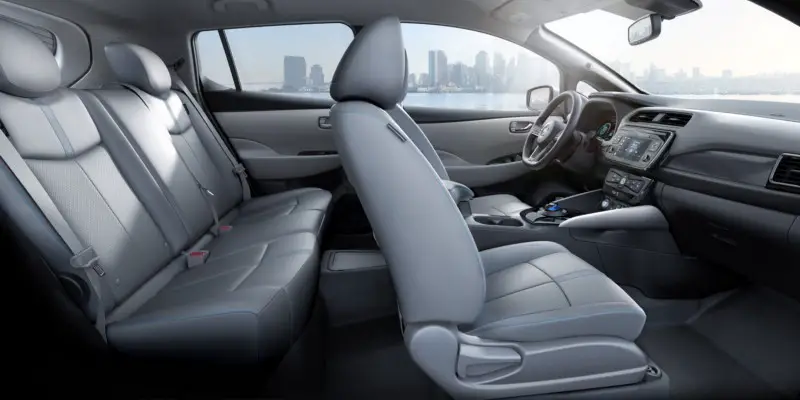 The Leaf's interior follows the same conventional design as the exterior, with a simple center-stack layout and a flowing dash. The cabins are soft and has blue stitching on the seats.It also has 6 inch infotainment system screen with navigation, Android and Apple CarPlay.
The 2018 Leafis the first model to have the company's semi-autonomous ProPilot Assist system combines adaptive cruise control and lane keep assist to provide self driving technology .To achieve this all you need to do is set up the speed and the distance between your vehicle and the car in front and the system will take care of the rest, including making minor steering adjustments. ProPilot will also bring the Leaf to a complete stop and start back up in congested traffic situations. Also available in the Leaf is camera system,blind-spot monitoring and lane-departure warning.
Leaf costs $29,990 while BMW i3 $43,395 so its upon you to look keenly at the features of these two vehicles then determine which suits your preference ,however, Leaf seems to have more features that BMW i3 and at a cheaper price.
Join the newsletter to receive the latest updates in your inbox.