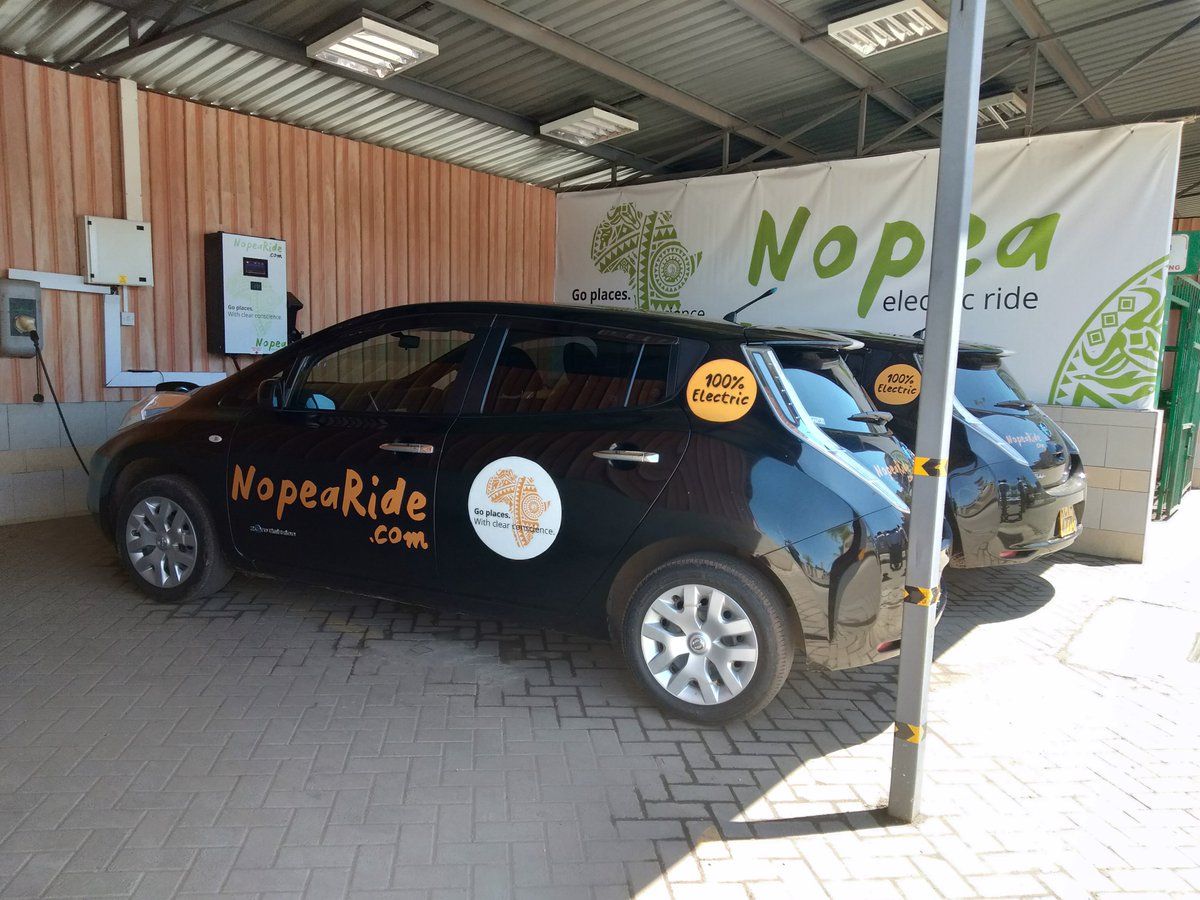 Few years ago electric cars in Kenya was a dream until when one cab hailing service , Nopea ride, came to existence  then people started understanding and embracing the electric culture. Currently Nopea has a fleet of 30 Nissan Leafs whereas another company is converting ICEs into electric cars here in Kenya. Not long time we will have electric matatus and bodaboda (motorcycle) on the roads.
The Nopea cars cannot be differentiated with the rest apart from the marks of Zero Emissions that let you know the car is fully electric. I board one of the taxis from the Hub Karen, which is where one of the charging stations is found to TRM the other charge station for Nopea, the driver says "I have been driving the car for a while now, since the cars came in to existence in 2018." At Nopea the cars belong to the company unlike other taxi hailing firms which do not own the vehicles.
The journey from Hub, Karen to Thika Road Mall is around 31.7 km, when we are about to reach the mall the driver says the car is out of charge but that should not worry us because we are at one of the charge station, he had not charged the car over night, the recharge takes 30 minutes because they have fast chargers. He informs me that you can even recharge the car at home using the fast chargers. There are 3 charge stations for Nopea ride, The Hub, Karen, Thika Road Mall popularly known as TRM and Two Rivers Mall.
The Two Rivers Mall (which is open to Nopea taxi drivers) operates a 12 megawatt solar as the main source, and in case there's no solar and the grid power is down then the diesel power is used, while Hub Karen has installed a 450 –kilowatt solar electric power generating plant. An electric taxi can travel 150 kilometers on a full charge. Nairobi being the capital city of Kenya, it is highly populated hence struggles with air pollution, electric taxis are an opportunity for cleaner transport and also a way to make money.
In order to encourage the adoption of electric vehicles, the 2019-2020 Finance Bill set a reduced excise duty on electric vehicles from 20% to 10%. Earlier in the year 2019, the Kenya Bureau of Standards (KEBS), adopted electric vehicles standards. However, according to CEO of Nopea Ride Juha Suojanen, this has not been the case because there are no commercial EVs hence the challenge of determining the cost of the EVs, therefore the current duty is still heavy on the importations, there is a need for the government to zero-rate electric cars and capitalize on business opportunities, jobs and the circular investments to be created by the electric vehicle industry.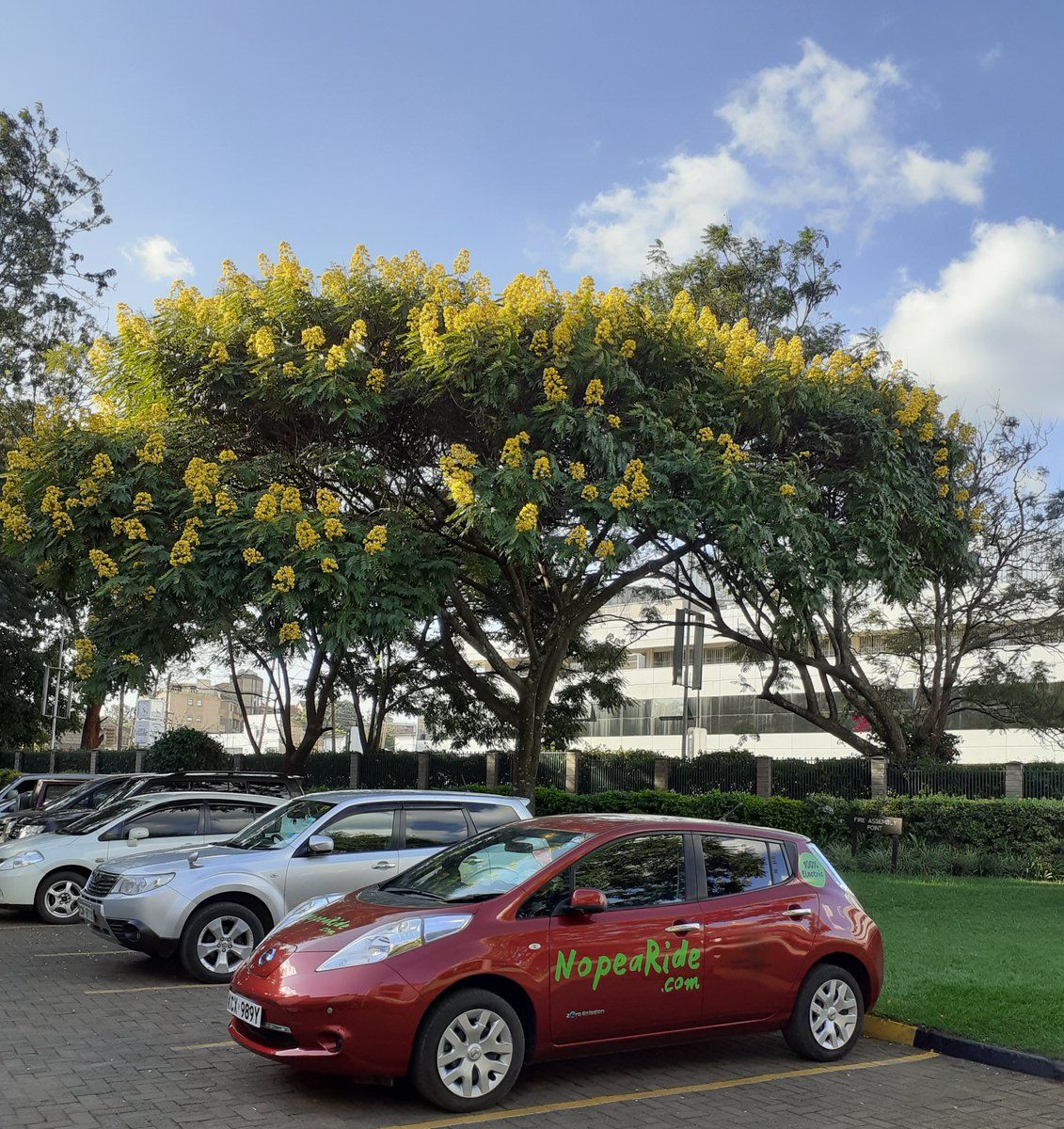 Being the only electric taxi transportation service.  In May 2020 it signed collaboration with the University of Nairobi, Institute for climate and adaptation. This is a win for both parties because that all fight for one noble course which is clean environment which is free from pollution. As if that is not enough, it also signed a contract with UNOPS (United Office for Project Services) employees immediately in Nairobi, Kenya. Nopea Ride says it considers the agreement as a major milestone towards ensuring sustainable environment and clean mobility in Africa and Kenya. They are grateful to UNOPS for choosing them over any other taxi company because both companies will benefit, the drivers will earn more money and also cleaner streets.
See: NopeaRide signs contract with UNOPS
Apart from the ride hauling company there is Opibus which is a company that is in charge of converting ICE cars to electric cars. The Opibus car factory is divided into pre-production of the electric car systems and conversion of cars. From mid this year, the conversion will take two days instead of two to four weeks due to the streamlining of the production and method changes, according to Filip Gardler, the CEO and founder.
"We remove the engine, fuel tanks and gear box, and replace them with their drive trains, which comprise an electric motor, battery packs, power electronics and auxiliary systems such as driver touch screen interface, type 2 charging port and so forth. We pre-produce all of them here in our factories," says Gardler.
They work as a team of about 55 people, mostly Kenyans, trained to develop, assemble and produce electric drive trains, which are the groups of components that deliver power to the driving wheels.
Filip Lövström, chief technical officer and co-founder says they can convert any type of car. They started with tourism industry as their entry market but they are now moving over to larger and more markets such as public transportation. They started the idea of converting ICEs to EVs two years ago and seem their efforts are paying off.
They are planning to move from project-based manufacturing to mass production where they plan this year to roll out matatus and motorbikes. The plan has generated a lot of interest, and they are about to begin piloting the boda bodas in Nairobi, Western region, around Lake Victoria – Mbita and HomaBay towns. They plan to have 50 electric motorcycles in those areas to test for off-grid usage. That means they will also be available for drivers who are off-grid and will use solar power to recharge them.
The founders say upfront capital expenditure is higher for an electric car, but removing fuel costs reduces operational expenditures by an average of around 80 percent, therefore matatu owners and boda bodas will be able to keep more of their profits at the end of the day.
A full battery charge in one of their four-wheel drive vehicles on a rough terrain goes for roughly 100km, with the non-extended "baseline" battery pack. How long the charge goes depends on various things, such as the size of the battery pack and the terrain.
"On tarmac depending on the various factors, the smallest battery pack for a 14-seater would power the car for about 150 km," says Gardler. "Depending on the type of vehicle and how much you want to work with, we can do ranges of about 400 to 450 km. That's the potential."
The cars from Opibus charge fully in one and a half hours, but they are planning to bring the period down to half an hour, utilizing DC-fast charging. One can also use a domestic power outlet at home. That would take between six and seven hours, which most people opt to do overnight.
The ultimate goal of the company is to accelerate e-mobility evolution in this region."It is also to make sure that Kenya is not dependent on foreign imports to make the vehicles but that Kenyan engineers can design, manufacture and assemble electric vehicles."That is the competence that needs to be here and that is why we started this company. The plan is to leave this in the hands if Kenyan," Gardler says.
Also read :KenGen to install electric car charging facility
As what can be termed as collaborating efforts Kenya giant electricity provider, Kenya Electricity Generating Company PLC (KenGen) which produces 75 % of the nationwide power  has plans to invest on electric car charging stations . KenGen strategy and Innovation director David Muthike through a webinar said that the firm is positioning itself to the possibilities of coming up with electric public service vehicles as Kenya wants to reduce diesel and petrol cars.
The project will generate revenue from the vehicle owners who will require charging their vehicles but will depend on how fast the technology will pick locally
Join the newsletter to receive the latest updates in your inbox.