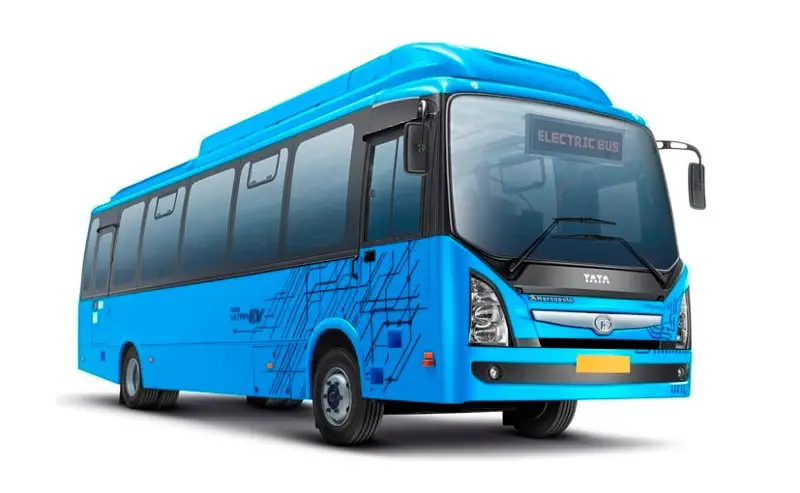 Manufactured at Tata Motors Dharwad plant, the ultra electric buses offer 150 kilometers range on a single charge. The Li-ion batteries have been placed on the rooftop to prevent breakdown due to waterlogging. The batteries are liquid-cooled to maintain the temperature within an optimum range and ensure longer life along with better performance in tropical conditions.
The company has delivered 40 bus measuring 9 meter Floor Height Non AC buses to the Jammu & Kashmir State Road Transport Corporation. Out of the lot, 20 e-buses in Jammu were inaugurated earlier this year and 20 more buses were flagged off at an event held recently.
The new age Ultra Electric buses, powered by an integrated electric motor-generator are built on existing proven platforms of Starbus and Ultra. With a max power of 245KW and continuous power of 145KW, the buses have a seating capacity of 31 + 1D seats.
The buses will help in zero tailpipe emissions, 50 percent lower fuel costs, 20 percent better energy consumption and lower maintenance downtime as compared to diesel buses.
The company has fitted air suspension for both front and rear axles to make travel more comfortable for the commuters. It is equipped with an integrated electric motor-generator with a peak power of 333HP that can deliver 197HP continuously ensuring effortless driving in congested roads and frequent start stops needing no shifting of gears.
The company has tenders to supply 255 electric buses to six public transport undertakings including WBTC (West Bengal), LCTSL (Lucknow), AICTSL (Indore), ASTC (Guwahati), JKSRTC (Jammu) and JCTSL (Jaipur). In addition to this, the company is also working on developing its electric mini-bus segment in the near future.
Join the newsletter to receive the latest updates in your inbox.