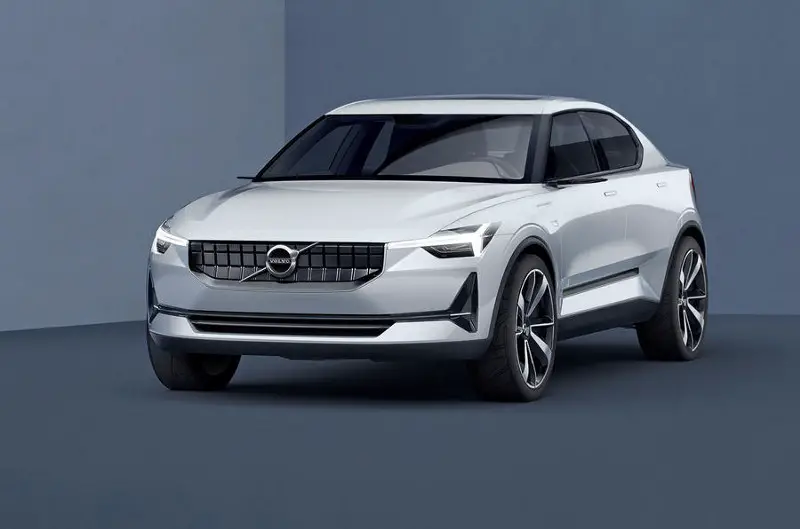 So far, in the world of EV performance, Tesla stands almost alone. Of course, Tesla has plenty of car companies nibbling at its heels. But for the most part, these companies are startups or overwhelmed traditional car makers. Germany is boisterous about EVs in the future and most likely Porsche can capture hearts as it always has. So will Jaguar Land Rover and a few others. It seems as though Volvo is one of those brands as well. The Polestar 2 mid-size 4-door is gearing up for launch at the 2019 Geneva Motor Show before going on sale in 2020.
The Polestar 2 will be one of those high volume offerings from Volvo. Based closely on the 40.2 concept, it will be an all electric sedan intended to compete head to head with the Tesla Model 3. It will come with two available battery sizes, the largest of which will provide the car with 400 horsepower and 350 miles of range. There are no details available yet on the range or horsepower the cars with the smaller of the two batteries will have.
Polestar is preparing to battle Tesla's much-talked-about Model 3 with an electric sedan of its own, the Polestar 2. Company COO Jonathan Goodman recently revealed several vital stats about the upcoming Swedish electric vehicle.Goodman says the Polestar 2 will get 400 horsepower, 350 miles of range, and a starting price of around $40,000 .
The Polestar 2's 350 miles of range will represent the lower 'bookend' and it should give access to the volume end of EV market needed. A Tesla Model 3's 75-kilowatt-hour long range battery, for comparison, is advertised to be good for 315 miles.
The Polestar exec also warned fellow automakers against designing its EVs with a niche market in mind, adorning electrified products with virtue-signaling green-car design quirks.The global electric car market was worth four million units in 2017 but it's quite widely expected to be worth 29 million units by 2025. EV owners will come from all walks of life, therefore it will be a mistake to assume that because the cars are electric, you have to make them quirky or futuristic.
However, if you are looking for a market worth 30 million cars within 7 years, it isn't going to be niche, it's going to be mainstream. So you just design a great-looking car — not one with a big blue flash down the side. Seemingly in direct contrast to Tesla's cult-like, customers of Polestar have less of you know reputation. For Polestar brand to idle around and imagine their type of customers is a very dangerous motive. It's a new market, and purchase intentions will vary. So we've got to be a welcoming brand that's not geeky, cliquey, or judgmental.
Volvo is mostly about safety, but over the past few decades has shed its Californian Berkley or upper East Coast look and feel to embrace a more upper-crust society. Volvo's owner, China's Geely, has been keen on getting into the lucrative luxury/performance EV market, where margins are easier to attain than with mass production EVs. We're sure Nissan might disagree with that, but getting Volvo from safety car to performance EVs is a mighty task for any company.
Volvo's are truly great cars, but the gasoline ones are very fuel thirsty. Volvo has been active on the racing scene and the bold and daring switch from gasoline cars raced to EV performance is something we hope all car makers would achieve, at the very least, the switch to electricity.
Join the newsletter to receive the latest updates in your inbox.