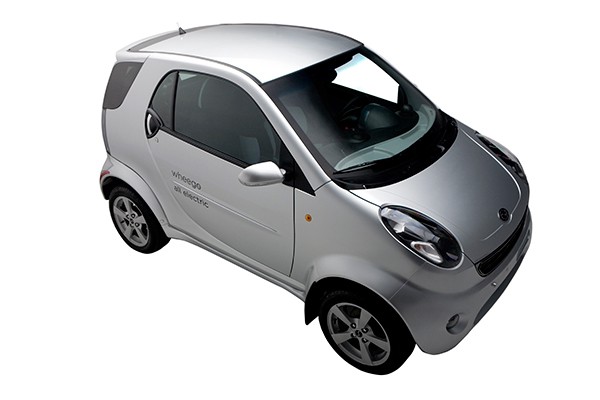 This cute little EV looks quite a bit like a Smart ForTwo, and it's a two-seater just like the Smart. It's got an AC motor, and the NEV version comes with 96 volts. It doesn't take 96 volts to move a small, light car peppily up to their legally-governed speed of 25–35 mph so the car is light. The Wheego LiFe was built with a 30 kWh lithium iron phosphate battery pack and has an all-electric range of 100 miles (161 km).
The trade-off is that every time you add another battery, you add weight. The Wheego Whip with lead AGM batteries is heavy; 3600 pounds with batteries, according to this Autopia Wheego Whip review. It wasn't all that peppy from 0–35 mph, according to the review, but it was respectable, solid, and decently-appointed.
There are two models now, the Wheego Whip and the Wheego Whip LiFe with lithium.
Summary specs
Battery: 30 kWh lithium iron phosphate battery pack.
Motor: Nominal 15 kW (20 hp), peak horsepower 45 kW (60 hp)
Range: 100 mi (160 km)
Torque: 95 lb⋅ft (129 N⋅m)
Charge capable: 120 V and 240 V
Charging time: From 50% SoC to 100% Soc 5 hours with Level 2 charging system
On board charge port: J1772 compliant
Top speed: 65 miles per hour (105 km/h) at 8,500 rpm
Wheelbase 2,025 mm (79.7 in)
Length 3,010 mm (118.5 in)
Width 1,605 mm (63.2 in)
Height 1,600 mm (63.0 in)
Curb weight 1,210 kg (2,667 lb)
Feature found in the car
Air conditioning.
 Air conditioning might drain the battery pack but his is important.
Stereo.
AM /FM, CD, MP3, USB
Cabin heat.
Its warm so there's no need of carrying extra coat while on this car.
Defrosting.
Both front and rear, just like a regular car.
Remote keyless entry.
Power steering.
Power windows and electric mirrors.
Safety rated (on-board) charging.
Regenerative braking.
Absolutely predictable with an AC motor system, but nice to see. This will both save on brake pads and increase battery range.
AC brushless motor.
It's got an AC motor. It's not your usual 3-phase induction AC, it's more like a per-mag. A little different.
Front wheel drive.
Anti-lock brakes.
Air bags.
Uni body frame.
Join the newsletter to receive the latest updates in your inbox.