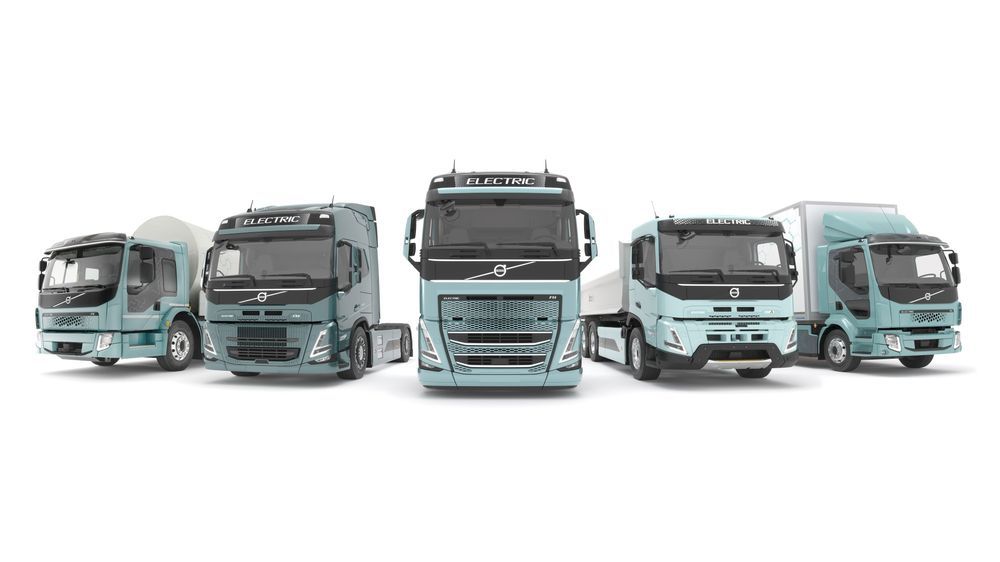 Recently Volvo launched the XC40 Recharge electric vehicle. The company has also announced plans to launch a fleet of electric semi-trucks. The Volvo truck brand already produces zero-emission big rigs such as the FE Electric, used for city distribution and waste collection throughout Europe. And it's still on track to start selling the VNR Electric regional transport truck in North America this December. After that, Volvo will continue its electric offensive with new battery-electric semis beginning in 2021.
Volvo is now testing the electric FH, FM, and FMX heavy-duty trucks. With an estimated range of up to 186 miles, these rigs aren't meant for long trips. Like other Volvo electric trucks, these models aim to serve local transport and urban construction needs in Europe. Sales commence next year, with volume production starting in 2022. At this time, Volvo plans to have a complete range of electric trucks in Europe for several services.
According to a statement by the Swedish truck-maker, the range of the trucks could be up to 186 miles, and volume production will begin in 2022. Roger Alm, President of Volvo Trucks, said they are determined to continue driving their industry towards a sustainable future. Volvo is also planning to sell electric trucks powered by hydrogen fuel cells for long-haul operations in the second half of this decade. By 2040, all the trucks that the company makes should be fossil-free, a spokesperson said.
As part of its transition to electrified vehicles, the company has announced plans to sell its first debut green bonds via a new financing framework. The framework, which is classified as "Dark Green" by research firm CICERO, will also enable Volvo Financial Services to offer green loans to customers who buy electrical products.
In recent weeks Volvo Car AB, Daimler AG, and Volkswagen AG have locked in lower borrowing costs by tapping into the insatiable demand for green assets. Another Swedish truck maker, Scania CV AB, said last month that it's planning to sell an inaugural green bond in its home market.
"Our chassis are designed to be independent of the driveline used. Our customers can choose to buy several Volvo trucks of the same model, with the only difference being that some are electric and others get power from gas or diesel. Product characteristics, such as the driver's environment, reliability, and safety, all our vehicles meet the same high standards. Drivers should feel familiar with their vehicles and be able to operate them safely and efficiently regardless of the fuel used," says Roger Alm.
From Volvo Trucks' perspective, the transition to more sustainable transport is mostly about making the shift as smooth as possible for haulage operators so that they can begin to adjust. The solutions offered must be fossil-free and allow haulers to achieve the necessary levels of profitability and productivity. "Our primary task is to ease the transition to electrified vehicles. We're doing this by offering holistic solutions that include route planning, correctly specified vehicles, charging equipment, financing, and services. The long-term security that we and our global network of dealers and service workshops provide our customers with will be more important than ever," says Roger Alm.
Source:  James Billington. "Volvo Trucks to launch range of electric trucks in 2021" www.electrichybridvehicletechnology.com/news/buses-commercial-vehicles/volvo-trucks-to-launch-range-of-electric-trucks-in-2021.html. Accessed 19 November 2020.
Join the newsletter to receive the latest updates in your inbox.