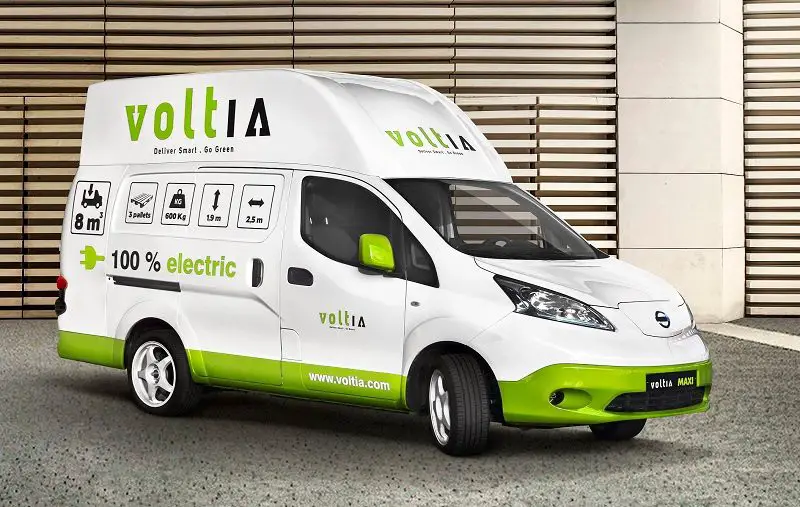 This is the modified e-NV 200. The van offers an improved storage capacity, growing the size of the van to another common but larger delivery vehicle size since Nissan doesn't offer such a vehicle on its own. The eNV200 Maxi is offered by the Slovakian company Voltia.
Voltia is now offering upsized versions of the eNV200 that expand the base van's cargo capacity from 140 cubic feet (4 cubic meters) to up to approximately 280 cubic feet (8 cubic meters).
It's called the Nissan-Voltia eNV200 MAXI and it offers operators up to 87 miles (140 kilometers) of range on a single charge (on the European test cycle), using the same running gear as the stock eNV200.
The conversion, which is similar to another van "upfitter" solutions, adds a higher roof and extends the length of the eNV200 to increase its cargo volume.
Voltia will sell you a complete van for 31,900 EUR ($37,600), which includes the cost of the e-NV200 base vehicle and retains the full Nissan factory warranty.
The Maxi is based on the Nissan eNV200, but it has been enlarged considerably so as to better meet actual business needs. The Maxi is capable of holding up to 3 Euro-pallets thanks to its custom-extended rear chassis. Cargo capacity is 8 cubic meters (~282.5 cubic feet) and 600 kilograms (~1,323 lbs). The single-charge range is 140 kilometers (~87 miles).
Join the newsletter to receive the latest updates in your inbox.