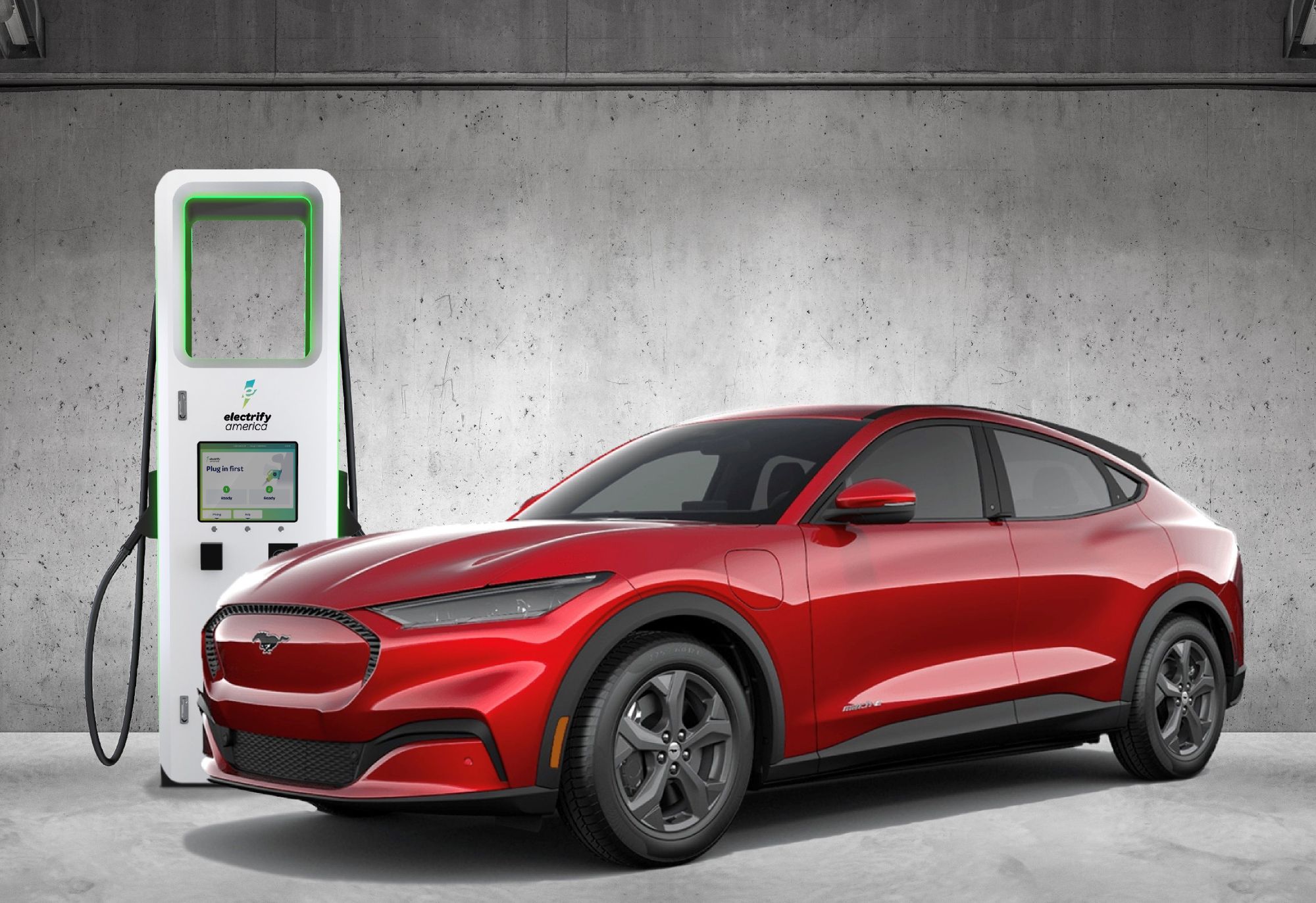 Ford sells its hybrid cars in the international market, with a full-electric vehicle in the form of Mustang Mach-E now under its lineup of go-green vehicles. Ford manufacturers electric vehicles few days after its former luxury brand, Jaguar, announced its own EV-only future by 2025, Ford will invest US$22 billion by 2025 to revamp its entire European lineup to EVs.
Mustang Mach E- It introduced the Mustang Mach E in 2019 in the shape of an SUV.  The production units have started selling in the foreign market. The Mach-E boasts of some impressive numbers concerning electric car standards these days. The entry-level rear-wheel-drive version is internationally offered with either a 68 kWh battery pack driving a 198 kW motor or an 88 kWh extended battery pack driving a 220 kW motor. The EV is expected to deliver ranges of around 340km and 483 km respectively. 0-100 is expected to be under 8 seconds and the top speed is limited to 179 km/h.
There are some added features in the car. The Mach-E is a rear-wheel drive by default, it is capable of going AWD electrically. Also, Ford delivers over-the-air vehicle firmware upgrades to the Mach-E. Ford is seriously considering the introduction of Mach-E. Rumors have been around that Ford is planning to start building the Mach-E in China for the first time.
Aspire Electric-In 2019 Ford and Mahindra are jointly developing an Aspire-based electric sedan, it will be ready by 2022. The first working prototype featured the eVerito's 72V system, but this was only to show that a battery pack, motor, and controller could be packaged into the Aspire's monocoque. The final electric version of Aspire is expected to be based on the second-gen Aspire. Mahindra was developing a 60 kW motor (2x the output of the eVerito) matched to a 25kWh battery that would provide a real-world range of about 150 km with a decent top speed of 110 kilometer per hour . The car is cheaper than Nexon EV.
Advantages of Ford's electric cars
If you want to switch to an electric vehicle, it might be a little daunting to choose Ford when they've waited so long to commit fully, unlike Chevrolet, Nissan, and other manufacturers who were early adopters. But being late to the game means there are several advantages:
Battery tech has vastly improved so the company can now compete on a global scale
Reliability in charging infrastructure
Ford has been developing electric tech for years before revealing the Mach-E
Join the newsletter to receive the latest updates in your inbox.