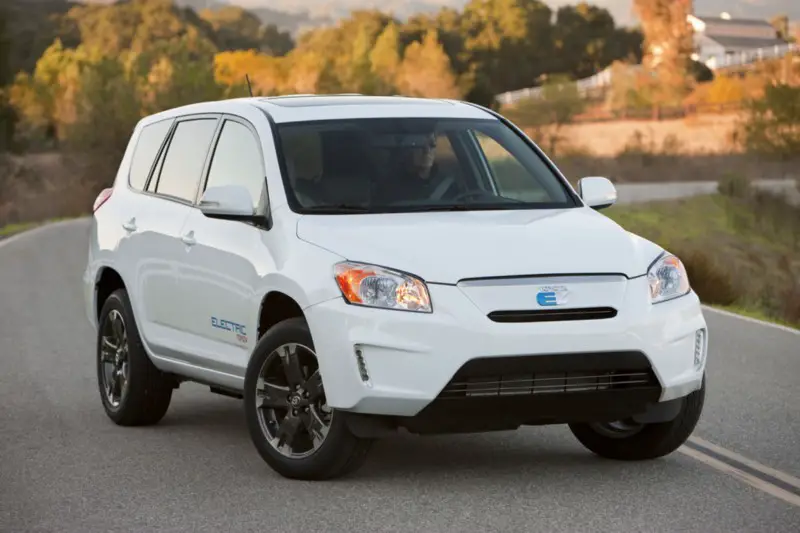 Like most electric vehicles, the RAV4 EV doesn't come cheap, but at least Toyota throws in a whole bunch of standard features. The list includes heated front seats, automatic climate control, satellite radio, Bluetooth with streaming audio, iPod/USB connectivity and an 8-inch touchscreen with Entune mobile-app integration and numerous EV-specific functions. There's also a high-tech instrument cluster with a color scheme that's determined by whether you're in Sport (red) or Normal (blue) mode. You even get an Eco coach program that evaluates your driving style and displays an overall score.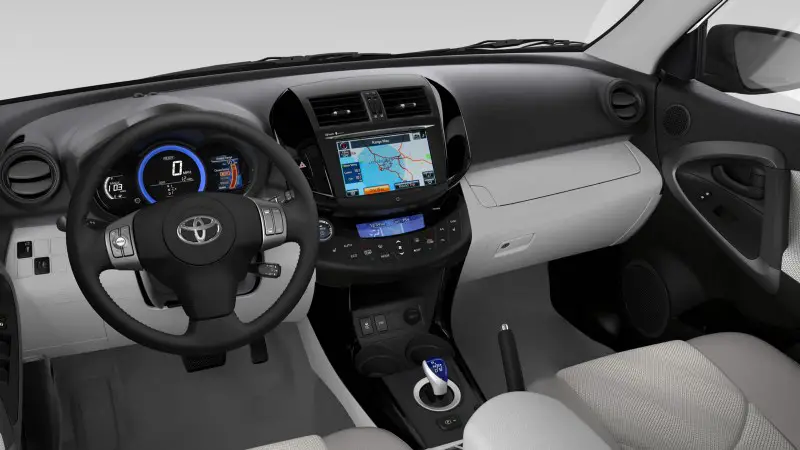 It has a 154 horsepower and up to 273 pound-feet of torque with acceleration of 0–60 time of 7 seconds. It also provides driving range of 103 miles and a full recharge takes about 5–6 hours with the optional 240-volt home charger. Moreover, the RAV4 EV drives a lot like a normal car, with secure handling and just normal feeling brakes, with 73 cubic feet of maximum cargo capacity. This car can seat up to 5 people, hence a perfect family car.
RAV4 EV is a modern car as seen from the driver seat aided by high technology dashboard with large attractive touchscreen. The exterior parts have LED lighting elements, aerodynamic mirrors seems thoroughly modern from the driver seat, aided by a high-tech dashboard with a large, attractive touchscreen. Outside, meanwhile, that old RAV4 body has been spruced up with LED lighting elements, aerodynamic mirrors, a sleeker rear spoiler and a unique EV grille.
As its name implies, the RAV4 EV is pretty much a normal RAV4 but with an electric powertrain. Tesla contributed all of the RAV4's electric bits, including the motor and lithium-ion battery pack; Toyota provided the RAV4 wrapper. The motor is good for 154 hp and max torque of 273 lb-ft; the output is routed through a single-speed transmission to the RAV4's front wheels. There are two driving modes, Normal and Sport. The Sport mode provides access to full torque, which makes a tangible difference in the crossover's performance. In Sport, the claimed -60 mph time drops from 8.6 seconds to 7.0, and top speed climbs to 100 mph from 85. The given acceleration estimates for the electric RAV4 in either driving mode fall between four-cylinder RAV4 and the 269-hp V-6 model. As for weight, the EV carries an additional 400 pounds over a 4WD V-6 model, which puts it over 4000 pounds.
Price: $49,800
Join the newsletter to receive the latest updates in your inbox.