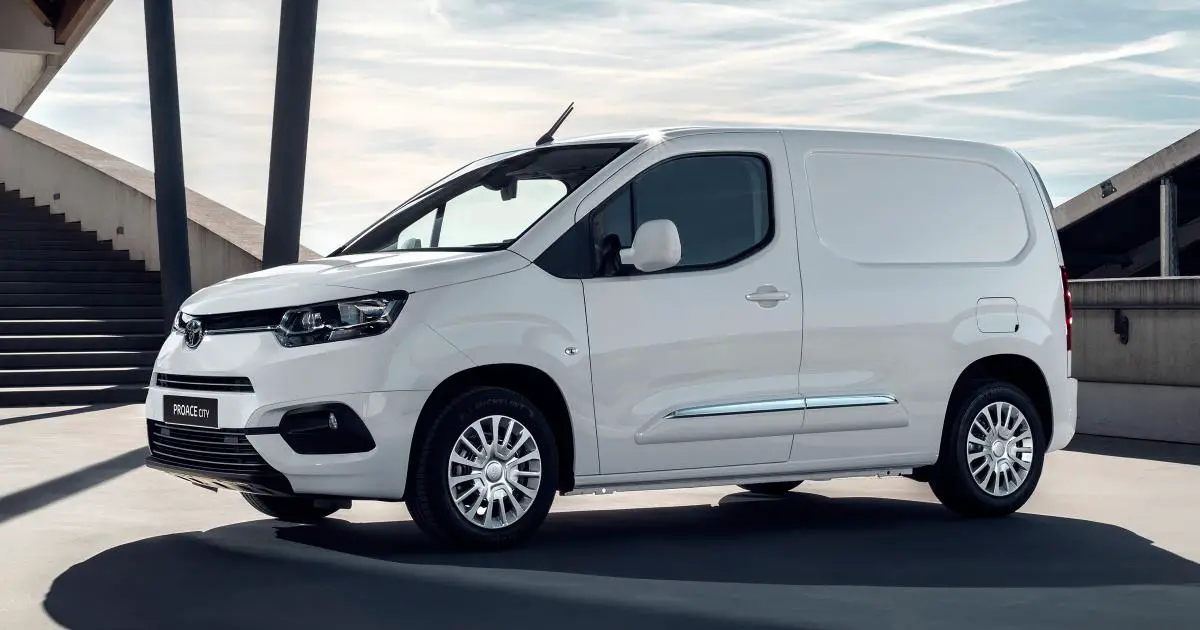 Toyota all electric Proace electric delivery van will be available in European markets.  Reservations are already being accepted and the first units will be delivered in October 2020.  The Toyota Proace Electric is basically a rebadged version of EV vans from PSA Group, based on the EMP2 multi-energy platform.
The biggest difference and quite a surprise is the announcement about the battery warranty, which is for up to 15 years /1,000,000 km (621,500 miles), including 75% of initial battery capacity. 75 kWh could be the highest period or millage that will be warranted but even then, this is amazing - probably up to two times more than in the case of the competition. PSA offers an eight-year/160,000 km (100,000 miles) battery warranty.
The Toyota Proace and the forthcoming Toyota Proace City vans will be offered with electric powertrains in 2020 and 2021 respectively, the Japanese manufacturer has confirmed.The company is reacting to increasing concern over air quality, as well as the emergence of low-emission zones in several European cities.Since 2016, the Toyota Proace has been manufactured together with the Citroen Jumpy and Peugeot Expert at the PSA plant in Valenciennes, France. The Opel Zafira Life, as already mentioned, also uses this technology, but is built in Luton, England.
The electric variant will face competition from the next-generation Renault Kangoo Z.E. and the Chinese-built LDV EV30, which are both due to arrive in 2020.The Nissan e-NV200  which features a 40 kWh battery and delivers 124 miles of range ,will  be a rival to the Proace City.
The Proace City is a compact van, available in both Short (L1) and Long (L2) body styles. The Long (L2) offers an additional 30 cm of cargo space, but they share the same wheelbase, which is perfect for agile maneuvering in tight spaces. The City, takes its design cues from its bigger brother; the sleek grill with chrome highlights, stretches to join the headlights, topped with a modern clam-shell style bonnet.So, it's not just a box on wheels. It features twin 180° doors on the back, and most impressively, sliding side doors on both sides – a big trump card over its compact competition.
Toyota likes to keep things simple. There are two models to choose from: the 'Active' and the 'Icon'. The 'Active' is a workhorse, but upgrade to the 'Icon' for a mobile office from which you can run your business from.The Proace City 'Icon' comes with Front & Rear Parking Sensors combined with a Reversing Camera .
Interior:- The seats in the new Proace City van are the same across the range; simple, comfortable and hardy. A  standard  Proace City features Air Conditioning, Bluetooth Phone Connectivity, DAB Radio, Daytime Running Lights, and a USB port to charge your devices on the go, your business does not have to be on stand still because you are on the road, you can work while on transit.  
Majority of customers might go for  the 'Icon' grade. You get all of this, and an upgrade to the best-looking van interior on the market. Inside the Proace City 'Icon' there is a big bright 8" touchscreen display for the Reversing Camera, which also features connectivity for Android Auto & Apple CarPlay which ups your productivity on the go.
Safety features:-Toyota models come with active safety features to keep you and your passengers safe.The safety features include  Hill Assist, Brake Assist, Vehicle stability Control, and the e-Call Emergency system – which calls emergency services at the press of a button, or in case of an accident.
Toyota PROACE Electric delivery van specs:
i) 50 kWh battery (18 modules) offers up to 230 km (143 miles) of WLTP range.
ii) 75 kWh battery (27 modules) offers up to 330 km (205 miles) of WLTP range
iii) Three lengths and with many body variants
iv) Payload of up to 1,275 kg depending on the particular version
V) Cargo volume of up to 6.6 m3
vi) Gross vehicle weights ranging from 2,800 to 3,100 kg
vii) Towing option of up to 1,000 kg
viii) Acceleration of 0-100 km/h (62 mph) in 13.1 seconds
ix) Top speed of 130 km/h (81 mph)
x) Front-wheel-drive
xi) 100 kW and 260 Nm electric motor
xii) On-board charger: single-phase 7.4 kW or three-phase 11 kW
xiii) DC fast charging (by 80% SOC) in about 30 minutes (50 kWh) or about 45 minutes (75 kWh) using 100 kW charger
xiv) Battery warranty: up to 15 years /1,000,000 km (621,500 miles)
Join the newsletter to receive the latest updates in your inbox.