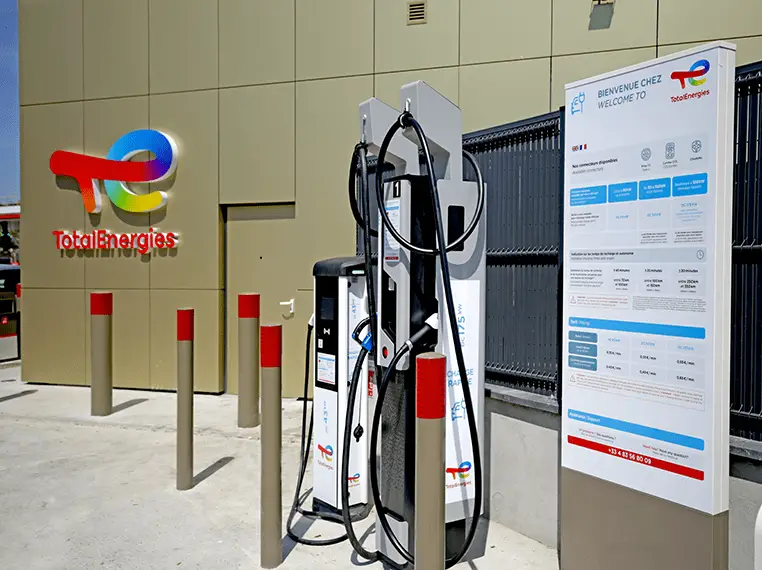 The French oil company TotalEnergies announces the upcoming installation of a recharging network for electric vehicles in the capital Tunis. The initiative is part of the group's energy transition strategy to develop new energies and support new forms of mobility.
The Tunisian subsidiary of the French oil group will provide its customers with charging stations every 200 km. The project will be carried out with the assistance of TotalEnergies' partners in the electric mobility sector in Tunisia, such as the automotive groups Ennakl, MG Motors, and Tesla Club.
In this North African country, TotalEnergies' electric vehicle recharging network currently comprises 26 recharging points served by 19 electric terminals in 17 TotalEnergies service stations spread across the country. The Tunisian government now wants to promote electric mobility, four years after the first electric bus supplied by the Chinese manufacturer BYD was put into circulation in the capital Tunis. The bus, which has a range of 250 kilometers for 90 passengers, has a recharging system that lasts three hours and is installed in parks.
TotalEnergies aims to become a key player in clean transport, in a context of energy transition and changes inland transport, where electricity is playing an increasing role. Backed by its customer base, its network, and the breadth of its products and services, TotalEnergies is promoting the development of large-scale electric mobility by investing significantly and deploying charging infrastructures for electric vehicles.
The company's close relationship with its customers enables it to support them in this transition by providing integrated, turnkey solutions, from supplying green energy to operating the charging service.
TotalEnergies is reinventing its distribution models, with installations operated at home, at the workplace, and on the road, so that customers can move around with complete peace of mind, thanks to clean, available energy.
As an integrated player of electric mobility, TotalEnergies masters all activities across the energy and EV charge value chain to reduce its impact on the climate and promote the responsible use of energy.
EV Charge ensures the development, supply, and technical support of these services and solutions including hardware, software, and professional services.
Source
i) Benoit-Ivan Wansi (2022) TUNISIA: TotalEnergies to equip Tunis with a charging network for electric vehicles.
Join the newsletter to receive the latest updates in your inbox.