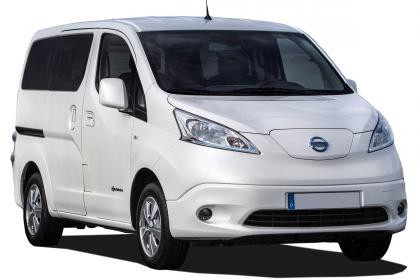 If you're looking to carry the maximum amount of kit for the minimum cost per mile, then you can't do better than an electric van.
And don't think for a moment they're not capable of hauling everything you need for a day's work — be it parcels for delivery or building supplies — as electric vans have payloads close to their diesel equivalents. And you can expect around 100 miles from a single charge, too, so you're not restricted to jobs around the corner.
The number of new electric vans on the market is small but growing. Already there are small, medium and large vans available, so there should be something to suit every need.
Here are some of the electric vans in the market:
1) Nissan e-NV200
The Nissan e-NV200 is based on the original Nissan Leaf electric car, so should be a dependable workhorse for your business. The mid-sized van boasts a 40kW battery, which provides a claimed range of 174 miles — although this will vary depending on factors such as payload and ambient temperature.
As with the Leaf, the e-NV200 comes with three charging options that plug into a flap in the van's nose. Add a wall box charger when you buy a van, and you'll be able to charge the battery from flat in seven and a half hours so overnight charging will be a breeze. From a standard three-pin socket, it takes over 21 hours to charge from flat, while at the other end of the spectrum, high-voltage public charging from a CHAdeMO supply can replenish the battery from 20 to 80% in as little as 40 minutes. However, lower-spec versions of the e-NV200 don't have this facility available as standard.
The weight of the batteries is set low, so it doesn't have as adverse an effect on handling as you might expect, but the e-NV200 is still pretty dull to drive. Light steering helps with low-speed driving, while the suspension is dampened a little by the extra weight of the batteries, so the electric van is a little more comfortable than the diesel version.
The e-NV200 has a cargo volume of 4.2 cubic meters, which puts it slightly ahead of its closest rival, the Renault Kangoo Z.E. And there's a payload of 705kg, which again is slightly ahead of the Kangoo. Of course, if you use the van's maximum payload, then battery range is going to suffer, but these vans tend to be used by companies more interested in load volume than outright carrying capacity. Read our full review
2) Renault Master Z.E.
The Renault Master Z.E. is the largest van on our list and uses the latest lithium-ion technology to ensure its range remains competitive. Helping make the most of every charge are features like Eco mode, which limits the top speed to 50mph (rather than 62mph), which is still more than enough for around-town use.
Renault reckons you should get around 74 miles from a charge in the real world. It takes 17 hours to charge from a standard mains socket, but a more palatable six hours from a 7.4kW wall box charger.
In total, six versions will be offered, including four-panel vans with two roof heights and a pair of platform cabs — ripe for myriad conversions — making this the most versatile electric van on the market. Depending on spec, they'll handle a 1.1-tonne payload. A range of telematics and fleet-management systems are available, which will please fleet managers. Read our full review
3) Renault Kangoo Z.E.
The Renault Kangoo Z.E. is perfectly suited to the congested streets of the cities, with a footprint no larger than a family hatchback. The latest examples have a 33kW battery, which boosts the claimed range to an impressive 170 miles. Even the claimed real-world range of 124 miles is more than most will need on a daily basis.
A full charge takes six hours from a 23A socket and you can use rapid chargers to take the battery to 80% in an hour. There's a clever climate-control system that helps maintain that range, so you'll be able to drive in comfort in extremes of heat.
Three body styles are available: standard, Maxi and five-seat Maxi Crew, all with a payload of 640kg. The standard version has a carrying capacity of three cubic meters, while the Maxi and Maxi Crew record 4.6 and 3.4 cubic meters respectively — the latter reduced on account of the second row of seats. Read our full review
4) Peugeot Partner Electric
Available in two wheelbase lengths, the Peugeot Partner Electric is a rival to the Kangoo Z.E. Like that model, it's ideal for around-town use, and Peugeot claims a range of 106 miles on a charge. Its 695kg payload is slightly more than the Kangoo, so what it loses on the range, it makes up for with capacity.
The standard wheelbase, referred to as L1, has a load volume of 3.3 cubic meters, while the longer L2 version sees that grow to 3.7 cubic meters. The Partner can be ordered with a split-folding passenger seat for longer loads. There's no solid bulkhead, which means you'll hear your cargo moving around as you drive. Read our full Review
5) Mercedes-Benz eVito
The Mercedes-Benz eVito is another all-electric delivery van that hasn't actually been released yet but still seems worth highlighting here. The model will reportedly possess an NEDC range rating of 150 kilometers (93 miles) per full charge, thanks to the use of a 41.4 kWh battery pack. The max speed will be 80 kilometers an hour (50 mph); charging the battery to 100% will reportedly take 6 hours, and the model will start at €39,990 ($47,000).
With regard to the payload, the max possible is 1073 kilograms, and max load volume is 6.6 m3.
The Nissan e-NV200, for instance, just got a substantial range upgrade (it's now outfitted with a 40 kWh battery pack); Daimler's E-Canter is approaching availability; Renault's vans have been getting range upgrades; deliveries of the Mercedes-Benz eVito began late 2018; eSprinter deliveries will follow in 2019; etc. The StreetScooter Work is also approaching production. So, the sector is likely to see the ground shifting quite a bit over the coming years. Read our full review
Join the newsletter to receive the latest updates in your inbox.