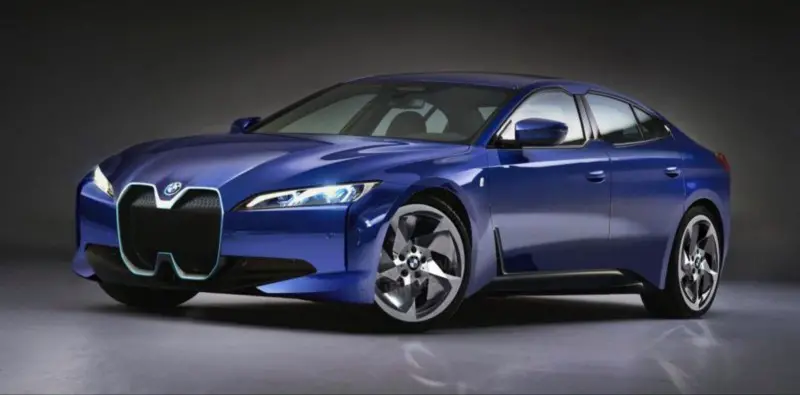 This will be the performance sedan of BMW's EV lineup, with production slated to begin in 2021. It's going to compete against other mid-size and look like a relatively normal sedan if these shots are indicative of the final design. The i4 is shaping up to have extremely conventional looks for an electric car, but who knows what's hiding underneath all the heavy wrapping.
BMW has given us a more precise figure for range on the i4, with at least 372 miles in the cards. That's a huge amount if BMW is able to pull it off, and will instantly catapult this sedan into relevancy in the EV game. Acceleration to 62 mph is said to take four seconds, on its way to a 124 mph top speed. Those aren't Tesla beating numbers, but they're impressive nonetheless.
The BMW i3 hatchback and handsome i8 sports car will soon be joined by a third vehicle in the growing "i" range. Previewed by the i Vision Dynamics Concept, which had a range of 373 miles (600 kilometers), the i4 promises to be the first mass-market, mainstream EV from the Bavarian brand. Though we don't know exactly what the final product will resemble, this new rendering gives us an idea of what to expect.
This is what the BMW i4 could look like if (or when) it finally reaches production. Most of the same styling cues from the i Vision Dynamics Concept carry over, admittedly, but it's a far more realized, and more production-ready vehicle than its concept counterpart.
For one, the front fascia has been revamped; the kidney grille now gets a more iconic look, opposed to the dramatic styling on the concept. The headlights, too, have been slightly reworked, with larger housings located underneath the dramatic LED accents. The rest of the body remains familiar to the concept, with a dramatically angled roofline, a unique four-door setup; only the wheels look more in line with the rest of the BMW range.
If and when we see the new i4 in the sheet metal — reports suggest we may have to wait until at least 2020 — BMW promises its range will be much improved over the current generation of i cars. A whopping 435 miles (700 kilometers) on a single charge could be a real possibility, says BMW, and the vehicle would be much more "cost-competitive," too.
Until then, BMW buyers will have to make do with the current range of i vehicles, the i3 and i8. Both cars recently underwent refreshes, with the i3 gaining a sporty "S" trim level with upwards of 184 horsepower (137 kilowatts) and 199 pound-feet (269 Newton-meters), and the i8 dropping its top with the Roadster trim.
Join the newsletter to receive the latest updates in your inbox.