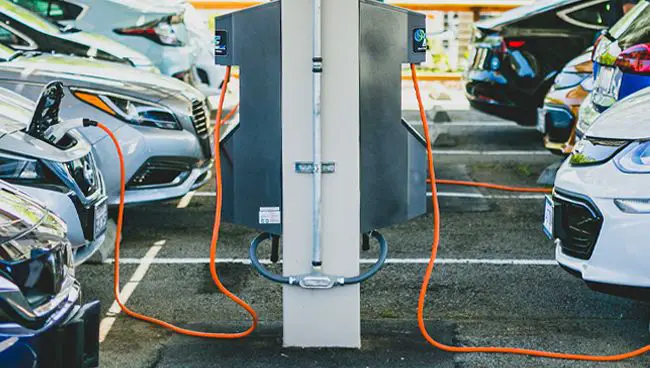 An electric vehicle charging station, also known as electric vehicle supply equipment (EVSE), refers to a device utilized for charging plug-in electric vehicles (EVs), such as electric cars, neighborhood EVs and hybrids. The charging stations use an energy controller, facility meter, software application, and energy conversion system connected to the power grid.
In 2020 the middle-East and African electric vehicle markets were valued at USD 35 million and expected to grow to USD 84 million by 2026 registering a CAGR of over 15% during the forecast period (2021 - 2026).
The growing focus of the governments across the region is to promote the use of electric vehicles and increased awareness,  about energy storage solutions in the renewable-based power sector expected to drive the market during the forecast period.
Moreover, expanding the 5th Generation-based telecommunication network and implementing Vision Documents in Saudi Arabia, the United Arab Emirates, Qatar, and Kuwait are likely to further aid the Middle East & Africa EV market in the coming years.

Sub-Saharan African (SSA) countries are in urgent need of alternative energy sources for transport to stave off the growing burden of fuel dependency and subsidies, as well as an electricity storage solution to leverage their abundant renewable energy resources. Electric Vehicles (EVs), powered by electricity and running on battery storage, offer a potential solution to both these problems. Many SSA countries are expected to be making large investments in power capacity in the next decade.

In the Middle East region, countries, like Saudi Arabia and the United Arab Emirates, are becoming early adopters of electric vehicles. The Saudi Arabian Standards Organization (SASO) has plans to issue regulations for the use of electric vehicles. In the United Arab Emirates, the Road Transport Authority (RTA) has issued advisory and worked to develop efficient charging stations in the country.
The adoption of electric cars is set to enter the fast lane in the Gulf, especially in tech-savvy urban hubs, like Dubai. As the EVs are in the nascent stage in the country, it has not yet set out incentives for the deployment of EVs, such as free charging stations, Greenbank loans, etc. EV incentives are yet to be developed, especially when EV deployment starts on a commercial scale. However, the country has taken a few initiatives, which are likely to boost the EV demand in the country. For instance,
Saudi Electricity Company signed a deal with Nissan Motor, Takaoka Tokyo, and Tokyo Electric Power Company for the first EV pilot project in Saudi Arabia. Reportedly, the agreement provides for the development of fast-charger EV stations.
Saudi Arabia has signed a memorandum of understanding ("MoU") with the United Kingdom in a move to reduce carbon emissions and support Saudi Vision 2030. The MoU commits both countries to cooperate and share expertise to develop technologies, including smart grids and EVs.
The United Arab Emirates is another most developed market for EVs regarding sales and charging infrastructure, with Dubai having some 200 charging stations and Abu Dhabi around 2020. The UAE government is targeting to have 42,000 electric cars on the roads in a few years. Moreover, favorable government policies and incentives offer lucrative opportunities to major players to promote the adoption of electric vehicles over the coming years in the region.
The Kenya-based Association for Electric Mobility and Development in Africa (AEMDA) says that East Africa has been the center of Africa's radical shift to electric mobility. Rwanda leads in the promotion of e-mobility through its recent raft of policy measures that include reduced electricity tariffs for EVs, zero VAT tax on EV consumables, exemption from import and excise duties, and rent-free land for charging stations.
Kenya has also gained critical market momentum to increase the adoption of electric mobility and has set a target of 5% of all newly registered vehicles to be electric by 2025.
"In Kenya, 64% of market players in e-mobility have invested in the local assembly. We foresee a high demand for EVs, especially in the two- and three-wheeler segment which would be more affordable compared to four-wheelers," says the AEMDA.
In North Africa, Morocco plans to achieve 23% energy savings in the transport sector by 2030 while Egypt is working on a national e-mobility strategy. Egypt is trialing 12 electric cars and plans to produce its first 100 in August 2022, while the country will build 3,000 charging stations in a joint manufacturing deal between El Nasr Automotive Manufacturing Company and the Chinese Dongfeng Motor Corporation.
Source:
i) Mordor Intelligence (2022) MIDDLE-EAST AND AFRICA ELECTRIC VEHICLE MARKET - GROWTH, TRENDS, COVID-19 IMPACT, AND FORECASTS (2022 - 2027)
ii) Tonderayi Mukeredzi ( 2021) Opportunities for Africa in the electric vehicle market
Join the newsletter to receive the latest updates in your inbox.