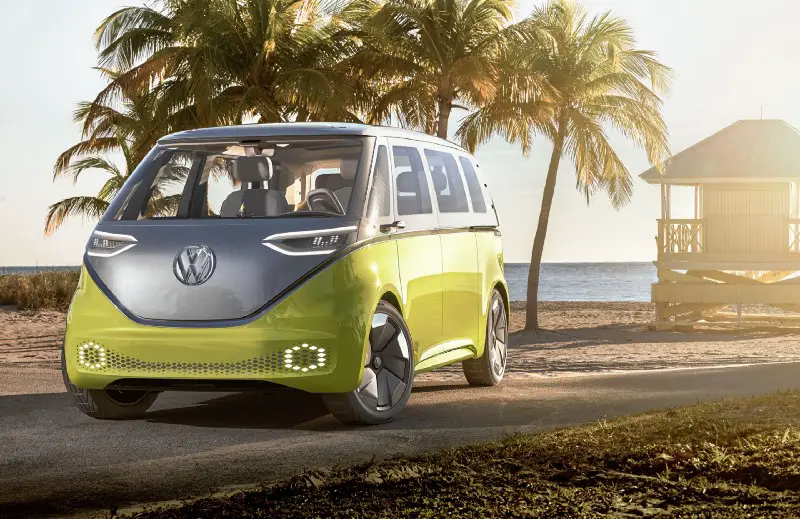 As you might expect, there's been a lot of excitement about all-electric campervan concept. A playful, upbeat style makes it a pleasure to behold and with the ability to accelerate from 0–60 mph in around 6 seconds, it will be just as fun to drive. Travelling up to 600 miles on a single charge, you can leave your worries behind as you head out on your next adventure.
 
The eight seater is bound to impress your friends and family as you all pile in with luggage included and still have space to spare. And the futuristic interior has done away with buttons with a new touch pad interface that makes the ID. BUZZ a fusion of classic style and innovative features.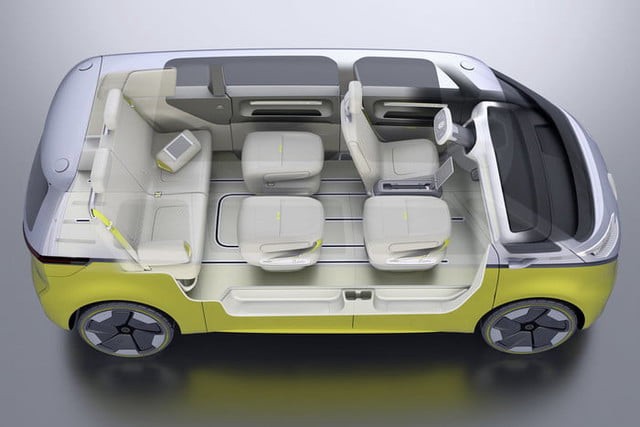 With the ID. BUZZ concept vehicle it's a luxury that could become real. Its Intelligent Co-Pilot capabilities mean your vehicle will be able to assess dangers and keep you safe like never before. Thanks to deep learning, the cars will get more intelligent when it comes to anticipating the behavior of others.
The design of the ID. BUZZ concept car is genius in many ways, but one of the Volkswagen favorite design features is how the electric drive takes up minimal space so the front and rear axles can be spaced far apart. This creates a giant interior that feels spacious and homely for when longer journeys are calling. Even the driver has plenty of room as all 8 seats can swivel and change direction, transforming family road trips into family sleepovers.
The I.D. Buzzcabin materials appear a bit more durable, since it's a cargo van and all. Just like the O.G. Buzz, the wheel can disappear into the dashboard when the vehicle is operating autonomously. At that point, the driver can rotate their seat 15 degrees to the right to operate the tablet that springs forth from the folded-down passenger seat.
Under the body is Volkswagen's MEB platform, which will underpin numerous electric models in the future. The I.D. Buzz Cargo only has a single 201-horsepower electric motor on the rear axle, but VW notes that a second can be added up front to give it all-wheel drive. It's limited to 99 miles per hour, and depending on the battery pack's size (multiple are available), the range is estimated to be between 200 and 340 miles.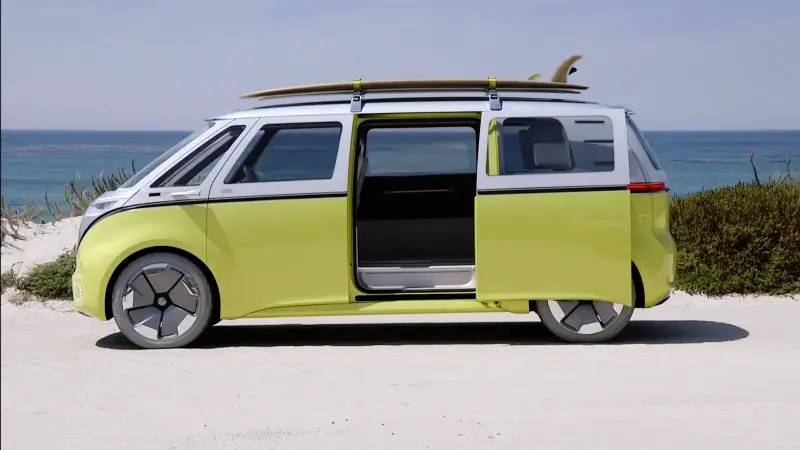 It sits on an extended version of the MEB modular electric platform, with a 3.3m wheelbase,the wheel at each corner design allows the I.D. Buzz to offer a flexible eight-seat cabin, with a lounge-style layout, multi-adjustable rear chairs and a driver's seat that swivels 180 degrees. This happens automatically when the autonomous I.D. Pilot mode is selected, retracting the single-piece capacitive touch steering wheel while the car takes full control of the driving.Other tech includes an augmented reality head-up display and a removable portrait tablet that controls the car's functions.
The I.D. Buzz's architecture means the batteries and motors sit beneath the floor, allowing two luggage compartments front and rear. It's all-wheel drive, with an electric motor on each axle and a combined system output of 369 bhp.
VW claims a 0–62 mph time of five seconds and a limited top speed of 99 mph and driving range of up to 373 miles. It also features inductive charging tech, giving an 80 % battery boost in 30 minutes.
The lithium-ion battery pack acts as part of the car's structure in the floor, in turn lowering the centre of gravity. Rear air suspension and adaptive dampers aim to deliver high levels of comfort, while the 10-metre turning circle is a result of rear-wheel steering.
Going electric wouldn't solve the traffic problem, but it would definitely clean up the air and prevent fuel waste when idling.
Join the newsletter to receive the latest updates in your inbox.