Tesla's Fremont factory is soon opening, and the employees who will not return to work will risk their employment. Elon Must announced the re-opening of the factory amidst orders by  Alameda County to give more time to finalize the opening approval. The company argued that they are essential service, and they will need to continue their operations amidst the crisis.
CEO Elon Musk threatened to move Tesla's operations from California to Texas/Nevada in response, and Tesla filed a lawsuit against the county. Alameda County said that it had been working with Tesla to reopen the plan on May 18, but Tesla wanted to restart last week.
When the pandemic hit US Tesla intentions were to keep the operation  going Musk,  however,  told his employees to stay home if they are not comfortable going to work, and they should not be afraid of losing their jobs. This is not the case though  some employees have expressed fear of losing unemployment benefits and even losing their jobs.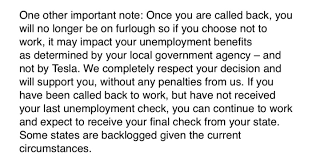 Now that Tesla is restarting production despite the local order, it is again telling employees not to come if they "don't feel comfortable," but they are also telling employees that they might lose their unemployment.
The employees received emails threatening them if they don't go back they might lose their job, this is via  the Guardian. The employees are hesitant to go back at work because they are still waiting for the approval from the county health officer.
One of the employees told our source as follows :
They're trying intimidation and threatening tactics, saying if you don't show up there's no more unemployment. I will not be there, as well as a number of other people, because it's still shelter-in-place. Until Alameda county health officer Dr. Erica Pan says otherwise, I won't be there.- said an employee
Another employee added : They've said I will be removed from furloughed status and not be able to collect. But many of us have not collected at all. I actually started isolation a week before Tesla shut down and received nothing except for the two weeks Tesla paid us. But I've been out of work since 13 March.
Join the newsletter to receive the latest updates in your inbox.