Porsche's new battery-electric Taycan sedan is probably the most hotly anticipated car of the year. The car's official launch happens early in September. Porsche revealed that it has worked together with Apple to integrate the Apple Music streaming service into the Taycan's infotainment system. All Taycan customers will receive a six-month free trial to the service, and Porsche says that Taycans will also come with three years' free data service.
The Apple Music is in addition to (and separate from) CarPlay, which is still a standard feature of the Taycan's infotainment system. But as CarPlay users will know, it's a highly sandboxed way of interacting with content from your phone. That's not the case with the new Apple Music feature. It has been added as a separate input in the Taycan's media player app, alongside broadcast radio, Bluetooth devices, and many more.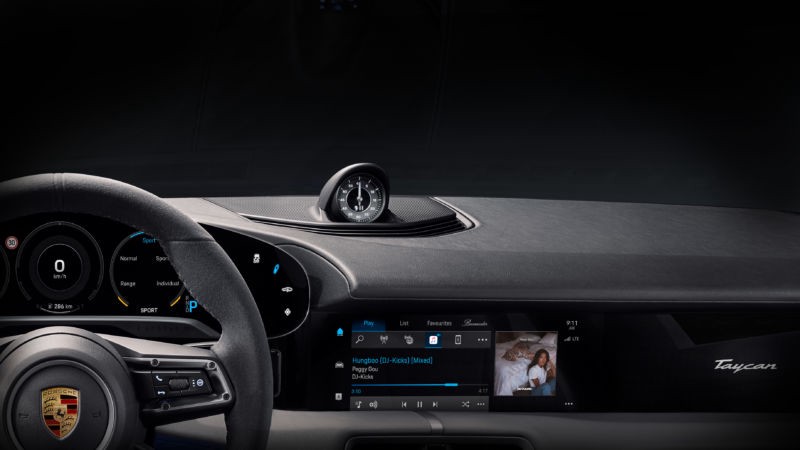 All they'll need to do is link their Apple ID with their Porsche account, after which they'll be able to control Apple Music using the Taycan's voice assistant system. Porsche says users will also be able to create a custom Apple Music station from any song they hear while listening to broadcast radio. The German car manufacturer also plans to release exclusive playlists that will only be available through Apple Music. Porsche intends to give new and existing customers free access to Apple Music for six months.
This is the first time that Apple is working with an automotive OEM company but it's part of a broader trend of cloud-based tech making inroads into the automobile. Although the announcement only relates to Apple and Porsche specifically, it's likely that in time it will extend to other brands within the Volkswagen Group, with presumably other OEMs as well.
As for other streaming services, Porsche would only say that it's focused on making Apple Music as easy to use as possible, as well as concentrating on making it sound as good in the car as a CD would be a CD player available in the Taycan. Google Play integration may not be available in many cars, but Spotify is available for many OEM infotainment systems including from Tesla and Volvo.
Porsche will provide three years of free data service for a new Taycan through its Porsche Connect service. Car manufacturers have much to gain from connected cars in terms of real-world users, so it seems right that they should begin to subsidize or cover the costs of that data.
Join the newsletter to receive the latest updates in your inbox.