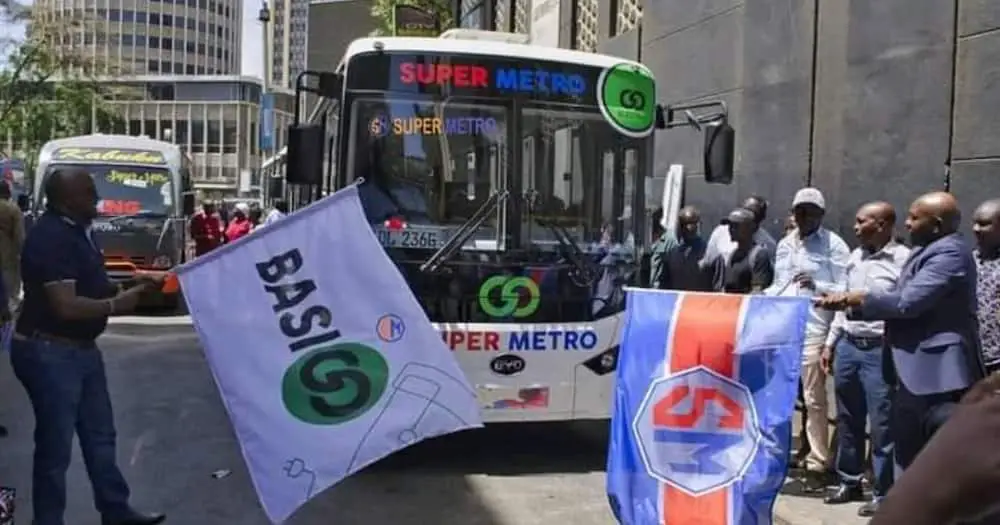 Super Metro Sacco, has unveiled electric buses to serve passengers in its city center to Kikuyu and Kitengela routes. The 25-seater K6 electric bus has been sourced from BasiGo, which provides electric mobility with charging and maintenance services for its vehicles.
BasiGo CEO Jit Bhattacharya said that Kenya has a vibrant public transport system that provides a vital service to millions of people each day. He added that the company is proud to hand over the transformative bus to Super Metro, one of Nairobi's leading public transport operators.
Bhattacharya added that, through this partnership, BasiGo and Super Metro are bringing Nairobi commuters a cleaner, quieter, and more comfortable journey on buses powered by 90 percent renewable energy generated right here in Kenya.
In December, BasiGo imported a total of 15 electric buses into Kenya and noted that the vehicles were destined for deployment in city routes as part of initiatives to provide smart travel services.
According to BasiGo, K6 is a 25-seat, 250km range electric bus that recharges in less than four hours and is designed by BYD Automotive, the largest electric vehicle maker in the world.
Super Metro introduced electric buses to five major routes within Nairobi and major satellite towns including Kikuyu and Kitengela. Super Metro Sacco chairperson, Nelson Mwangi Nduki, revealed that residents of Ngong, Juja, and Imara Daima would enjoy the services of the electric buses.
The Kikuyu-bound buses will ply Waiyaki Way through major stops including Westlands, Kangemi, Uthiru, and Kinoo. Kitengela-bound buses will on the other hand cover routes along Mombasa Road.
Additionally, the electric buses are set to operate during normal working hours. While the fare will be similar to that of the ICEs. Passengers will enjoy synthetic leather seats, free WiFi, USB charging ports, and an onboard television screen.
Since launching in March 2022, BasiGo's electric buses have driven over 150,000 kilometers and carried over 200,000 passengers as part of fleet operations with two Nairobi bus operators.
The company says it will supply over 1,000 locally manufactured mass transit electric buses to transport operators in Kenya over the next three years.
BasiGo makes electric buses available to operators through the "Pay-As-You-Drive" innovative financing model, which makes the upfront cost of their electric bus competitive compared to the alternative, diesel buses. In November last year, Basi-Go secured US$6.6 million (about Kes804 million) raising the company's funding in 2022 to US$10.9 million as the firm readies for the commercial delivery of electric business in the country.
The company also indicated it had received over 100 reservations for smart buses from customers. To enhance uptake, BasiGo inked a partnership with lenders KCB and Family Bank to advance up to 90 percent financing for the purchase of electric buses.
Join the newsletter to receive the latest updates in your inbox.