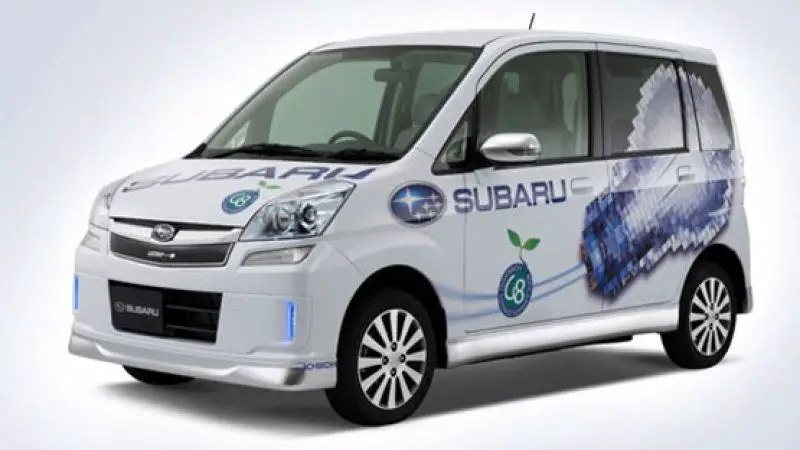 The Subaru Stella electric vehicle is based on Stella minicar, combining the EV system with a compact and light body, which offers an adequate and convenient means of transportation for daily commuting.
The Subaru Stella EV is powered with 9.2 kWh battery pack, generating 47kW of maximum power output, which yields a nominal range of just 55 miles.
The Stella's interior is snug but the torque electric motor means that it accelerates off the line quickly, getting to 40 mph in just four seconds. The top speed is limited to 60 mph to keep the batteries from overheating.
The EV can be recharged up to 80% of its capacity in 15 minutes using the quick charging system, whereas it's also fully rechargeable in 8 hours with AC100V household power outlet or 5 hours with AC200V.
The car not only offers zero CO2 emissions during driving but also dramatically reduced the level of CO2 produced in the process of electric generation, compared to the petrol engine vehicle's emissions level.
Subaru Stella's new mobility combines utility, practical driving range, and environmental friendliness.
Summary specs
Length×Width×Height :3,395mm×1,475mm×1,660mm
Curb weight:1,010kg
Passenger seating:4
Max. speed:100km/h
Per-charge driving distance:90km (10–15 mode)
Electric motor: permanent magnet synchronous system
Max. power output47kW
Max. torque:170N·m
Drive-train: Front-wheel drive
Battery type :lithium-ion batteries
total voltage:346V
Total energy:9kWh
Join the newsletter to receive the latest updates in your inbox.