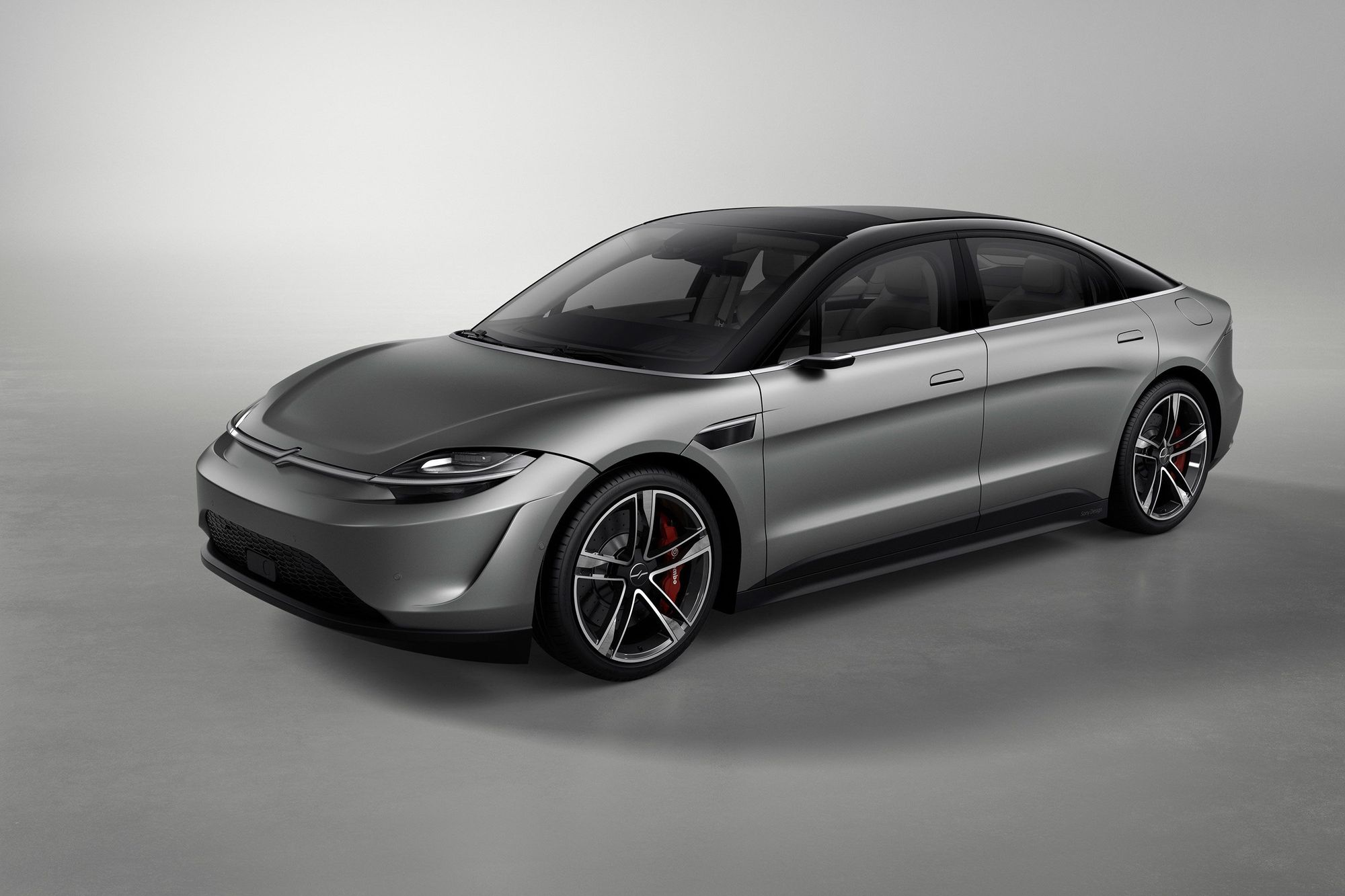 Sony is vastly known for electronics, and It has now invested in automobiles. It has revealed the Vision-S, a running, driving, prototype electric car.
Far from a simple mockup to show off in-car entertainment or new fancy cameras, Sony's entry into the automotive world is surprisingly complete. Recently, the Japanese tech giant has been spotted testing the vehicle on the road in Austria, questioning the EV project's future.
The Vision-S prototype has twin motors, one front and one rear, each delivering up to 200kW at peak power. Its weight is 2300 kg curb weight, and sprint 4.8 seconds from 0-60 mph; this is close to that of Tesla's Model 3. The company has worked close to its chest regarding the battery's range or specifications. The battery pack uses cells of Sony's manufacture.‌‌
The car has advancements inside and out, packing a suite of 40 sensors, including CMOS cameras, LIDARs, ultrasonic sensors, and radar. With these Sony plans to deliver level 2 autonomy, the vehicle can go to a speed and lane with driver supervision, same as Tesla's AutoPilot system.‌‌The goal is to reach Level 4 autonomy, with the vehicle eventually can drive itself in select areas fully.‌‌
Many details are in the car entertainment, which is more than Sony's history in this space.  Some of the features include screens spanning the full width of the dashboard and other displays for rear-seat passengers. Each of the passengers' seat gets its own set of speakers, which help each passenger listen to their own content of their choice. One notable inclusion is that Sony aims for seamless transfer of audio from a driver's smartphone earbuds to the car's speakers when entering the car. Not a game-changer, by any means, but something that highlights the seamless experience the company is going for.
Sony is working with  Magna-Steyr; it produces a range of vehicles from combustion, hybrid to electric such as Mercedes G-class, to hybrid BMW 5-series and fully-electric Jaguar I-Pace. This collaboration makes the project credible because of its long experience in automotive production, serving as a base for Sony's cooperation. It has lent great credibility to the project, with its long experience in automotive production serving as a base for Sony's technological exploration.
Compared to Apple, which has been rumored to manufacture its electric car for years without results, Sony's vision-S was first unveiled on the CES stage, fully formed in 2020 before more details were realized this year. However, there are many doubts about whether the car will enter production or public sale. Sony is not a well established automotive brand, with no dealership or parts network around the world. Coming up with a prototype is a far cry from getting a vehicle approved for sale in multiple jurisdictions worldwide, which requires more testing, often destructive. The cost for delivering a car to market is a costly example; Tesla took over a decade to reach sustainable profitability.
It is also difficult to picture how the Sony EV will be received in the market by consumers. It's unlikely Sony has automotive battery technology on par with Tesla's latest innovations, aside from the factories required to produce  EV in huge numbers and require large amounts of cells compared to the average consumer device. Production is significant. Magna-Steyr's output is to order 200,000 cars a year, which is currently torn between several models and unlikely to expand that number for Sony greatly. In contrast, Tesla built almost 500,000 cars in 2020, out of which 140,000 were the Model 3.  The Sony company needs economies of scale to balance price and performance. Without a lot of hype or brand cachet in the automotive world, it's a scary proposition to bet millions, if not billions, of dollars on.
Join the newsletter to receive the latest updates in your inbox.