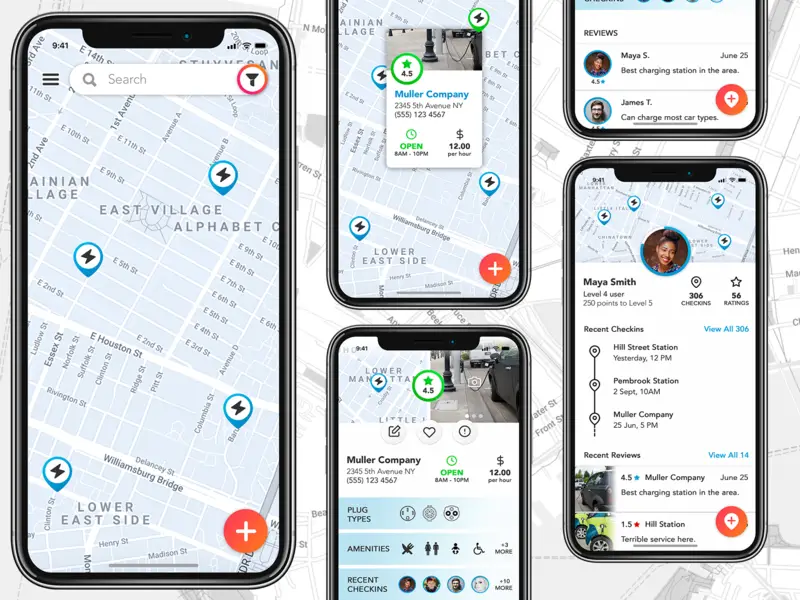 After buying your electric car, you will need to install two Apps that will help you operate your electric car.First is an app to find charging stations. Once you at the charging station you will need another app that will help you to recharge your EV.
Here are some of the Apps to help you find charge station and help to charge:
Apps for finding charging station
Chargemap/ hub- ChargeHub includes a store that helps you discover charging stations and accessories to help you manage and power your electric car at home. The app also includes blog posts to help you make sense of the options. This is useful hand-holding, even if you choose to purchase the products elsewhere. These include out-of-the-way stations near churches and campsites as well as Tesla Superchargers. Members of the community can also leave comments and photos along with coordinates. The application also has a feature to prepare long journeys that will list all nearby chargers for a given route. There are also filters to make it easy to find stations that offer a specific recharging speed or type of connector.
Chargemap can be downloaded for free from Google Play (Android)  and Apple's App Store (iOS).
PlugShare- PlugShare shows the location of charging stations across the world. As is the case with all apps of this type, you can also find important details like what kind of plugs the stations support. Cars such as the Nissan Leaf and the Chevy Bolt both use the same plug for Level 1 & 2 charging (J-1772), but they support different standards for Level 3 fast charging (CHAdeMO and CCS respectively). Meanwhile, all Tesla vehicles use the company's own proprietary standard. Plugshare has the added advantage of an integrated payment solution that enables drivers to purchase recharges with a smartphone at participating locations. As for the other details, it also relies on a community to upload coordinates and has a variety of filters to help find specific types of charger for different cars.
Plugshare can be downloaded for free from Google Play (Android) and Apple's App Store (iOS).
Google Maps- Since last year, charging stations have been referenced by Google Maps, which also provides information on the type and current availability of stations. The fact that Google Maps is not a specialist tool but a mainstream application shows just how widespread the use of electric vehicles has become. With the information it offers on availability,  Google is offering electric vehicle drivers a useful service that will help them to avoid waiting in line to use a charger.
The Google Maps application can be downloaded for free from Google Play (Android) and App Store (iOS).
Open charge maps-The app gives addresses, distance from your home, business contact information and the number of charging ports available. The disadvantage of this app is it does not have a place where you can leave a comment and reviews.
The open charge Maps application can be downloaded for free from Google Play (Android) and App Store (iOS).
Charging Applications
ChargePoint-  For you to use the app you need to your phone against a charging station to start charging. The app doesn't need to be open to initiate the process. This App shows you how long your car has charged, how much power it's received, an estimate of the miles gained, and the cost (for stations that aren't free). The app also helps in guiding you how you control your home charging station, if you decide to buy one the app allows you to see your car charging remote start a charge, and set timers.
EVgo- EVgo currently has the largest charging network in the US.Using the app you are able to locate charging stations available for use. However, this app does not show the progress when charging your car, therefore hard to determine how long you will stay at the charging station.
Greenlots- Greenlots provides electric car charging infrastructure all over the world. The app has Level 3 chargers with both CHAdeMO and  J1772-Combo standards also supported at stations.
SemaConnect- This App provides charging stations across United states and this app helps you find them. It's also your means of paying for a charge.Unfortunately, the quality seems to have diminished over time. Reviews complain about an outdated, slow, and glitchy interface.
These charging apps can be downloaded free from Google Play (Android) and App Store (iOS).
Join the newsletter to receive the latest updates in your inbox.