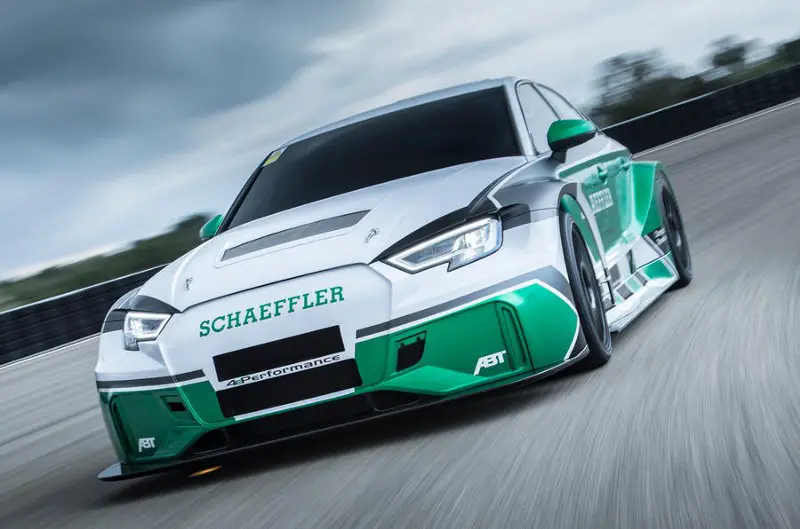 The fully-electric vehicle is powered by four Formula E motors with a total power output of 880 kW that come from the ABT Schaeffler FE01 Formula E racing car. Schaeffler has been active in ABB FIA Formula E, the world's first electric racing series, from the first season. This makes the automotive supplier one of the pioneers of electric mobility that have believed in the vision of electric motor sport.
The Schaeffler 4ePerformance is powered by no fewer than four Formula E drives from the winning ABT Schaeffler FE01 racing car, each of which provides a power output of 220 kW. In total, an all-electric drive power of up to 880 kW is available, accelerating the concept racing car from 0 to 200 km/h in less than 7 seconds. Each individual motor is directly connected to a wheel by means of a spur gear unit, while two motors share one gearbox housing and thereby form an electric twin axle. This architecture enables selective control of drive torque to individual wheels . The power required for this is provided by two batteries with an overall capacity of 64 kWh.
The car's four electric motors each produces up to 295bhp and 236lb ft of torque. The two motors of each axle are packaged tightly within a single gearbox housing to create a pair of electric twin axles, but with each motor connected to its own wheel via a straight-cut gear, it enables four-wheel torque vectoring. Power for the system is provided by 64kWh batteries.
Join the newsletter to receive the latest updates in your inbox.