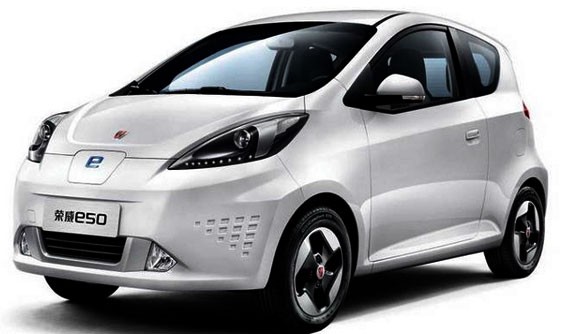 The Roewe E50 is a city car-sized four seater whose clean lines and unfussy looks inside and out complement the electric drivetrain. It is powered by a 71 bhp motor and 18 KWh battery pack. It has a claimed 120-mile range if you drive at a consistent 45 mph and a top speed of 81 mph.
A 30-minute charge from a standard socket delivers a theoretical 90-mile range, while a six-hour charge tops the battery out.The interior is unfussy but practical. Excellent packaging means there is a decent amount of room, even in the back. Two six-footers can comfortably sit one behind the other.
On the move, the car delivers an involved and refined drive. Performance is good, the steering feel pleasantly engaging and the balance especially decent for a car with such a short wheelbase. Despite being small and weighing over a tonne, it feels nimble.The ride on the short but surprisingly bumpy test track we sampled it on was well controlled. Only the sharpness of the response from the brakes is sub-optimal but, all in, it delivers more than enough to be a pleasant city companion.
Join the newsletter to receive the latest updates in your inbox.