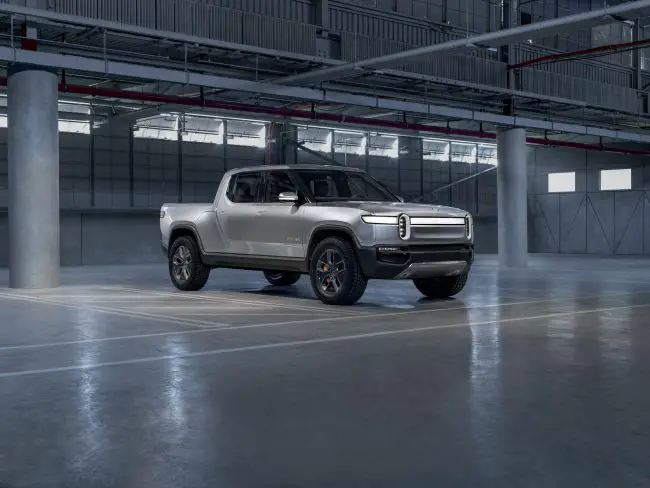 The electric pickup has unique front fascia with slender light bar that connects two vertical headlights . The latter components have four stacked lights which are surrounded by an outer light ring.Additional styling details are hard to make out, but the model appears to have small side mirrors and a plastic front bumper. There are also contrasting roof, a relatively small bed and full-width taillights.
Other notable R1T features include a highly sophisticated suspension system consisting of a double wishbone front suspension and a multi-link rear suspension. The truck will also have a ride-height adjustable air-suspension and be able to ford water up to one meter deep. Finally, the R1T will offer over-the-air software updates and come equipped with a full hardware suite that's capable of Level 3 autonomy.
The model will be about the same size as the Honda Ridgeline .The entry-level truck is also slated to have an 80 kWh battery pack, a range of around 200 miles (321 km) and acceleration of 0–60 mph (0–96 km/h) time of less than five seconds.There could also be a high-performance model withn a larger battery pack that enables the the truck to travel 450 miles (724 km) on a single charge. The range-topping R1T is slated to have 800 hp (596 kW / 811 PS) which will allow the model to rocket from 0–60 mph (0–96 km/h) in just 2.8 seconds.
It can sprint from zero to 60 mph in 3 seconds or to 100 in 7 seconds. The R1T can also tow a whopping 11,000 pounds. With its largest battery pack, it provides over 400 miles of range (200 of which can be added in 30 minutes via DC fast charging). To top it off, four independent 147 kW motors control 3,500 Nm of grounded torque to each wheel and provide a combined output of 14,000 Nm of torque and some 800 horsepower.
The R1T comes with the seven seater passenger SUV called the R1S. Both models are said to go on sale in 2020 and Rivian promise to offer impressive on and off-road performance as well as class -leading specifications including range,power, torque and off-road articulation.
Not only does the R1T offer a sizable, integrated, watertight, covered bed for versatility, it also seats five adult passengers comfortably, has a large front trunk (frunk), and comes with an innovative gear tunnel. In addition, there's storage beneath the rear-seat floor, as well as beneath the bed floor. The lockable gear tunnel offers a significant amount of cargo capacity for longer items like skis, a snowboard, a tent, a stroller, or even golf clubs. Its door also doubles as a step for accessing the bed or loading items in the bed or on the roof, and it can also be used as a convenient seat for lacing up your boots. The R1T is clearly much more than your average pickup truck when it comes to high-level functionality and innovation.
Join the newsletter to receive the latest updates in your inbox.