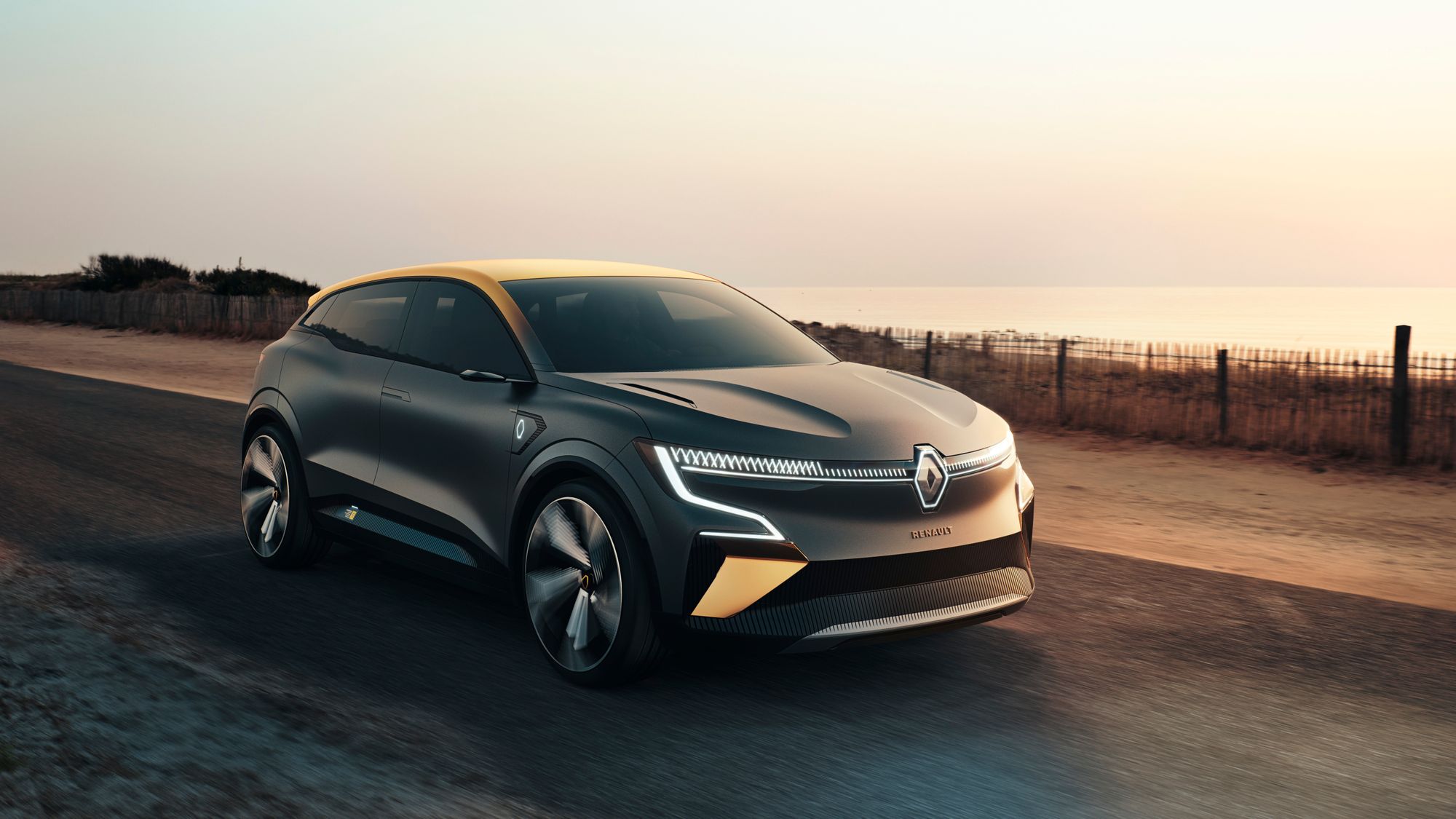 Renault has unveiled its new electric vehicles, a Mégane concept and a Dacia model, and committed itself to become a zero-CO2 impact manufacturer by 2050.
Ten years ago, Renault launched the first ZOE on the road. More than  350,000 Renault electric vehicles travel the world with 8 different models. In addition to the electric range, the Group offers a full range of hybrid and plug-in hybrid versions on Clio, Captur, New Mégane and New Mégane Estate with its E-TECH Hybrid and Plug-in Hybrid technology, which now equips the New Renault Arkana. The company goes further and makes a commitment to achieve a zero CO2 impact by 2050 in Europe. By 2030, it aims to reduce its CO2 emissions by 50% compared to 2010.
Top of the list is the Mégane eVision, an electric Mégane show car due to arrive in production version in 2021 and launch a year after. It will be built on the Alliance's modular CMF-EV pure electric platform and solely offered in electric format. At 4.21m, the hatchback will be slightly shorter than traditional C-segment cars to enable city use but its modular design will enable plenty of onboard space.
The eVision will feature a 218hp electric motor with 300Nm of torque, delivering acceleration from 0-62mph in under eight seconds, and a 60kWh battery claimed by Renault to be the thinnest on the market and bringing improved aerodynamics. Range has not been announced but it will enable DC charging up to 130kW and AC up to 22kW.
Top-speed and 0-62mph specs are also yet to be revealed but Renault says it will offer road and motorway performance generally only found in top-of-the-range cars while still maintaining a compact exterior.
Also unveiled at the event was the Dacia Spring Electric. First announced in March 2020, the Spring Electric is based on the premise of being the lowest-priced electric city car on the European market, making electric mobility more accessible.
It will be offered in two versions in mainland Europe: a pure electric four-seater city car optimized for car sharing and a cargo utility vehicle, providing zero-emission last-mile deliveries. There are currently no plans for the Dacia Spring Electric to be sold in the UK.
The 44hp motor is paired with a 26.8kWh battery, giving an official driving range of 225km (140 miles) WLTP. It will offer a range of charging options: on a 220V home socket using the cable supplied as standard, on a wallbox with the available optional cable or on a DC charging station. Charging time will take just under 14 hours for a 100% charge using a 2.3kW household socket, dropping to less than an hour for 80% of charge on a 30kW DC terminal.
By 2022, all new models marketed will have an electric or electrified version, in a market that, in 5 years, will see 50% of vehicles sold running electric or hybrid. On the occasion of Renault eWays, the Group shares its vision of the transition to zero-emission mobility through its new products and technologies, and roundtables and keynotes offered on its digital platform. A new milestone for Groupe Renault, which is positioning itself as a major player in sustainable mobility and its ecosystem, for today and for the years to come.
Renault Mégane eVision, compact hatchback
Renault presents the Mégane eVision show car and reinvents the model of the compact hatchback by combining the codes of the coupe and the SUV. 100% electric, this show car with an innovative style benefits from the brand-new platform CMF-EV dedicated to electric. An asset that allows it to move away from the traditional dimensions and codes of the segment to propose new lines and new proportions. The result is a hatchback with contained exterior dimensions and record habitability. Nearly 10 years ago, Renault knew to go electric. This expertise now allows us to launch a whole new generation of electric models, of which the Mégane eVision is the symbol. 25 years after its launch, a new page opens for the Mégane.
Dacia Spring Electric.
Dacia presents its small trendy city car marketed since 2021: the Dacia Spring Electric. After Logan and Duster, Dacia Spring is about to revolutionize the market by making electric power accessible to everyone. Whether it's individual, shared or professional mobility, Spring offers a simple, reliable and accessible solution. With its disruptive SUV look, it is equipped with 4 real seats, a record habitability, a simple and reliable electric powertrain and a reassuring range. Light and compact, the Spring Electric can run 225 km in mixed WLTP cycle and 295 km in WLTP City, guaranteeing a high versatility of urban but also periurban use.
Renault has had several EVs before such as:-
Renault Pro+ now includes four electrics LCVs - Twizy Cargo (a quadricycle with a boot launched in 2014), New Commercial ZOE (based on New ZOE with a range of 400 km NEDC launched in September 2016), New Kangoo Z.E. and Master Z.E.

New Kangoo Z.E. is equipped with a new "Z.E.33" battery (33kWh) and also gains a new engine, 100% Renault, developing 60 hp and based on the ZOE R75/90 engine. It is built in France at the Renault Cléon plant.

New Kangoo Z.E. now proposes a range of 270 km NEDC compared with 170 km for Kangoo Z.E. New Kangoo Z.E. is built in France and will go on sale in Europe from mid-2017.

Master Z.E. is equipped with the "Z.E. 33" battery (33 kWh) and fitted with the R75, an engine of advanced energy efficiency, with output of 57 kW/76 hp, inherited from ZOE. Master Z.E. has a range of 200 km NEDC. Master Z.E. will arrive in the European market at the end of 2017.
Source: EMobility +, Auto.com
Join the newsletter to receive the latest updates in your inbox.