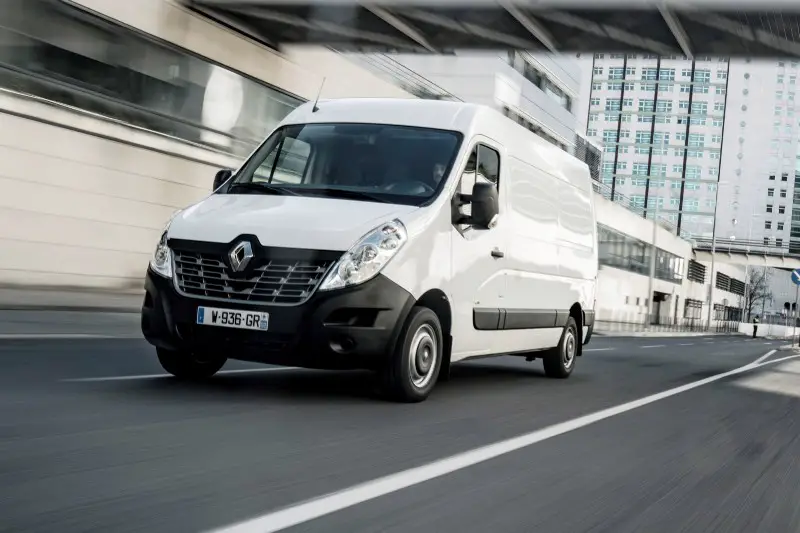 The Renault Master Z.E. is the first large electric van to go on sale, ahead of forthcoming rivals such as the Volkswagen e-Crafter and Mercedes e-Sprinter, which are due in 2019. It's designed to meet a specific brief for companies that want a zero-emissions vehicle to help them continue to make deliveries in areas where emissions restrictions are being introduced. While that sounds like a niche within a niche, the Master Z.E. fills it perfectly, with a big cargo volume and a decent range that means it's perfect for the last miles deliveries.
Power comes from Renault's R75 electric motor, which is also used in the ZOE and Kangoo electric models, while the 33 kWh battery is the same, too. These are mounted where the diesel Master's engine and gearbox would be, so there's no compromise to the Z.E. version's load area, with 8–19 cubic metres of space available, depending on which body style you go for.
As the running gear is the same as you'll find in a Kangoo Z.E., it's no surprise that the larger and heavier Master Z.E. can't match it for driving range. Renault quotes an official range of 124 miles from a full charge, but the company is realistic about how far you'll go in real life. Renault expects the Master to have an everyday driving range of 75 miles, which it believes is enough to cover a day of deliveries. Of course this will be compromised by the van's payload, the weather ,cold weather affects energy storage in the battery, so 50 miles is more realistic, and your driving style, but is a figure to aim for if you're working out your daily mileage to see if an electric van will fit into your business.
Charging is via a standard Type 2 cable, and Renault claims that a full charge from flat can take six hours when using a 7 kW wallbox. From the mains it takes far longer, at 17 hours. When you buy the Master Z.E., Renault will consult with you about charging options, and it's best to have a high-voltage wallbox available where the van is most likely to be parked overnight.
On the road, the Master Z.E. has enough grunt to keep pace with traffic, but it's hardly what you'd call fast. There's plenty of torque to make light work of a heavy payload ,although if you do carry a big load on board, expect the driving range to reduce.
There's an Eco button on the dash that helps mitigate the Master Z.E.'s range by cutting throttle response and limiting top speed to 50 mph (down from 68mph), but this is as frustrating as it is useful, as it blunts the van's performance. Other than that, driving the Master Z.E. is just like driving the diesel version. In fact, it's slightly better, because it's quiet, refined and the standard automatic gearbox takes the strain out of the experience.
The Renault Master Z.E. is a niche electric vehicle that will cater to a very specific sector of the market. At least it has beaten its rivals to the punch, but unless you're running a last-mile delivery company making multiple drops in a busy urban areas, it's unlikely to cater for your needs. The relatively short range means it's not going to venture much further than city streets. But if that's where you're going to use it, the Master Z.E. makes a lot of sense. It has masses of cargo space, is easy to drive and has the same conversion options available as the diesel Master. It's a great showcase for the future of urban deliveries that's available to buy today.
It's based on the popular Master van, but instead of an engine up front, there's a battery pack that essentially sits where the gearbox is on the regular Master, which means it's just as big and as easy to use as a regular Master for day-to-day tasks.
There are two roof heights, three wheelbases, and it comes with a five-year/60,000 mile battery warranty and a three-year/100,000 mile vehicle warranty.In the real world, it'll cover around 75–124 miles on a charge, a bit less than the average city-centre delivery driver will cover according to Renault.
There are three different wheelbase configurations (SWB, MWB and LWB) are available, as well as two roof heights (LR and MR). The Master Z.E. is based on the Business specification level of the regular diesel Master, so it gets electric windows and mirrors, DAB radio, Bluetooth, a CD player, USB, steel bulkhead, electronic stability control, hill-start assistance and trailer swing assistance as standard.
The Master Z.E. also gets a side charging socket, a pre-heating function and the 'Z.E. Voice' system. The latter emits a sound at low speeds so the van will be more noticeable to pedestrians.
Through its Pro+ Business Centre dealer network, Renault can also offer converted vehicles based on the Master Z.E., including a Luton body, refrigerated unit and parcel-delivery configuration.
Join the newsletter to receive the latest updates in your inbox.