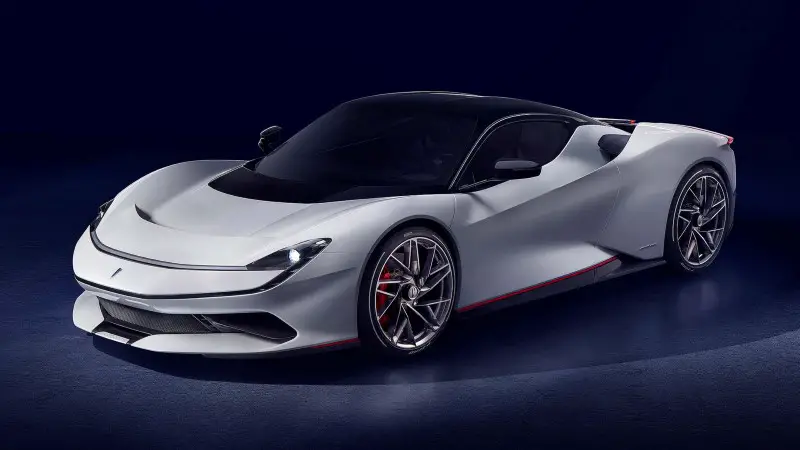 No hypercar worth its salt is made from anything other than carbon fibre. The Battista has a carbon chassis and a carbon body. The rear subframe is made from carbon fibre, the roof is made from carbon fibre, even the crash structures are made from carbon fibre.
The Pininfarina electric hypercar call called the Battista, in honor of its founder, is about to show how you can own a 1,900 hp vehicle in London, drive every day, legally, in ultra low emission zones.
Basically, a few fortunate owners will have a powerful EV that can go 300 miles, excellent for a London to Paris stint, and also excellent for a sprint from 0 to 60 mph in less than 2 seconds. By the way, this is faster than a Formula 1 car. And the car can drive anywhere since it has no emissions. The Battista is the way to move around an ultra low zero emissions zone.
The battery packs a 120 kWh output. That's bigger than any Tesla battery to date, and it's a T-shaped battery that's located to optimize weight distribution. The battery, along with the motors plus both software and hardware, are all provided by start-up electric supercar firm Rimac.
Electric cars are near-silent. But part of the appeal of hypercars is the noise they make. Pininfarina will allow drivers to choose a bespoke sound, from literal near silence, to some bespoke sounds that it promises will not be artificially amplified. It's not yet defined, but it will draw from key factors including the electric motors, air flow, heater system and even the resonance of the carbon fibre monocoque.
Monstrous 390 mm (15.3-inch) carbon ceramic 6-piston front brakes are backed up by almost as large 380 mm (15-inch) rear brakes. These massive anchors provide hugely effective brake regeneration to the battery. There's also an active rear wing with air brake functionality.
Unlike conventional hypercars, Pininfarina isn't going big on the Battista's suspension at this stage. It simply says it will be thrilling, engaging yet comfortable, and be fully adjustable with a range of modes for various driving types.
Join the newsletter to receive the latest updates in your inbox.