Its design is inspired by the classic Peugeot 504 coupe, with a more aggressive styling like that of Ford's latest Mustang GT. But beneath that old-school muscular look is a fully autonomous, connected, all-electric vehicle. It's a car that looks to the future without devaluing the brand's past, and I love the result.
The e-Legend has a dash that does a nifty somersault to retract the steering wheel for auto driving or present it when you want to have your own fun. In pursuit of that fun, you've 450 electric horses, driving through all four wheels.
The car has four driving modes, with the two autonomous ones seeing the steering wheel retract into the dashboard and opening up access to a 49-inch curved widescreen display. The Soft mode would reduce distractions and disturbances to a minimum, while the Sharp option would be a nightmare scenario of "maximum connection to your digital activity" like social networks. When you do want to drive, Legend mode would be your default, with a Boost mode turning up the driving excitement.
Switching driving modes, opening and closing the electrical doors, and controlling music would be done with a voice assistant tailored for autonomous driving.
Fellow French company Focal has partnered with Peugeot on the integrated sound system of the e-Legend Concept. That includes neat audio zoning features like sending navigation instructions only to the driver and creating an audio bubble for each passenger. So we can be aloof and distant even within the enclosed space of a car.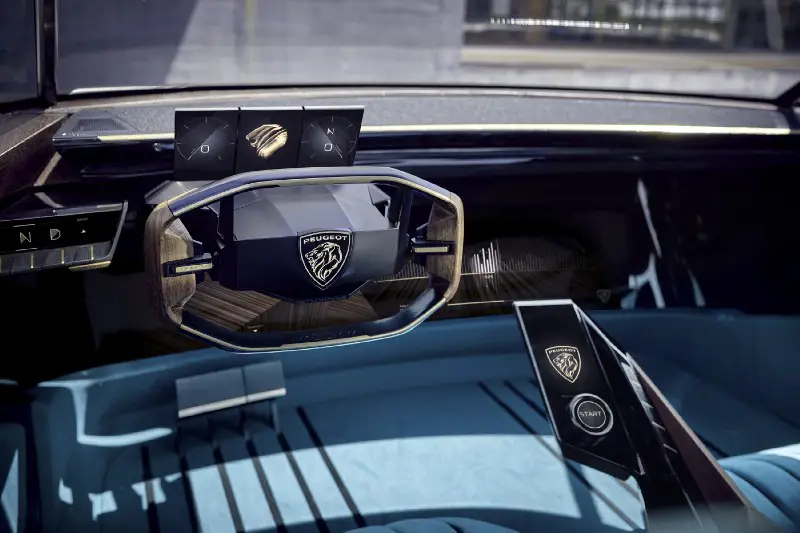 The steering wheel has been made unnecessarily angular and every flat surface seems to have been slapped with a display. In total, Peugeot says there are 16 screens inside the e-Legend, including 29-inches in the doors and a 12-inch screen in each sunshade.
The Peugeot E-Legend is built around a fully electric drivetrain that delivers 340kW to the four wheels and gets it from 0–100 km/h in under four seconds. Peugeot promises a 370-mile (600km) range, and fast charging will let you top up more than 80 percent of that in 25 minutes. Inductive charging would also be an option.
Join the newsletter to receive the latest updates in your inbox.