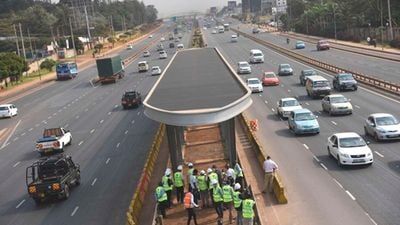 Bus rapid transport project will not be accessible to diesel and petrol cars says the government. The project is expected to roll out mid this year (2022), this is an effort to reduce greenhouse emissions in the city.
Housing and urban development PS, Charles Hinga, said it is a move to curb climate change. by doing this they are actualizing the vision 2030 2hich aims at reducing or having zero emissions on the roads.  As such only electric vehicles and selected hybrid vehicles which use both electricity and fossil, and those that use biofuels like hydrogen and biogas will be allowed to drive on the special lane which seeks to ease traffic congestion in the city.
Pick-up and drop-off points are linked to footbridges and that will serve as BRT stations along islands between the carriageways. The stations have been designed in such a way that entry and exit from the stations are through the footbridge, which means passengers will not have to worry about crossing lanes. The plan also leaves little room for commuters to slip or sneak through motorways.
The BRT lanes are set to be launched from June starting with Thika and Mombasa road. Hinga says Jomo Kenyatta international Airport to Likoni road as well as James Gichuru  to Rironi and Bomas to Ruiru roads are on high priority. Other roads the government seeks to roll out are Ngong road, Juja, Mama Lucy, T-mall, and Balozi to Imara daima areas.
According to the notice by Nairobi Metropolitan Area Transport Authority, the ministry of transport has opened bidding for companies interested in the BRT contracts which will last up to 12 years. Buses are to be considered in case they are: biodiesel, hybrid, electric and the other options for sale or a proposed lease covering the three, seven and 12 years period.
Join the newsletter to receive the latest updates in your inbox.