[Update]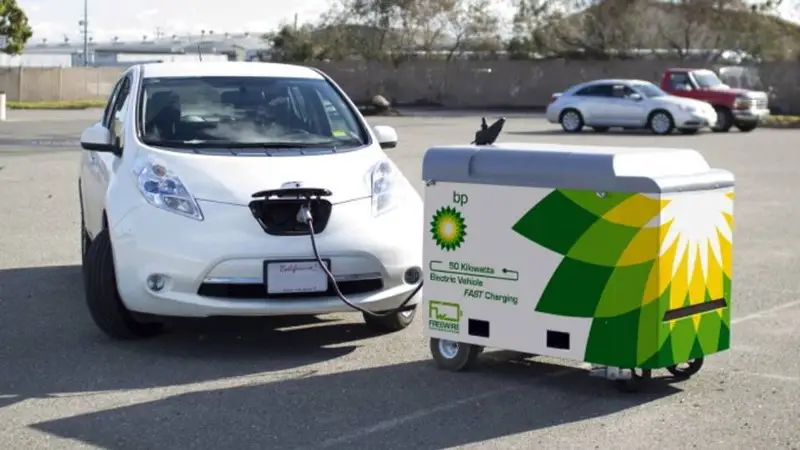 The giant UK oil company has plans of coming up with charging stations where an EV can charge in more or less the same time used to refill the vehicle in a petrol station. BP's head of technology David Eyton said that it wants to provide batteries for electric cars by 2021 that can charge to 100% within just five minutes.
BP similar to other oil and petrol companies like Shell and Caltex, know that in the very least, they must embrace the shift to electric mobility, therefore they are making efforts to embrace the first growing EVs market.
A typical electric car with a 60kW/h battery takes around eight hours to charge from empty to full, using a 7kW charging point. While a 150kW charger can add 100km range to an electric car in five minutes, Longer-term, the company would like to give more than 100km in five minutes, Eyton says that BP's focus for EVs is on how fast people can charge their cars.
In the electric vehicle playing field, BP has made two investments in the past 12 months or so with which it hopes to position itself: the purchase of UK charging infrastructure provider BP Chargemaster and an investment in an obscure but promising Israeli lithium-ion battery developer called StoreDot.
The buyout of BP Chargemaster, which currently manages 6,500 charging points across the island nation, is part of a larger goal to remain a main player in the global fuel provider (BP is installing 60kW fast-chargers in China, and 150kW chargers in Germany and the UK).
It is important to note that the technology is not available now but the company is investing in a company called StoreDot in Israel this company the best at making a new battery that will charge really fast — it's a modified lithium-ion battery. The Israelite company is currently making batteries for phones that allow people to charge phones in a couple of minutes. Therefore BPs aim is to have a car battery by 2021 that can be charged completely in 5 minutes for more than 100 km.
StoreDot claims however on its website that its battery tech, which uses "proprietary organic compounds" will have the ability to add range of up to 300 miles (482km) in just five minutes, "depending on the model of your EV" (the maximum charging rate of EVs differs from model to model).
In short, StoreDot's batteries replace the inorganic compounds used in a standard li-ion battery cathode, which have limited ionic conductivity, with its own synthetic organic compounds which it says are able to charge at a much faster rate.
It has made a number of investments and acquisitions of late that should make that goal achievable: an investment in Israel-based StoreDot — a maker of modified lithium-ion batteries that "charge really fast" — and an acquisition of BP Chargemaster to ramp up installation of ultra-fast EV chargers at service stations in China, Germany and the UK.
"The constraint on how quickly charge points are rolled out is dependent upon how many electric cars there are. We need to pace the rollout of charge points ahead of demand, to give people the confidence to move to electric transport," Eyton said.
Join the newsletter to receive the latest updates in your inbox.