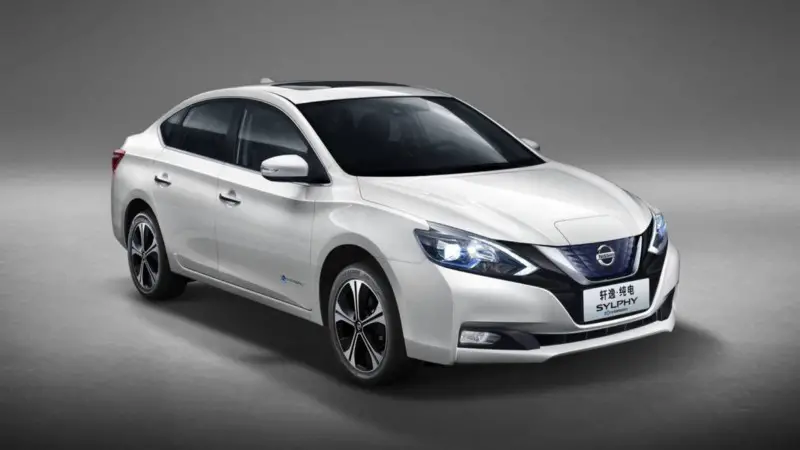 The Nissan Sylphy EV is a full electric variant of the Sylphy sedan. The EV version is however for the Chinese market only. The Sylphy is made in China by the Dongfeng-Nissan joint venture. Sylphy is an amalgam of the Sentra body style and LEAF running gear. The car is built on the latest version of the LEAF and the styling has been modified.
The Sylphy EV is powered by an electric motor with 109 horsepower , top speed of 144 km/h and a renege of between 210 kilometers per charge it also has electric motor driving the front wheels. Compared to leaf, the Leaf can go for 235 miles on a single charge.
The Sylphy's design has clear links to the Leaf's, with a similar V-shaped front section. However, it has a liftback rather than a regular hatchback. The Sylphy ZE is aimed at low income earner and it is priced at $ 2,850 this is about half the price of Nissan LEAF.
Nissan has made the new Sylphy larger. Although the wheelbase length of 2700 mm is unchanged, the car has been made 60 mm wider and 15 mm taller. As a result, the interior feels even roomier than before.The Sylphy stretches the Leaf's wheelbase to give it more rear passenger space.
Nissan says the Sylphy's audio and infotainment can be controlled using a smartphone.It's likely that the Sylphy will use at least some part of the Leaf's dashboard, which itself takes heavy influence from the latest Micra's cleanly designed cabin. It has a centrally mounted touchscreen to house the infotainment.
Unluckily most of us who are not Chinese will not have the previledge to use this car since it is only built and sold exclusively in China and for Chinese. It has a longer wheelbase than the Leaf in order to provide extra leg room — a unique demand of Chinese buyers.
Though destined for China only ,the Sylphy Zero Emission is one of 20 new-electrified models expected from Nissan over the next five years. Hybrid variants of the firm's popular Qashqai and X-Trail SUVs are expected soon, while a fully electric crossover based on the IMx Kuro concept will arrive in the coming years as well.
Join the newsletter to receive the latest updates in your inbox.