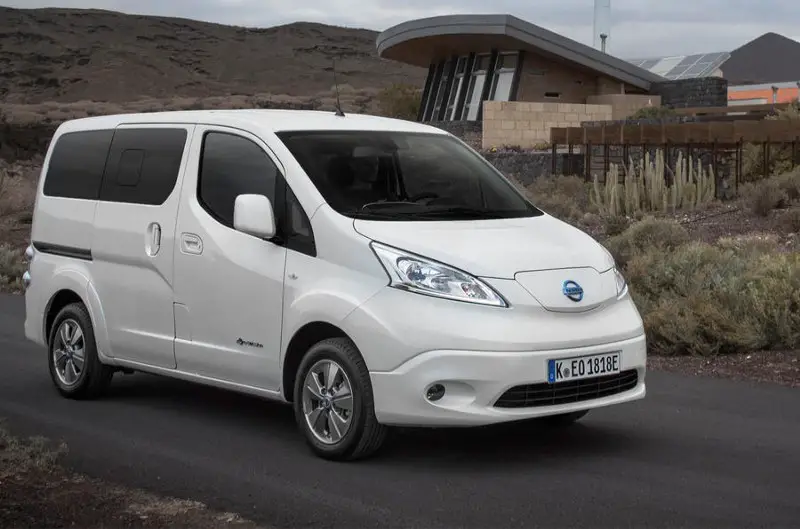 Vans are a vital cog in turning the wheels of business. In our towns and cities everything arrives by road and ultimately is distributed by vans. With the current focus of pressure groups and regulators heavily on urban air quality the time seems right for electric vehicles to step forward.
The Nissan e-NV200 Evalia 7S is Nissan's other passenger-car EV, it's a seven-seat MPV based on the e-NV200 electric van. But whether you knew of it or not, it's just had an upgrade timed to coincide with the launch of the third-generation Leaf.The difference that makes is a 60% improvement in battery range, which rises to 174 miles on the outgoing or 125 miles.
It measures 1.8 metre tall and more than 4.5 metre long. The 107 bhp electric motor, remains unchanged along with much else. However the battery is the same size as it was but it has jumped from a 24 kWh to a 40 kWh . That gives a 60 per cent improvement in battery range. The result is something that takes off from rest with surprising vigour. You whirr forward, building speed remarkably quickly, but then that old graph line reasserts itself and the momentum tails off quickly once you've passed 50 mph. It will battle up to 76mph but that will take a while and once there you'll be unpleasantly surprised by the sheer amount of noise wrought by the wind, that makes it sound like you're struggling through a Force 10.
With a heavy battery down low, the handling isn't bad, so you can slot it around roads and other traffic fairly easily, but the ride reveals the joys of leaf springs. Rear passengers in particular will get a slightly rough ride of it, with bumps and thumps pattering through to the cabin. The cabin feels rather utilitarian, and not that far removed from the commercial base. You get the impression that the over racing focus was on maximizing internal space, with passenger or driver comfort further down the list. However, everyone gets decent space, even those in the third row, seats which fold away in a rather fiddly way when not in use.When you fold all the rear seating down and you can fit in quite a lot. The new version should have a realistic range of say 110–120 miles and it's also fast-charger compliant.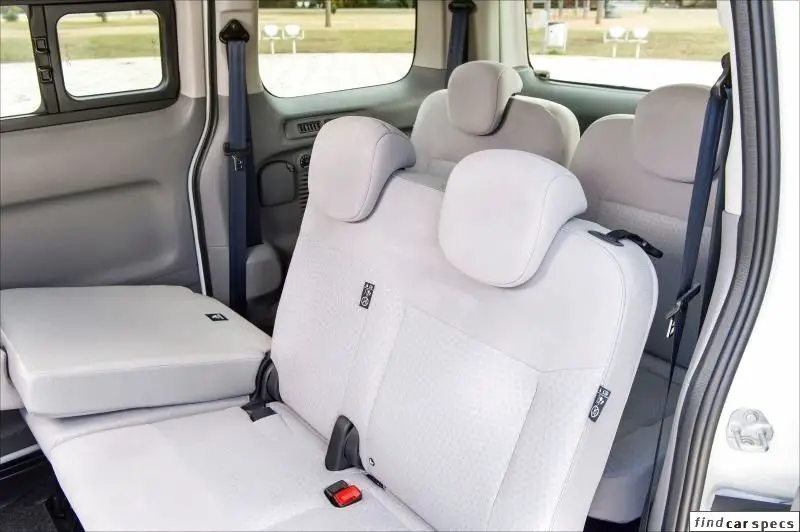 Evali can seat up to seven people, up front has plenty of room while in the middle row the seating is cosy for three adults. The furthermost seats fold in a practical albeit ugly way but overall as a shuttle this version is really impressive. The passenger version is also wheelchair friendly.
The range question is always the first asked ,the e-NV200 will do a combined range of 200 km but in the city this rises to 301 km. Using air conditioning and other electrical consumers will affect range but in the city most users should have enough power on a daily basis. Where permissible the e-NV200 can act as a mobile power-bank and give electrical power back to a building or the grid when plugged in to the appropriate box using Nissan's innovative Vehicle to Grid technology.
With a torque of 109 hp/254 nm 1,689 kg (van-1,558kg) machine is a remarkably calm one. Compared to a regular diesel van the e-NV is a quiet oasis. The electric motor and gearbox makes only a whisper of noise and the ride quality is quite good too. Acceleration of 0–100km/h takes 14 seconds but its low speed acceleration is more impressive than the sluggish 14 seconds suggests. 123 km/h is the top speed and no that's not a typo the e-NV200's top speed is just above the legal motorway limit at 123 km/h.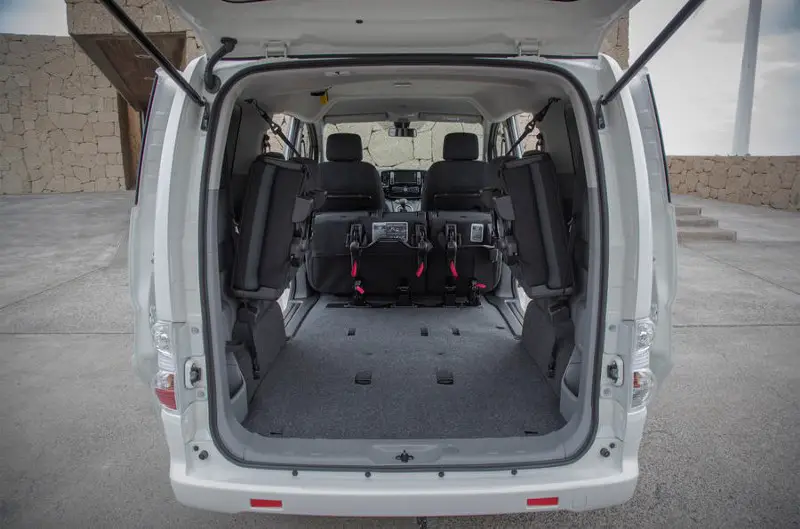 A colour reversing camera, intelligent key and bluetooth connectivity are available as is an integrated sat nav. The 'Nissan Connect' app allows users to precondition the interior while the vehicle is hooked up to a charge point via their smart phone, very handy on cold mornings. The app can also keep track of how efficiently the vehicle is being used. Private owners and fleet managers will like this feature.
price 31,999 dollars
Join the newsletter to receive the latest updates in your inbox.