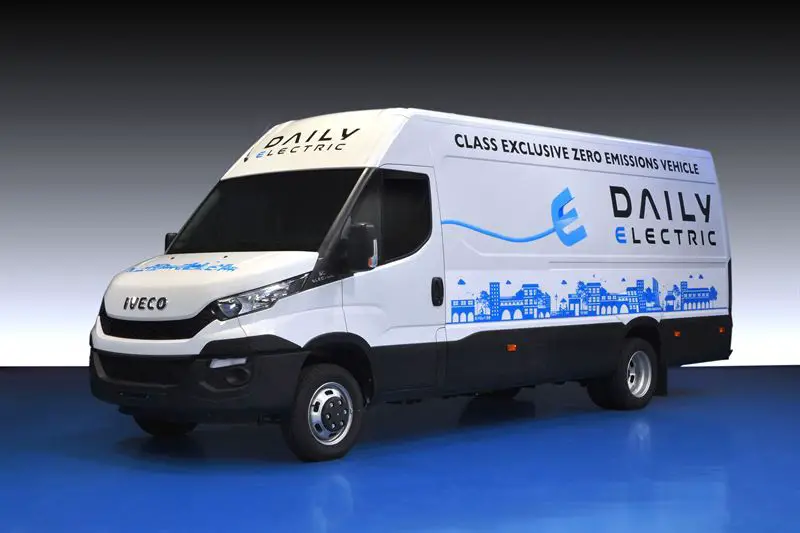 The shift to electric-drive city buses seems to be increasingly gaining momentum with European cities in particular seeing positives in making a switch from diesel-powered buses.
The New Daily Electric bus is a unique vehicle with the widest line-up in the industry that allows circulation also in cities with the strictest traffic limitations. Its battery performance is optimized for all weather conditions and it only takes 2 hours to recharge with the new fast charge mode. Its efficiency is further enhanced in Eco-Power driving mode and through the regenerative braking strategies.
The minibus version of the Daily seats 16 to 22 people, has a range of 120 miles and recharges in just two hours.The van version of the electric Daily range starts at about £60,000 for the single battery option with the shortest range. The double battery option costs about £80,000 and the triple battery version costs an eye-watering £100,000.
The Class exclusive zero emission vehicle operates on 100% electric traction. The high efficiency battery system, the use of auxiliary electrics in combination with the full recyclable batteries it makes it a complete sustainable vehicle.
An incredible autonomy is achieved thanks to the newly added efficiency features like driving mode selection, new regenerating braking strategies and battery performance optimization for all weather conditions.
The Daily Minibus Electric, zero emissions and ready for every mission. Thanks to the various batteries layout, the Daily Electric is perfectly at ease in a variety of working environments: from city centers and shuttle services to taxi line.
With features like the 7" detachable table, the unique electric dashboard for vehicle data management and the navigation technology by TomTom® Bridge for Iveco, it makes Daily Electric an ideal Business Partner.
Join the newsletter to receive the latest updates in your inbox.