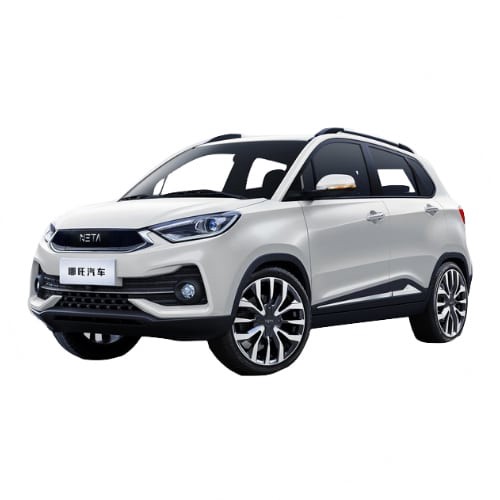 The Hozon Neta 01 EV Compact SUV interior is black and silver. The center console is equipped with a liquid crystal instrument panel and a 10-inch floating central screen. The NETA is equipped with a knob shifting mechanism. The basic and premium models are distinguished by the presence of front fog lights, luggage rack, and the availability of electric exterior mirrors, panoramic cameras and steel wheels. The Hozon NETA 01 is also available with a two-tone body paint finish.

The NETA N01 is powered by a single electric motor over the front axle. The front wheels drives the electric capacity of 75 hp , 175 Nm and a range of 380 kilometers. The range is calculated using the 60 km/h .It takes 30 minutes on a fast charger for 80% battery .The size is 3872mm/1648mm/1611mm and a wheelbase of 2370mm. The NETA N01 is a five-seater.
The battery company To Shidai has a capacity of 35.5 kWh and its equivalent of the company Guiwei Power 36.2 kWh from the fast terminal to replenish charge to 80% in half an hour. The developers (Hozon Auto) says when driving at constant speed of 60km/h ,battery capacity is enough for 380km. Therefore counts of 200–250km and acceleration to 50km/h in 5 seconds.
The interior has plastic look ,especially around the lower-center stack and center tunnel and the touch screen measures 10 inches. The infotainment is pretty well.
The N01 goes without any fancy autonomous capabilities, and the infotainment seems pretty basic as well. Interior of the same guileless, and appearance, but Neta N01 has a virtual devices, media system with 10-inch display, air conditioning and chambers of the circular review.
Join the newsletter to receive the latest updates in your inbox.