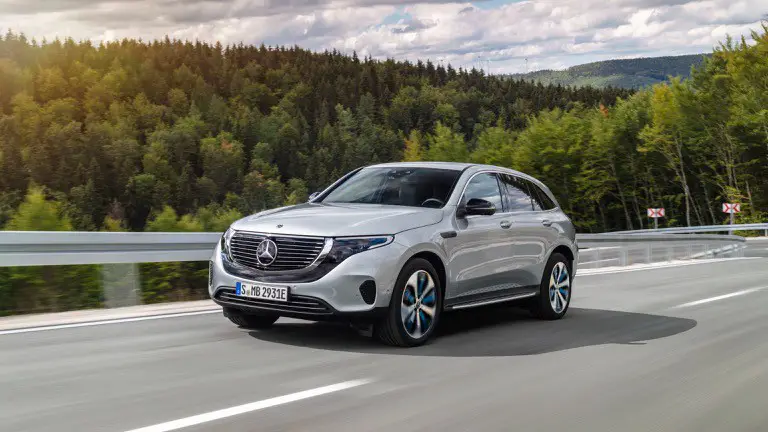 The EQC radiates ease and modernity where SUV practicality meets sports car sleekness. An honest aesthetic in a new era of mobility. It is the first in an all-electric range from Mercedes. It's a totally bespoke, built-for-purpose electric vehicle — not a re-boot of an existing model.
The EQC should be able to get you a whopping 280 miles on a full charge and the battery can be charged from flat to 80% full in just 40 minutes. It has two electric motors (for both sets of wheels) and will do 0–60 in just 5.2 seconds.
As well as being speedy, it's worth noting that this is a super-luxurious model, as you'd expect from Mercedes. It has 'metallic textiles' and inside it looks like something straight out of a futuristic sci-fi film.
Not surprisingly, it is not cheap. Prices start from £65,640 with prices spiraling if you pick higher-level trims or optional extras.
It's more expensive than the Hyundai Kona Electric of course, but given you get two crystal-clear Mercedes 'infotainment screens' and speech recognition software built-in, it's probably more than worth it to feel like you're living in the future. It's amazing to look at too. Bonus.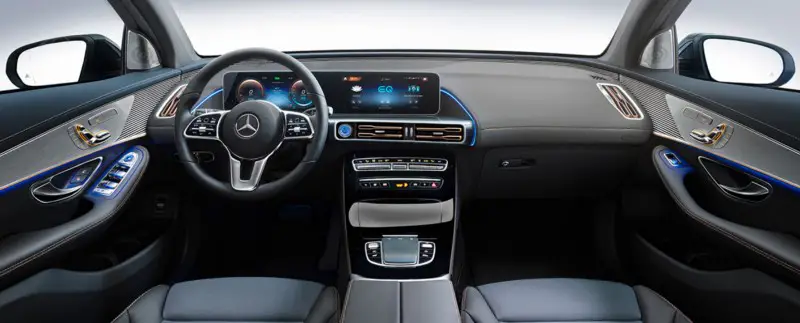 Real Range between 260–515 km
City — Cold Weather 360 km
Highway — Cold Weather260 km
Combined — Cold Weather 305 km
City — Mild Weather 515 km
Highway — Mild Weather 325 km
Combined — Mild Weather 405 km
Price range: from £65,640
The distance on a full charge: 250–300 miles
Advantages:
Luxury exterior and interior
Spacious (thanks to being an SUV-style vehicle)
2x electric engines for speed and performance
Disadvantages:
Expensive
There may be limited stock as early orders are fulfilled
Join the newsletter to receive the latest updates in your inbox.