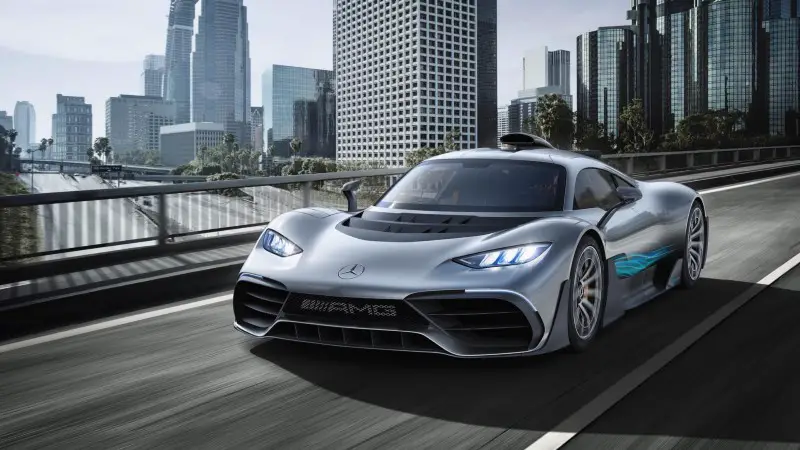 Mercedes has decided to give the Project One an official name, and it's going to be called; the Mercedes-AMG One. It can go from 0 to 200kph in less time than it takes to read this sentence. (Six seconds.) Top speed is quoted at 'beyond 350kph (217mph).'
Three F1-spec electric motors contribute mojo, one at the crank, one at each front wheel. They spin up to 50,000 rpm and add 160 horsepower apiece to a total figure expected to number at least 1,050 horses. In pure EV mode, the front motors do all the work, making the One a front-wheel-drive hypercar for up to 15 miles.
The bodywork's been shaped and polished to aid motivation depending on the application. For high-speed reasons, the front badge has been airbrushed on, and the 10-spoke wheels, in aluminum or magnesium, wear carbon inserts to reduce drag. When racing is the reason, flaps atop the front fenders stand up to increase downforce on the front axle, and the electrically-deployed rear wing deploys its wing-in-a-wing.
The German carmaker has essentially created a 'showroom-on-wheels' trailer for the new hypercar, where prospective customers will be able to sit in the AMG One and take a look at some equipment options on offer. What's more, there'll be a coffee bar, lounge, and touchscreen displays, too.
Join the newsletter to receive the latest updates in your inbox.