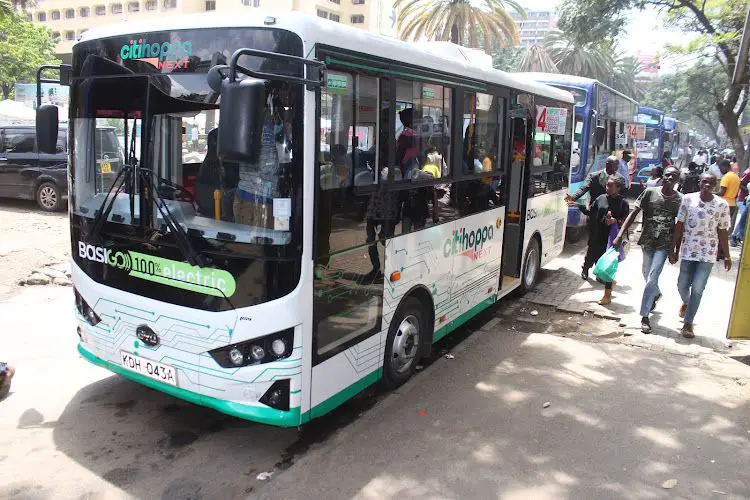 The public sector in Kenya is driving the country's electric vehicle adoption as global calls for a switch to sustainable transport continue. Nairobi has the most electric mass transit transportation with the majority being two and three-wheelers commonly known as bodaboda.
Kenya is making some strides and has a zero-rated supply of electric buses, and bicycles, and exempted imported and locally assembled motorcycles from excise duty, in the current finance act.
EV buses and motorcycles
BasiGo has been operational in Kenya for the last two years and has been enabling bus operators to switch from internal combustion engine (ICE) vehicles. It already has 19 EV buses ferrying passengers across Nairobi, and targets to have 1,000 vehicles on Kenyan roads by 2025 — coming after the company began assembling the vehicles locally earlier this year. The company is using parts from China's EV maker BYD Automotive.
Roam (previously Opibus) is another company that is building products for the mass transit sector in Kenya and has ramped up the local production of EV buses. It is designing and developing its buses locally. The company has been in  Kenya's electric mobility space since 2017, but prior to its 2021 shift to manufacturing, which came after significant VC backing, it specialized in converting fossil-fuel vehicles to electric.
Motorcycles by Roam are already on Kenyan roads, and the company recently opened an electric motorcycle manufacturing facility with a production capacity of 50,000 units a year. It is anticipating producing 2,000 units by the end of the year.
Roam, like nearly 10 other startups targeting the EV motorcycles market, is tapping bodaboda operators in Kenya and the larger East Africa region that are keen to save on fuel costs. The company says it has ensured the prices of its vehicles are almost commensurate with the commonly available ICE variants. It has also partnered with financing partners like M-Kopa to encourage the uptake of its motorcycles as it eyes the wider East and West African markets.
Other startups in the two-and-three-wheeler space include Kiri EV, Arc Ride, Ebee, Ampersand, Ecobodaa, and Stimaboda.
A 2023 e-mobility report by Kenya Power estimates that there are more than 1,350 electric-powered vehicles on Kenyan roads, with 62% being motorcycles. This report says annual registration of motorcycles has doubled over the last five years to 252,601, and that there are 1.2 million motorcycles in Kenya.
Battery swapping stations
Besides motorcycle sales, these startups have built battery-swapping hubs across their regions of operations (mainly in Nairobi) creating a network of charging infrastructure that is wide enough for bodabodas to operate without worry of running out of charge or failing to find nearby swapping stations.
BasiGo and Roam have built charging stations and will continue widening their networks, as more buses are added on different routes. The businesses are building the charging stations in anticipation of increased EV uptake, especially in the wake of a nearly 100% increase in diesel and gasoline prices over the last decade in Kenya, and the government's push for sustainable energy driving its climate change agenda. Kenya already generates over 90% of its power through renewable energy sources, including geothermal, wind, and solar.
Arc Ride, a startup in the two-wheeler space, recently introduced to the Kenyan market its Corbett motorcycle, a crossover vehicle intended for delivery and travel. The company has also established an extensive network of battery-swapping hubs in Nairobi, with its count currently at 60. The company's co-founder and CEO, Jo Hurst-Croft, plans to have more than 100 swap stations by the end of September which will be serving markets beyond Kenya. Arc Ride buyers do not own the batteries, which Hurst-Croft said makes the motorcycles costlier.
Hurst-Croft says Arc Ride is planning on being the battery-as-a-service (BaaS) ecosystem of choice for other OEMs. They will set up in two other countries next year and have a partnership that will launch soon in West Africa. Through setting the standard they can work with many companies to make BaaS a reality in the rapidly-growing African cities.
Ampersand also signed an agreement with TotalEnergies, one of the largest petroleum products distributors in Kenya, to build a network of battery swapping and charging stations, starting with Nairobi. As startups build charging infrastructure, state-run power utility company, Kenya Power, is building charging systems for businesses, homes, and public places like gas stations. This is geared toward boosting the local EV uptake.
With the increase in petrol and diesel prices globally many people are opting for hybrid vehicles.
Source:
i) Annie Njanja (2023) Public transit is driving EV sector growth in Kenya
.
Join the newsletter to receive the latest updates in your inbox.