Mahindra has dominated the electric car market share in India and will continue to do so. It has launched various models of their electric cars like Mahindra Reva, Mahindra e-Verito, Mahindra e2o plus and e-Supro.
Mahindra launched its first electric car in India way back in 2013 named as Mahindra e2o, an urban hatchback. Later, Mahindra launched its e-Verito in June 2016 at a price of Rs. 9.5 Lakhs. The Mahindra e-Verito is available in 3 models viz D2, D4, and D6. Mahindra e-Verito drives a range of around 100 kilometers in a single charge, with a top speed of 85 km/hr. The new Mahindra e2o plus is a four-door hatchback and is also available in three variants viz P4, P6 and P8 priced between 5.45 Lakhs to 8.45 Lakhs. Mahindra e2o plus has a battery range of 110 to 140 kilometers in a single charge. Both the e2o and e2o plus carries an automatic transmission system.
The e-KUV 100 carries an outstanding range of 140 km and has a unique capability of fast charging which charges its battery more than 80 percent in less than 60 minutes. The estimated price of this car is 8 lakhs and will be launched in August 2019 and goes on sale likely in early 2020. It will use essentially the same bodywork, but it will have lots of EV-specific exterior and interior add-ons to make it look different, like the 'filler caps' on each of the front fenders — one for regular charging, the other for fast charging. Also, because it's a prototype, it comes with the caveat of being a work in progress and subject to change before production.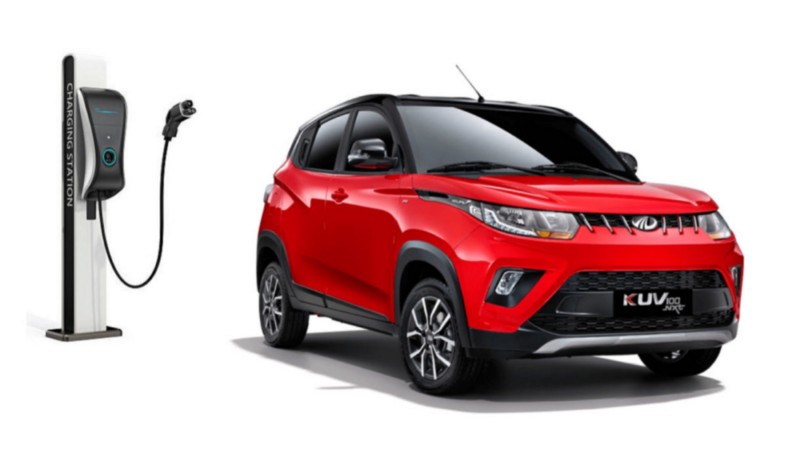 You should also know that this is not a powertrain swap-job from the current flagship model — the eVerito sedan, and instead uses all new components. The new motor makes 40kW (54.4hp) compared to the sedan's 31kW, and 120Nm of torque versus 91Nm. And that torque has even more impact when you realize that at 1,200 kg, the KUV's motor has 65 kg less to lug around. Its new battery can be charged in just 5hr 45min on a regular charger or 55min on a fast charger. Compare that to 11hr 30min and 90min, respectively, for the eVerito, and you really start to see the progress they've made with the new powertrain. The only downside appears to be that the battery is rated at 15.9 kWh (versus 18.5 kWh) and that the claimed maximum driving range has dropped by 20 to 120 km.
The eKUV100 features a large plastic panel in place of the large air dam seen on the regular hatchback. It also gets a fully enclosed six-slat grille and projector headlamps, both of which also feature blue highlights. From the side, the only distinguishing element between the electric version and the regular hatchback are the '+ME' badging on the front fender. The rear, on the other hand, gets a grey color appliqueo09 on the tailgate while the tailpipe has been omitted. The interiors look identical to that of the standard KUV100.
Join the newsletter to receive the latest updates in your inbox.