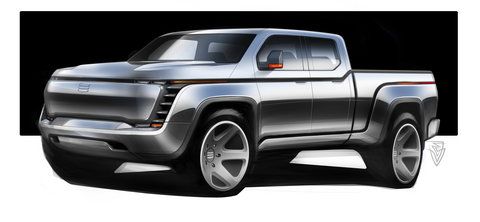 Endurance is joining the Tesla and  Rivian who have the electric pickups in the market. Lordstown Motors will build the Endurance, the in-wheel engines and battery packs at GM's former Lordstown Assembly plant, which it bought from GM last year. Lordstown Motors is an adjunct of the Workhorse Group firm, which first made news when it entered into an agreement to lease the inactive GM plant in Lordstown, Ohio. The new entity is developing an electric truck, and it is or is not being supported financially by General Motors.
The next time you might be considering an F-150, Silverado or Ram pickup, Lordstown Motors CEO Steve Burns wants you to know something. "If you're stuck in the mud next to a traditional pickup, we'll come out first," Burns said of the all-electric Endurance pickup that his company will start selling next year.
Lordstown Motors had planned to reveal the Endurance at the Detroit Auto Show  but the show was canceled because of the corona-virus pandemic.The company will therefore do a virtual reveal then Burns expects to take pre-orders for all 20,000 pickups the automaker will build next year.
It has a range of between 200 and 260 miles (or between 322 and just under 420 km), towing capacity of 6,000 lb (2721 kg) and a top speed of 80 mph (just under 130 km/h). The truck will get 600 hp total output from the four in-wheel hub motors.The price is estimated to be $52,000.This  EV is set to debut at $49,900 USD, tow up to 10,000 lb (4,536 kg), deliver a range of 300 miles (483 km) and work with a dual-motor all-wheel-drive system.
Burns said the Endurance will be first to the all-electric pickup market, thereby capturing a large number of EV customers . "You don't create need, there is a demand for this," Burns said. "We will be the first electric work truck and nobody will have that for years."
Indeed, GM and Ford plans for electric pickups are further out. Currently, Lordstown Motors is rushing to retool its facility near Youngstown, Ohio, to build 30 pre-production Endurance pickups by December and start building 20,000 production models in 2021.
Lordstown Motors has said that it has signed a deal with GM "regarding financing the purchase and initial start-up of the Lordstown Motors facility." The factory being currently not in operation, and requiring a major refit to accommodate production of EVs whose cost estimation is   $300 million USD,  the statement implies some financial support from the automotive giant to get the plant to begin the production.
The Endurance, built using components licensed from electric-truck maker Workhorse near Cincinnati, is priced at $52,500 and it's eligible for the $7,500 tax rebate. The Ford F-150 and Chevy Silverado both start around $28,500 and can go up to $55,000 or more for top trim levels. But with the Endurance, Burns said, there are no gasoline costs, in fact it is the equivalent to 75 miles per gallon. It is almost maintenance-free, too, with no big engine or moving parts to break on it.
Burn said that the pickup is a light-weight, all-wheel-drive vehicle. Four in-wheel computerized motors propel it. If a front right in-wheel motor malfunctions, the front left wheel's motor will turn off automatically, allowing the driver to get home using rear-wheel drive.The Endurance is the first commercial vehicle to have four wheel drive therefore help you get out of sticky, muddy or slippery situation.
Join the newsletter to receive the latest updates in your inbox.