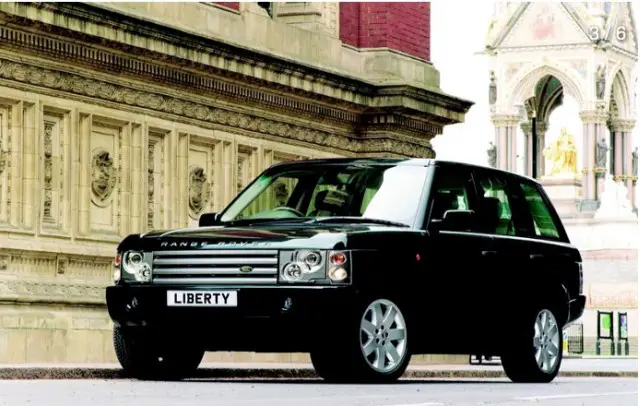 The car is powered by a 75 kW lithium-polymer battery pack which sits underneath the car therefor improving the Range's centre of gravity, which s makes it even more competent off-road car. There are four electric motors, one for each wheel. The E-Range has one motor per wheel, in other words four-wheel drive, so the off-road capability of the car promises to be comparable to that of the standard vehicle, with the added bonus of instant torque from the four electric motors.
Inside, it's virtually identical to the production car. There is a separate electric charge indicator on the dash, but the plan is to incorporate that into the digital instrument panel. The car comes with an automatic transmission selector, although it doesn't have the stepped gear changes of a conventional automatic. The E-Range doesn't feel as punchy as most electric cars that's because there's 738lb.ft of torque on tap, so Liberty has programmed the car to blunt initial acceleration slightly in order to prevent excessive wheel spin.
Starting the car just requires a press of the start/stop button, then with the sliding of the gear selector into drive, you're away. The new electric steering has been weighted in a similar way to the production model, but this can be adjusted to make it lighter or heavier if required. The car also has regenerative braking, which again can be set to recover more or less energy.
The car is quiet at all times that is when moving, and also when stationary at traffic lights and queues. It also has zero emissions. No gear changing is required, making the normal hassle of driving in a city an effortless experience.The acceleration feels smooth. Liberty claims a 0–60 mph time of just 7 seconds. Top speed is close to 100 mph .The car also has a 200-mile range.so overall the E-Range boasts a very impressive set of statistics.
The car can be recharged using a standard domestic electricity supply, when a full recharge may take up to 10 hours. It can also be recharged using a fast charger, which would take between 1–3 hours. It will also be possible to recharge the vehicle using induction or wireless charging, although this recharging technology is not yet commercially available. The cost of recharging the E-Range is around one-fifth of the cost of petrol.
It may be expensive, but Liberty's E-Range is a fantastic feat of engineering and puts smaller electric cars, with lesser ranges, to shame. It also silences the anti-4x4 drivers . The price is £125k
Join the newsletter to receive the latest updates in your inbox.