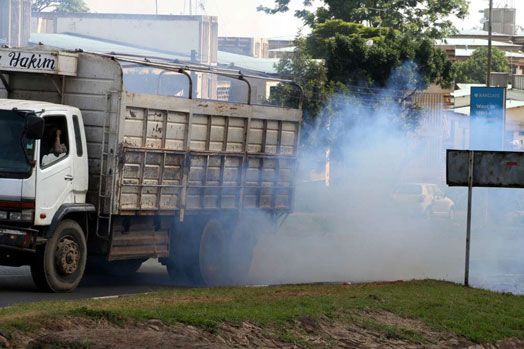 I have been having series of cough and cold since late last year, it appears am not alone my friends have been experiencing a spell of bad health too. The first thing that rung in my head was Corona.  I took several Covid tests and the results were negative. The recent cough I got was a result of the exhaust from the bus that I inhaled while I was in town.
Driving in the streets of Nairobi is hectic because of hawkers that are all over the streets, the chaotic sounds of horns that might confuse you the smoke shooting out of bus exhaust pipes can startle you, and the trailers tilting over as they pass may frighten you. Transportation can have a huge impact on the quality of life; in normal times, we spend much time and energy moving around. The pandemic gives us a pause to reflect on the future of transport globally, but specifically in Africa.
Transport plays a significant role in the quality of life, most of our time we spend time and energy moving around, therefore the adoption of EV is crucial for tackling climate change. According to a study by Castrol across eight of the world's biggest electric vehicle, markets found 63 percent of consumers think the options are beyond their budget, although most would consider buying one by 2024. Other barriers are range and charging infrastructure. The provision of ultrafast chargers and battery development are addressing this, and many countries are investing in public charging infrastructure. The world is now focusing on electrifying transportation, Africa is still behind. Climate change is having a growing impact on the region.
In Kenya, for example, there has been natural disaster such as floods and invasion of the desert locust and still, vehicles faces add problem such as the need for a reliable power supply at reasonably low electricity prices. However, this is still not available in most of the countries, but all hope is not lost. Currently, more than 93 percent of Kenya's electricity demand was met by renewable energy and the country has secured funding to electrify its new rail system.
Apart from range and charging infrastructure, there are also other barriers such as lack of enabling policy, tax incentives, and subsidies. In Kenya's budget, 2019/2020 gave an incentive of 20% for electric car imports. However, according to the CEO of Nopea Ride has not been implemented.
According to Global Fleet, in South Africa, they attract an import duty of 25 percent with 18 percent for internal combustion engine vehicles and duties on imported vehicles in Ethiopia can be as much as 100 percent. Nopea ride which is the first EV adopter says when they imported their first EV was held up because customs officials had not seen one before, but things are improving. Now there are several EVs in the country. In case you want to convert ICEs to electric cars the initial substantial cost might be a challenge but hire services could offer opportunities for investors and entrepreneurs.
Africa is among the 20 countries with the worst air pollution, African countries now showed up, making up nine of them. Air Pollution causes about 780,000 premature deaths per year in Africa. According to a scientist, the results of mortality caused by pollution are similar to that of HIV/Aids in the continent. We need to pay attention to the negative effects that are caused by air pollution and even the risky future that is awaiting us as a result of the pollution caused by combustion cars.
Africans are still not into the EV ideas and all the time when we share a story about Electric Vehicles, there are so much amusement and negativity such as the cost of EV being high, power supply among others. Jaguar Land Rover plans to go fully electric by 2025 and, various cities announce to ban fossil fuels vehicles, therefore Africa should forget about the complaints and focus on the positive, and be ready to adopt EVs.
Hopefully, by 2040 all continents and cities would have switched to electric mobility because there are cheaper second-hand EVs that are being sold at a throw-away price in Africa. The UN Global Fuel Economy Initiative is working on setting baselines for fuel economy and policy development for efficient light-duty vehicles, including electric, in at least 10 African countries.
Join the newsletter to receive the latest updates in your inbox.