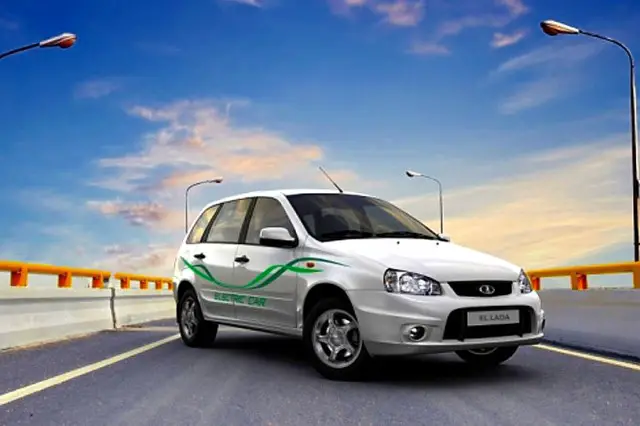 In 2011, the Russian Federation territorial government of Stavropol ordered AvtoVAZ, which assembles the Lada brand of cars, to develop a pilot electric car program. The result of that effort is the Ellada (Electric Lada) electric car prototype. Aimed to be priced one-third less than Mitsubishi's i-MiEV at 1.2 million rubles ($36,739 USD), the car has a range of more than 90 miles on a single charge. Top speed is 87 mph.
The Ellada EV is a full-size Russian made electric car powered by lithium-ion batteries. AvtoVAZ developed and assembled their first electric Ellada built upon the Lada Kalina platform from which it derives its name Ellada (electric Lada) in 2011 for the RUSNANOTECH 2011 forum.
Under the order of the Government of Stavropol Territory a low-volume pilot production program for the electric Ellada was started in the summer of 2012, which will cost approximately 1.2 million rubles (36,739 USD), about a 1/3 less than the current EV import champion the Mitsubishi i-MiEV, which cost 1.8 million rubles (55,109 USD)
The EV from AvtoVAZ weighs 2,645 lbs (1,200 kg), accelerates up to 0–60 mph (100 km/h) in 13 seconds, and has a maximum speed of 87 MPH (140 km/h), with a cruising range of 93 miles (150 km). The charging time via their standard 220 v electrical network is approximately eight hours.
Lada is the export brand name the same vehicles are branded and sold as Zhiguli domestically.The Lada was a widely exported sedan and was also produced in station-wagon and hatchback versions, over 20 million units sold before production finally ended in mid-2012, by then it had become the highest-selling automobile to be produced without major design change.
Basic Specifications for the electric Ellada.
Dimensions:
Length: 3850 mm
Width: 1670 mm
Height: 1500 mm
Track front / rear wheels: 1430/1410 mm
Ground clearance: 160 mm
Mass in running condition: 1050 kg
Capacity: 475 kg
The luggage compartment: m3 0,26
The payload: 425 kg
Join the newsletter to receive the latest updates in your inbox.