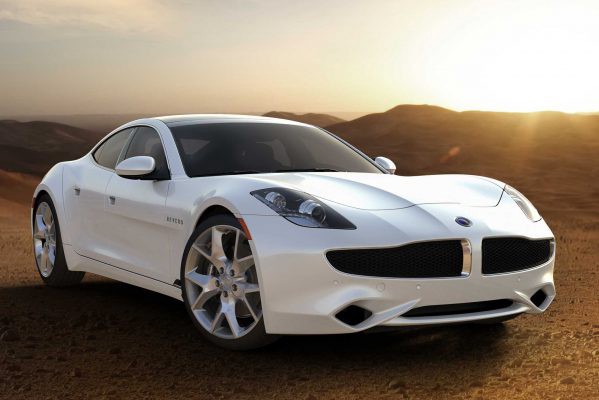 The 2018 Karma Revero leaves a lasting impression. Its expressive design is polarizing; you love it or you hate it with a passion.The front end has two long upper grille openings, similar to a BMW but not too close. The lighting up front is LED signature lighting and piercingly bright LED headlights also. The front fenders bulge upward, and the headlight assemblies swoop back into them.
The tail end is more subdued, looking like a customized BMW. The blue-hued hand-painted emblem even gives the bummer resemblance, but it's an extremely different car in all other rights.One thing that can be distracting is the cabin length. It's on the verge of being awkwardly long with four large doors. While it allows for extreme comfort on the inside, it's the one visual aspect that feels out of place.
The Karma Revero is simple, but only in one aspect: there's one trim level and optional equipment is non-existent, other than premium floor mats or a car cover. The Revero has a full load of equipment, but you might not even notice it there.
If the 2018 Karma Revero interior feels like it's been hand-crafted, it's because it has been. The seats, dash, and console are wrapped in minimally-tanned leather, and the seating surfaces have a simple, asymmetrical design. The console has inlaid, un lacquered reclaimed wood that you won't find in any other car. The front seats are six-way power adjustable and have multi-level heating.
Steering wheels are often unnoticeable, but the two-tone, unique three-spoke design gives off more of that custom-car vibe. The center console stretches fully from the front to the rear seats and integrates switches and buttons very cleanly.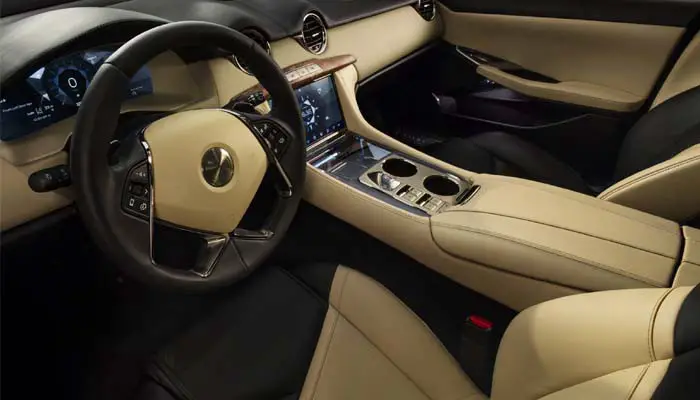 A 10.2-inch screen in the center stack operates as the hub for infotainment and the dual-zone climate control systems. Apple CarPlay and Android Auto and wireless streaming work with the system, as you might expect.
It's equipped with a few good driver assist features too, such as Lane departure warning, forward collision warning, automatic windshield wipers, automatic exterior low beam lighting, park distance monitoring, rear back-up camera, and tire pressure monitoring.
There are a few items noticeably missing. There's no sunroof or option listed for one, there's no adaptive cruise control, and the infotainment system maxes out with seven speakers totaling 225 watts. Those might not seem like a big deal, but it's egregious when you're paying $130,000 for a luxury sedan.
Going for a drive in the 2018 Karma Revero results in a hush — one in which you'd expect to hear a quiet chorus of angels singing. It's that good behind the wheel. It isn't that the Revero is overly fast, although it's plenty quick, but that the car moves as if an extension of your own body.
The lightweight space-age aluminum frame and low-slung powertrain make the Revero exceptionally rigid and stable, and with near 50:50 front-to-rear weight distribution. It rides on auto-leveling suspension that erases road noise and bumps and provides the most precise steering you'll feel in a car this size.
In Sport mode, the 2018 Karma Revero can accelerate from 0 to 60 mph in 5.4 seconds and has a top speed of 125 mph. The combined gas and electric motors provide an all-wheel-drive operation that may not be quite as good as German-engineered models, but it holds its own. More importantly, it has a combined 403 hp and the low-end torque that cars like this demand.
For those who perform round-trip travel of 50 miles or less, Karma advertises that you might never need to gas up again. While that may or may not be the case, 50 miles of extended-range electric-only performance is up to par for this type of car. Of course, the solar panel-integrated roof helps top up the charge on sunny days. And with a level 2 charger, it's only three hours to add another 50 miles of range to the battery.
The Karma Revero has two electric motors and a 21-kilowatt-hour battery that drive the rear wheels. The Revero achieves 60 mph in 5.4 seconds under Sport mode, its fastest setting. Sustain mode, the slowest, sees 60 mph in 7.3 seconds. Top speed (again, in Sport mode only) is 125 mph. We all know the expensive, high-power Tesla Model S in P100D form can hit 60 mph way faster, in record-breaking sub-3-seconds time. But even the base Tesla Model S, can hit 60 mph in 5.5 seconds.
The infotainment system has a touch panel interface, audio, radio, and Bluetooth with navigation and real-time traffic updates. The car seats four adults.
Join the newsletter to receive the latest updates in your inbox.