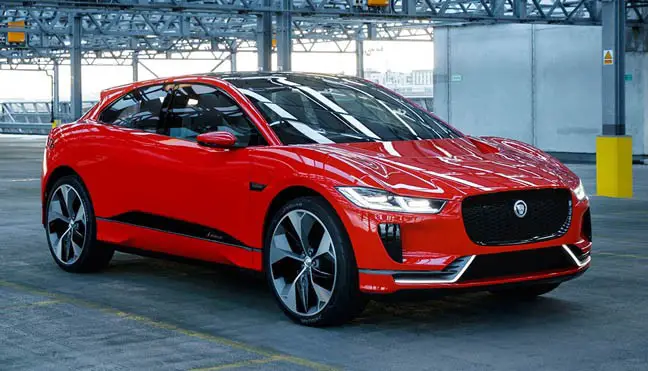 The first thing you notice about the new Jaguar I-Pace fully electric all-wheel-drive crossover: It's unlike any other Jaguar ever made. The second thing you notice after a few more minutes behind the wheel is that the I-Pace is a Jaguar through and through. You half expect to find a cup of hot Earl Grey waiting in the center console the next time you drive it.
It's a relatively compact five-seater. At 4682 mm, the car is only 10 mm longer than an XE, and yet the 2990 mm wheelbase is 30 mm longer than an XF's, which the car is also 15 mm wider than.
This is a remarkable machine, a road going device imbued with cutting-edge technologies and electric propulsion to carry it well into our rapidly evolving 21st-century transportation future, yet it's equally warm, luxurious, and, yes, even analog. This is an engineering feat not to be underestimated. The Tesla Model S, in comparison, subjectively feels more high-tech, more digital, and more remote in its driving responses, less elegant and plush inside. The Jaguar's advantage stems from more than 80 years of luxury-motoring heritage. No newcomer, even one as successful as Tesla, could hope to compete against such a rich tapestry of old-world elegance and style.
The front wheels are suspended by double wishbones, the rear by an integral link. You can have coil springs with passive or adaptive dampers, or — the only set-up we've tried so far — air springs with adaptive damping.Between the axles, surrounded by a predominantly aluminium body structure sits 90 kWh worth of lithium ion battery cells, enough for a 298-mile range. It can sprint from 0-60 mph time of just 4.5 seconds and weighing around 4,800 pounds.
How fast you'll actually get through them and how fast you'll charge them depends on how heavy your foot is, the kind of driving you do and what charger you have access to.
Interior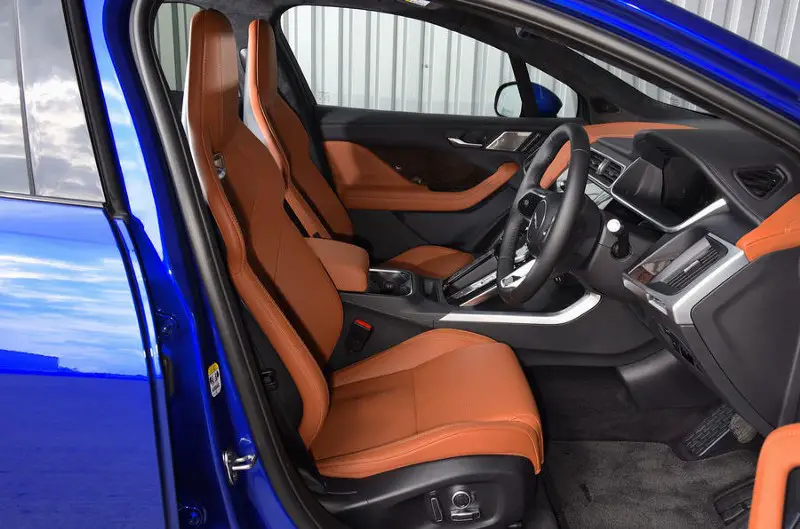 Those in the front have plenty of head room, too, mind, and are surrounded by an interior layout that is recognizably Jaguar, with only a few novel twists. It's not like being in, say, one of BMW's i cars, which likes to throw new materials at you to make you feel like you're sitting in the future.
The I-Pace's seats are big, comfortable, faux leather at no cost or leather for a couple of grand — it's remarkably easy, as with most premium cars, and there are all-digital instruments and a new infotainment layout.
At the top is a touchscreen that deals with the navigation, audio, telephone and quite a lot of options. Below deals with the less required stuff, part touchscreen, part dials, and there are a few other switches because, unlike Tesla, Jaguar would rather not deal with everything via one big touchscreen. how quickly the mapping, and directions to chargers, for example, work on the Model 3, whose big touchscreen's controls are seriously impressive. Somewhere between all these systems, there's one perfect one.
Interior fit and finish are strong, and the mechanical layout means there's a lot of oddments storage. It has also given Callum's team some flexibility on the outside.
Design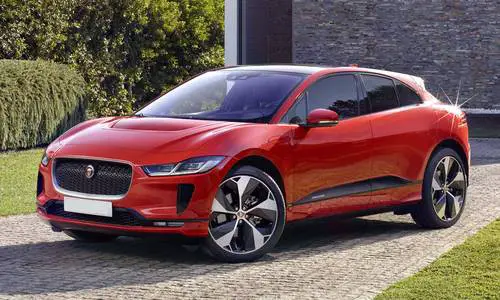 The cab is further forward than an internally combustion car's, the car looks agile and it retains a big grille, even though it doesn't need all of it for the three independent cooling systems (motors, battery, interior).
The top bit flows air through a gap and onto the bonnet, maintaining easy, laminar flow to the body — whose black sides break up the bulk and which you'll see on future Jaguar SUVs — to the back, which is, from a design standpoint perhaps, the least striking bit of the car.
It encloses a spacious, 656-litre boot, mind, and there's a 27-litre compartment at the front, too.
Driving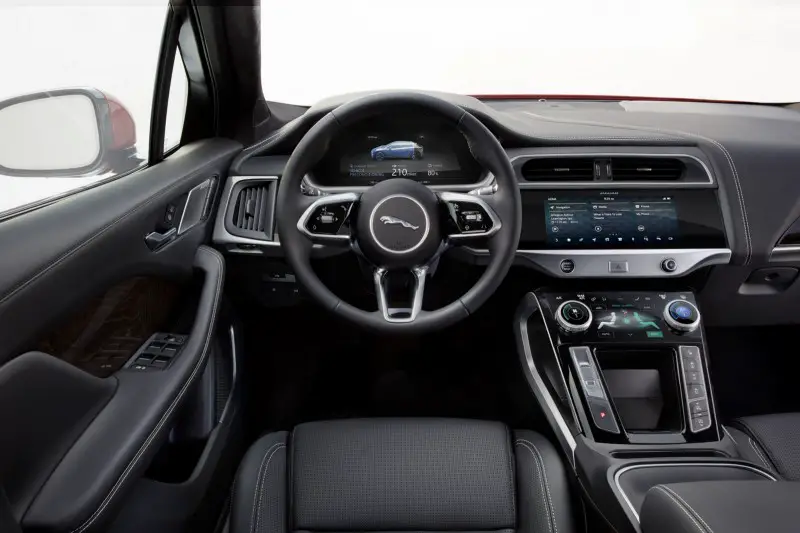 There's a key and a start button, and a handbrake on the dashboard although you'll probably never use it.
Push D, swing the medium-weight steering (about 2.5 turns between locks) and either pull away using the creep function, which makes it feel like one of those old-fashioned automatic combustion-engined vehicle thingies or turn that off and pull away using the throttle.It's smooth. It's quiet. It's the kind of thing that would be perfect for a Rolls-Royce. Or the next-generation Jaguar XJ, not coincidentally.
You can turn the sensitivity of the throttle up or down a bit, and you can change how much regenerative braking you get. On the higher setting, there's so much of it that, Jaguar reckons, you can dispense with 98% of all actual brake use, and you get used to it quickly. It's why the brakes can be small.
Throttle response is set about halfway between how razor sharp it could be, and what we're used to from an internally combustion car, so that you don't kangaroo along like you would in a Ferrari F12 TdF with a sticky accelerator.
It's quite compelling but, well, not unlike most other EVs, from that perspective. As the industry and the capabilities of the cars themselves get more interesting, will the way they drive get more similar? I suppose that's going to be the challenge.
In normal mooching, the rear motor does the accelerating, so you don't get any steering corruption or front-wheel scrabble, and the front one does the regeneration under deceleration because that's where the weight shifts.
After a mile or two, it becomes a doddle to drive using only one pedal, all the way to a stop. That encourages you to drive smoothly and efficiently, but don't for a minute think the I-Pace is slow. Lumme, it's not.
Join the newsletter to receive the latest updates in your inbox.